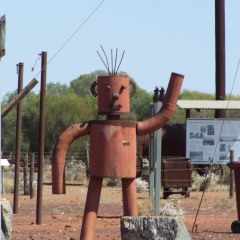 ---
Similar Content

By phrunt

Australian Coin Hunters in the future are in for some quite amusing finds, see the new range of $1 coins about to hit the streets
See the story and full collection here, a new Aussie themed coin for every letter of the alphabet.
https://www.news.com.au/finance/money/australian-mint-and-australia-post-release-coins-to-celebrate-meat-pies-weetbix-esky/news-story/ccb2bfa5b305746d4e20186aa62b6f92
Pretty cool idea, I'd like one of each
 
A whole new and more valuable collectable craze is about to sweep across Australia with the announcement of the Great Aussie Coin Hunt.
Australia Post and the Royal Aus­tralian Mint will release millions of $1 coins from today featuring classic Australian themes such as the Hills hoist, a quokka and an Esky.
There will be a different design for each letter of the alphabet with the first six available now.
A will feature Australia Post, F for footy, I for Iced VoVo, M for meat pie, S for surf life saving and X for the tiny township of Xantippe.
Bless!Source:Supplied
A few Philip Seymour Frothmans one ice.Source:Supplied
New coins will then be released every Monday until October 21, culminating in Z for the summer staple Zooper Dooper.
But there's a catch.
The only way to get your hands on the iconic coins will be to make a purchase at an Australia Post store and receive the limited edition $1 coins in the change.
The humble meat pie.Source:Supplied
"We want everyone to get involved," Australia Post consumer and community executive general manager Nicole Sheffield said.
"Not only will it be really exciting to hunt for all the coins and build an amazing collection, but each and every coin opens up the opportunity for wonderful conversations about quintessential Australian life.
"It's a great way for grandparents to connect with grandchildren, and for all of us to share our own experiences and memories with each other — both here and with friends and family overseas."
The summer staple.Source:Supplied
What's more Aussie than swinging from the Hills hoist? Picture: David CairdSource:News Corp Australia
Summer goodness.Source:Supplied
Name another country where a clothes line is iconic …Source:Supplied
Australia's unique culture will be displayed on the $1 coins from favourite foods, the boomerang and didgeridoo, sports footy and cricket, and, of course, the television classic Neighbours.
Native wildlife favourites the kangaroo, platypus and even the quokka will have their own special coin.
The coins will be released from Monday. Picture: Daniel Pockett/Getty ImagesSource:Supplied
Unfortunately no Hemsworths will feature but the quokka certainly is. Picture: InstagramSource:Instagram
The massive campaign is the biggest minting and release of $1 coins since they were created in 1984.
"We are excited that The Great Aussie Coin Hunt has now officially launched, giving families and all Australians the opportunity to participate in a fun and educational nationwide coin hunt," assistant treasurer Michael Sukkar said.
Australia Post to jillaroo.Source:Supplied
From kangaroo to thongs.Source:Supplied
Ute through to the icy goodness.Source:Supplied


By geof_junk

The man who discovered GOLD first in Australia..pdf


By jrbeatty

Reg Wilson is a bit of a legend in Australian detecting circles and has kept a comprehensive photo collection of his finds over 4 or 5 decades. Now everyone likes gold images and stories -  and there are plenty here!  I've been offered existing topics to post on, but I believe the topic deserves its own thread to do it full justice. All images are those of Reg Wilson unless otherwise attributed.
The album consists of hundreds of photographs of not only gold, but many gold detecting industry characters, some of whom are no longer with us, but who all contributed in their own unique ways to the great gold chase we still enjoy today. Firstly, a bit of background.
Reg first shot to international fame with the finding of this 98 ounce piece which he named the "Orange Roughie" in 1987, decades later to be fraudulently rebirthed as the "Washington Nugget"
By no means his first find, Reg was already a successful detector operator and at the time was testing a prototype GT 16000 for Minelab's wizz kid engineer Bruce Candy:

Photo: Australian Sun Herald
L to R:  Bruce Candy, the late Doug Robertson, Ian Jacques, Reg, John Hider Smith.

Reg recalled: "The man standing next to Bruce Candy is the late Doug Robertson, who with his brother Bruce worked the aluvials below the famous and fabulously rich Matrix reef at McIntyres. They had an old Matilda tank with a blade attached to clear Mallee scrub. Between them they had a wealth of knowledge of the northern Victorian gold fields.
(Doug's name may have been Robinson. Memory is a bit foggy)" Ian, Reg and John were prototype SD 2000 testers in Victoria, AU and were collectively known as the "Beagle Boys" a name bestowed upon them by Dave Chappel, the publican of the Railway Hotel Dunolly. On any Friday night huge nuggets, some weighing well over a hundred ounces could be seen displayed on the bar.
120oz from Longbush. Found all on its own, finder anonymous:

The playing cards and US currency indicate that the nugget has just been purchased by the late "Rattlesnake" John Fickett, a US gold buyer who bought many of the big pieces back then:

Ian Jacques and Reg with 44 oz 1989:

Ian Jacques with his SD 2000 prototype late 80's.
Real prospectors don't use bungees  

All for now, but at least we've made a start - - -
 


By Ridge Runner

The TV just said Bering Sea Gold coming in September 17th if I heard correct on the date . I look to see what day that landed on and shows Tuesday. That can't be correct because it's always on Friday.
 Get back later when are If I hear it again.
 Chuck 


By Condor

Week 3 started off a little slow.  It rained for 2 days, then a day of sun, then a 3rd day of rain.  You just can't drive the Aussie tracks when they're wet.  The camp held up well in the rain, no significant leaks.  Fortunately, I brought audio books and a Kindle so we kept entertained.  
All the clouds put our power grid to the test.  We had to use Paul's generator a couple times to top off the battery.  I'm including a photo of our power grid, looks like a soup sandwich. We're running about 200 watts of flexible solar panels into a 100amp hr Li-Ion battery.  With full sun running only the outback refrigerator, our battery stays fully charged.  At night with charging our equipment we drop about 1/4 of battery capacity.   We should have thought more about charging compatibility, as it stands we need 110AC for the laptop and 2way radios, cigarette lighter plugs for lights and USB for phones and GPS.  What a mess trying to keep it all functioning.  I had to rewire our cigarette lighter outlet bank, the wires fried somewhere along the line.  I'm ordering a backup tonight.  
We took the time to go into town and do laundry and take hot showers at the Caravan Park.  I ran my clothes through twice, I think the Aussie red dirt may be permanent on some of my stuff.  
We've been out doing real prospecting looking for new patches along the "line of strike".  We've been off the beaten path and as a precaution punch in the GPS coordinates of the truck.  Like Daniel Boone, I've never been lost, though a might bewildered a few times.  Just when I think I'm in unexplored territory, I find and old timer's campsite or dry-blower tailngs where he sampled the same zone.  Our only luck has been a few crumbs off old dry-blower zones.  Modern mechanized prospectors have often run a dozer over the old timer's tailings and scraped things to bedrock.  If there is some of original caprock left, we have a better chance of finding something.  
Paul has been off on a frolic of his own.  We don't expect to see him for another week, in the meantime Trent sold the caravan Paul was using.  Paul is homeless, I hope he doesn't repo his pop-up trailer that we're using.  Trent is thinking about moving our half of Camp Yank about 60k to the south to detect a new area said to have good gold.  It will be a challenge dividing up the campsite necessities and we'll miss nightly entertainment of Paul's crazy stories.  
Sunset from Downunder.  That's all for now.
 





By Guest AussieDigs

Hi Guys n Gals.
I've never ran a detector but very much looking forward to it. I live in the Nth East of Victoria Australia with access to what was some of the richest gold fields. I have no idea as to what the ground is like but it would be a fair guess that it would be at least reasonably mineralised.
I know i will be a beginner but i dont want to spend my limited budget on a beginners detector. I'm willing to do the hard yards with the likes of an intermediate detector. The areas that i would be concentrating on is Beechworth and the Buckland Valley etc, so the ground will have plenty of iron and the likes and mineralised. I will be working mostly around the mines on hillsides etc. 
I noticed a used Nokta Fors Core for sale so did a little research. Nice detector. VLF struggling in the mineralised ground or does the Nokta fair not too badly? A good used GP3000 is going to be twice the price and above my budget but i could work on that. Lack of descrimination would probably be an issue at these workings? Whites SPP? I'm finding it hard to get too much info on these but from what i have read they seem like a good detector.
Because of the likes of the trash and mineralised ground, i'm finding it difficult to choose between the VLF and a PI. I could start with the likes of the Nokta and purchase the likes of the GP or SPP further down the road.
Does the SPP come under another name or as an updated model?
Thanks all.
Al.