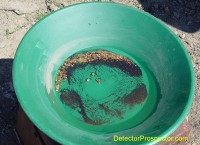 Where Do I Begin? by Ron Wendt
You've developed an interest in prospecting for gold. A couple friends have told you how much fun they've had looking for gold. In this article I'll point out the pros and cons about this activity and in the end you'll probably have decided to what degree you want to pursue your search for gold. To begin with, it must be pointed out, there are several types of prospectors:
1 - Those who wish to dig right in as a recreational prospector.
2 - One who is serious about learning about the finer aspects of geology related to precious metals and would pursue possibly developing potential income from this endeavor.
3 - A hardcore, hand miner "give me a bulldozer, I wanna gamble." Of course mining can be a gamble and the biggest mistake some folks make is getting too serious about it. Many times most of the fun goes right out the window when it becomes serious. What happens is the deep desire for gold becomes elusive and discouragement sets in when there are no results.
Looking for gold can be hard work with few rewards. Years ago an old timer once told me; "the fellows that got rich during the gold rush were just plain lucky!" Napoleon once said that too: "I want good generals, but I also want lucky ones!" Yes, there is a lot of luck in this business. The old timer and Napoleon were right. A lot of it is luck, but a lot of it is hard work to. You can choose to enjoy it with a little reward or to not enjoy it with little reward. The truth is the odds are you won't get rich, but you might get lucky! We all know about luck. You can go to the gambling hall and pull on the "one armed bandit," all day and not make a dime. Such is mining and prospecting. I've been lucky and I've been unlucky. I've been rich and I've been poor. I like rich better, and I like getting lucky.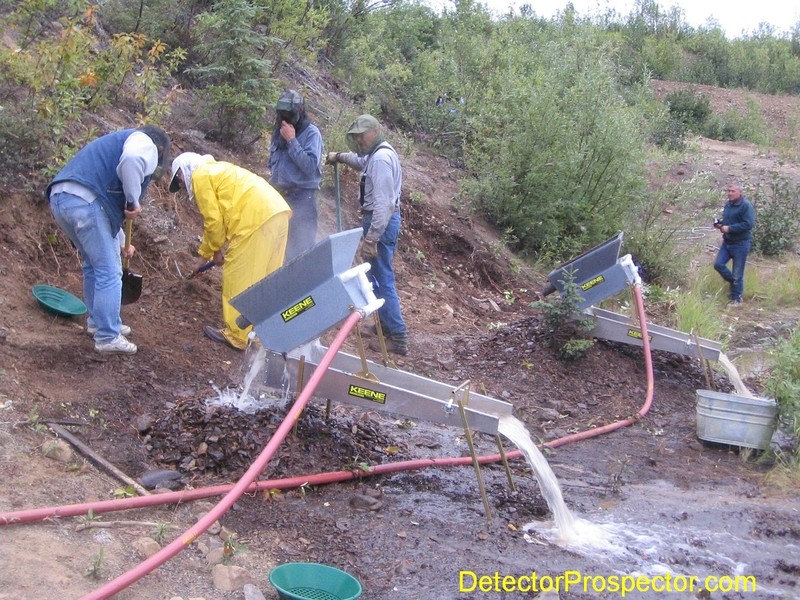 Shoveling gold bearing dirt into power sluices
To be a prospector you must be willing to take a risk to a certain degree. There are those who think they can go out and simply put their shovel into the ground and there it is! They believe they'll strike it rich. I have known some who have struck it big their first few times out. They didn't have a clue, but were in the right place at the right time. There are several things in your character you should be aware of.
1 - You should be the type of person not easily discouraged.
2 - You should not be afraid of getting dirty and not afraid of hard work.
3 - You should have a keen interest in exploring, prospecting things that are related in this field because it is all connected.
4 - Be frugal. Don't mortgage the farm. It doesn't take much in the way of investment to get into this "field of study," as I call it.
5 - You should not be afraid to get wet, camp out, or endure the elements.
6 - Attitude is a major in this business of mining/prospecting. This probably goes along with "don't be easily discouraged."
7 - Don't be afraid to fail. Failure is a great learning experience.
8 - Have some curiosity about what could be over the next hill or under the next rock.
9 - Be optimistic. If you're not, you probably shouldn't be in this business.
10 - Most of all enjoy it. Enjoy it even though you don't get rich from it. Your reward is experience and experiences many will never have the opportunity to do.
Where do I begin? First off don't go out and buy a bulldozer, when a gold pan can simply do the trick. In other words, start out learning the basics. Those basics are the gold pan, pick, shovel, sluice box, and perhaps a sniffer bottle to suck up gold from cracks. It would be good to go along with a veteran, not only to see how it's done but to see if you like it. I have seen many times where folks will go out and buy a $1,500 suction dredge only to sell it the next year because they probably got discouraged, when a gold pan and hand tools would have sufficed. A big majority of prospectors I know will tell you they started out small, by that I mean, small mining tools which would include sluices, gold pans, picks and shovels. Once you decide you will make prospecting your side line, one can eventually branch out into other methods.
There are some who will head out into the world of nugget detecting. Here's something to think about. When you spend $600 to $1,000 on a brand name detector, before you even make a decision to buy it, ask yourself this; "Where will I use it?" This may seem like a funny question, but in Alaska and the Yukon Territory, we may have a lot of gold scattered around up here, but is it detectable and accessible? Will I be able to drive somewhere during my time off from my regular job and spend enough time detecting nuggets? Is there a location close by where gold is detectable? Am I willing to invest this kind of money to use this machine in a proven area?
There's nothing worse than buying a piece of mining equipment and not be able to get into areas that are productive. For instance, the mountains behind my house generally yields mostly fine gold and some hardrock gold. For me to get any bigger gold I must travel south of my house about two hours down the highway or 5 to 10 hours to the north to get into productive ground. I am willing to spend times going to my favorite remote spots in search of gold. So you must determine how much am I willing to put into this to get results? It's the same with going from your gold pan/sluice operation to a high banker or a suction dredge. Are you planning on a few choice trips to areas to get results, which by the way aren't guaranteed?
My recommendation is build up your knowledge of prospecting over 2 or 3 years before investing in bigger toys. This way once you've established a good, possible gold source, you might feel it's now time to go for higher production. Large scale industrial miners work in much the same way. I have a good friend who suction dredged for a few years on a creek. After taking out numerous ounces of gold, he made a decision to go bigger. From there he bought a small D-6Cat to feed a sluice box, then eventually he added a backhoe. Today he has a D-9, a bigger backhoe and a dragline. He's been seriously at it for over 25 years. In the off season he has another job to support his "sickness" called "gold fever."
I've met a few folks who complained: "Yeah, I went out for a couple hours, and didn't get a thing. There's nothing out there!" He immediately was very skeptical there was any gold at all out there." I said that was fine. There'll be more for the rest of us! I told this fellow, a couple hours does not do the trick. You have to work at it. It won't jump up into your pan, and no one will tell you exactly where it is because they don't know themselves where it is exactly. We have an idea, but we can't always pin point it. Most of the time we walk right over it. I remember an old prospector from up on the Yukon River was once asked where he kept all his gold, to which he replied; "Its in a safe place in the creek!" He knew he could dig it out anytime he wanted to, but he had to make the effort. No one would get it for him. He took out enough gold to survive on most of his life. It was his lifestyle and sole occupation.
Finally, recapping everything, I can't stress enough:
1 - Start small, then gradually increase your devices to accommodate your potential production. You might advance from a sluice/gold pan to a nugget detector. You might eventually obtain all the tools of the trade, short of buying a bull dozer. The bull dozer purchase would probably indicate you're pretty serious or you've got money to blow!
2 - Enjoy this endeavor. If you don't enjoy it, get out of the business. You probably should not have gotten into it.
3 - There's no room for discouragement. If you're easily disappointed then prospecting is probably not for you.
4 - Expect to work hard at it. Be patient. Patience is a virtue. You will put in time of no rewards, but when they come, it's worth it all.
5 - Don't get greedy. If you hit it big, a few ounces here and there or bigger, consider it your much deserved reward.
6 - Don't mortgage the farm. Never, never do this! I've known miners to put all their eggs in one basket and they all cracked! Unless you like living in tents on the edge of town, never gamble with your stability.
7 - Enjoy prospecting. Its one of the most fascinating occupations I can think of. What better way to enjoy the outdoors, splash around in cold water on hot days, explore old ghost towns, collect rocks, view big game, there are folks that would give their right arm to do this.
A word of encouragement to those in search of gold: Practice patience, be optimistic. Always learn from your mistakes and always keep enough bug dope in your pack!
by Ron Wendt 2005
Note from Steve Herschbach - Ron was a dear friend who left this world too soon. He donated this article for use on the website not too long before his health finally failed. We all miss you Ron! R.I.P. Ron Wendt 1956 - 2007
From the obituary:
Ron Wendt was born April 24, 1956, in Fairbanks, in the Territory of Alaska. He was raised on his family's homestead on Chena Hot Springs Road outside of Fairbanks and his father's mining claims in the Circle gold fields. He developed an early interest in Alaska history by exploring ghost towns and mining camps and talking with old-timers from the gold rush era.
Ron worked as a gold miner, newspaper reporter, photographer, college instructor, construction worker and custodian before starting his own publishing business, Goldstream Publications, in Wasilla. He wrote about gold rush history, modern day mining and prospecting, and many tales of Alaska. He was a member of the Alaska Miners Association, an avid baseball fan and loved to travel the roads of Alaska with his wife, Bonnie.
7