Jack Wade Creek runs along the Taylor Highway a few miles north of Chicken, Alaska. It has a long mining history. Jack Wade Creek is open to recreational gold panning from one-quarter mile (0.4 km) upstream of the Walker Fork Campground to the mining claims near Milepost 85. No permits are required. Panning is not allowed on adjacent mining claims.
What's Allowed: gold pans, picks, pry bars, shovels, metal detectors, manually fed rocker boxes and sluice boxes.
What's Not Allowed: Motorized equipment, including suction dredges, pumps, and earthmoving equipment; disturbing the Taylor Highway roadbed or shoulders.
Jack Wade Creek is in the Fortymile Wild and Scenic River Corridor and so is subject to special rules and restrictions. Camping is prohibited between Walker Fork Campground (milepost 82) and Warner Creek (milepost 92). Camping for more than nine days at other locations may require a permit. See the BLM River Corridor Rules for details. Walker Fork Campground is a BLM fee campground with eighteen sites, outhouses, and a picnic area.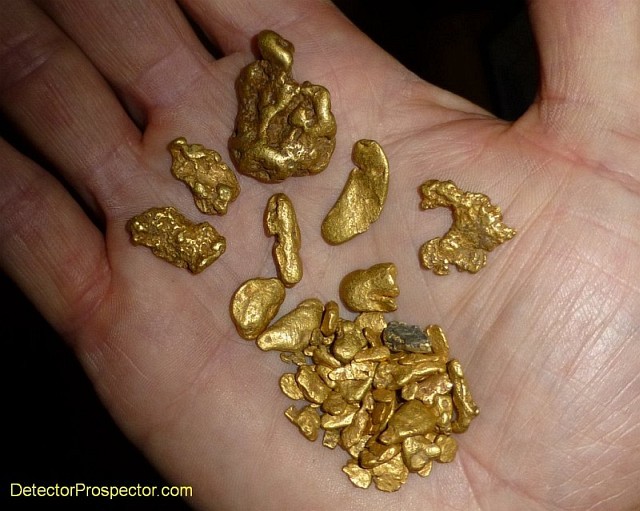 Gold nuggets found by Steve Herschbach on Jack Wade Creek with a metal detector
Note from Steve Herschbach: I spent a lot of time on Jack Wade Creek in 2013 and 2014 and found a lot of gold there metal detecting. I have stayed both in Chicken and commuted to Jack Wade to look for gold. I have also stayed at the very nice Walker Fork Campground. The campground saves a 40 mile round trip drive each day, but staying in Chicken can get you access to Wi-Fi for communications (no cell phones towers here).
These trips were posted online at Steve's 2013 Alaska Gold Adventure and Steve's 2014 Alaska Gold Adventure. There are many photos and tips there that will be very helpful for anyone considering a trip to Chicken, Alaska and Jack Wade Creek.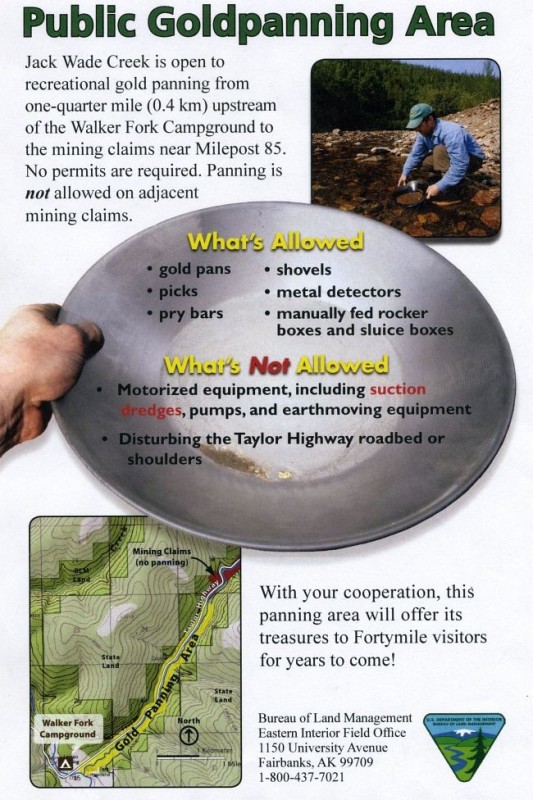 Jack Wade Creek Public Gold Panning Area Rules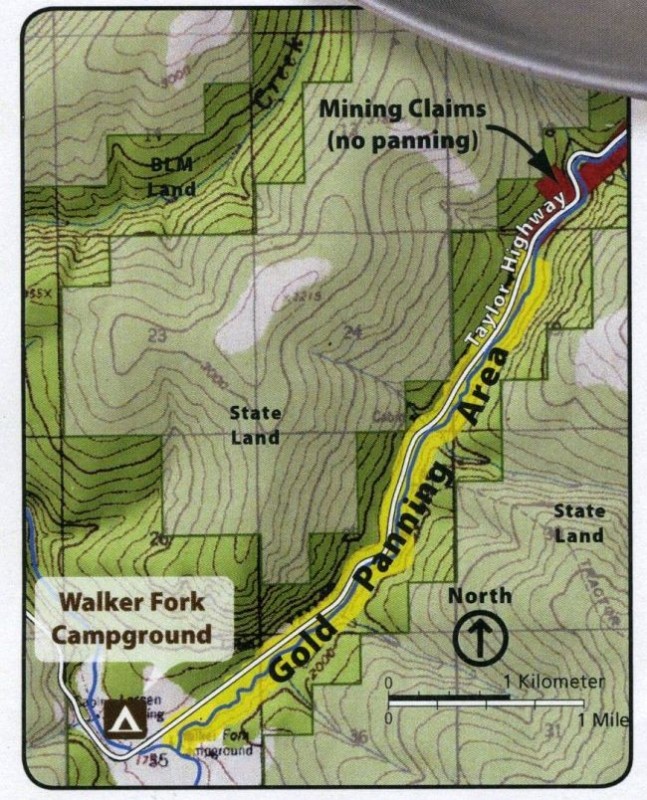 Jack Wade Creek Public Gold Panning Area Location Map
Edited by Steve Herschbach
1