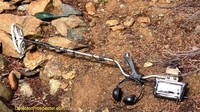 This outing started as an expedition to test a new detector by a company I was unfamiliar with - the Nokta brand based in Istanbul, Turkey, and the new Nokta FORS Gold. I wrote up a very detailed review but this article focuses on the gold found and so all the detector review details have been kept minimal. If you wish to read it, you can view the full report at Detailed Review Of The Nokta FORS Gold Nugget Detector. There is quite a bit of additional commentary in the follow up posts that might interest people.
Summing up from the report referenced above, the Nokta FORS Gold is one of the better VLF nugget detectors I have ever used, and even better it is a very capable detector for just about any type of detecting. It appears to just be a variation on another Nokta model, the FORS CoRe (Coin Relic) and shares nearly all the same features. The CoRe features slightly different discrimination options plus a dedicated beach mode, whereas the Gold focuses more on nugget detecting features, but from what I am seeing both detectors can do just about anything very well.

The FORS Gold default settings are almost perfect for somebody with little or no detecting experience. It boots up in Boost Mode, which is a two tone mode with ferrous items giving a low tone and non-ferrous a high tone. Simply turn the detector on, hold the ground balance button on the end of the handle down, bounce the coil up and down for a few seconds, and go nugget detecting! It really can be that easy with the FORS Gold.
The Nokta FORS Gold can be used for almost any type of detecting, but where it shines is in its main use for nugget detecting. I have to admit I have been pretty much a pulse induction sort of guy in recent years, but I have been reminded once again recently that very good nugget finds may very possibly be best looked for in the trashiest of locations. People using PI detectors tend to shy away from heavy trash, yet mining camps and work areas were often right in the middle of the best gold bearing ground. There still is a serious need for detectors with exceptional trash handling capability, and that means VLF detectors. Yet those detectors also need to be able to handle the worst mineralized ground and hot rocks, an area where VLF detectors are weak.

The FORS Gold has a relatively straight forward all metal mode, which they label as the General Mode. There are some features however not offered by most of the competition all at the same time in a single detector. First, while in all metal mode the visual discrimination feature is still engaged via the LCD display on the end of the handle. This offers the ability to identify items while still in the powerful all metal mode. Better yet, the FORS Gold also offers up an optional automatic ground tracking mode in addition to the manual ground balance. Some detectors offer one or the other of these features but very few offer both the ability to visually identify targets while in all metal mode plus both manual and automatic ground tracking.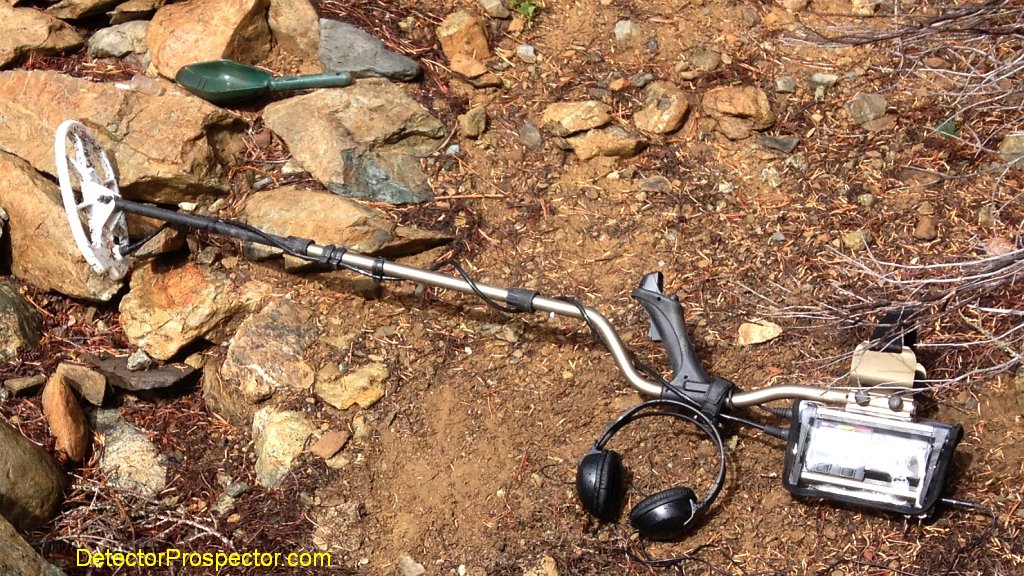 Nokta FORS Gold in the field
The FORS Gold can be ground balanced by simply pushing the button on the handle and bouncing the coil. But you can also override the setting obtained by doing so with the plus and minus rocker switch. In other words, full manual ground balance. The third method, full automatic ground tracking, is engaged with a rocker switch on the front of the control box, and so can always be set as on or off before even turning the detector on.

I and many others tend to recommend always using manual ground balance. However, if possible I always prefer having automatic ground tracking as an option that can be enabled or disabled. You see, I want all options at my disposal, even those I may use but rarely. Just by chance, a very good reason came up while I was out nugget detecting with the FORS Gold.

I ran into an area with some really pesky hot rocks. There are several ways of dealing with this. In a pure manual mode machine you try and find a compromise ground balance setting and probably lower gain or sensitivity levels. Then you just try and discern sharper nugget sounds from softer hot rock sounds. Obviously, this can require some extra expertise and a trained ear. Severe hot rocks can be trying for the best of detectorists.

When hot rocks and ground conditions get severe, automatic ground tracking may help. In some cases, it can be almost magical. So it was with an area I ran into. In all metal General Mode the threshold was all over the place as I ran across lots of small hot rocks. I switched to automatic ground tracking, and they basically disappeared. The machine went from being a bucking bronco to a mild mannered pony with the push of a button. In theory ground tracking can track out faint signals, but this can be minimized with proper coil control. Wide continuous sweeps. It certainly is no worse than the nuggets that will get missed thinking they are hot rocks, and in my opinion in this type of scenario automatic ground tracking can be critical to continued operation in conditions that would cause most people to quit in frustration.
With the FORS Gold you can also go to the Boost Mode, where many hot rocks will just read low tone as ferrous items. Boost also offers an adjustable iron mask feature that can be increased until the offending hot rocks do not signal at all. As always, there are tradeoffs in the form of possible missed gold, but it is very important to always concentrate on getting the most found gold possible, even if that means compromises to some degree to get it to happen. Nobody gets all the gold, the idea is to maximize the amount of gold you do get to the greatest degree possible given whatever tools you have at your disposal.

The visual target id feature can even be employed to deal with certain high reading hot rocks that refuse to yield to other solutions. The rocks may cluster around a certain target number, which can then be ignored. Again, not perfect, but another possible option to be used if need be.

Well, come on Steve, what about some gold?! It is hard not to like a detector when I take it someplace with nasty hot rocks, and it handles them with relative ease. It gets even better when I put it into Boost Mode and wander into a trashy location getting lots of low tones, and then dig a few nuggets right in the midst of the trash. I went where I never would have went with my PI and the FORS Gold found gold when in all honesty I was expecting to write this report telling you about the bullets I found. It is not easy to go find gold, and so I was really just expecting to find bullets and shell fragments and I was keeping them to show you what the FORS Gold could do for this report. I was going to explain how bullets read like gold and there you go. Seriously folks, I really just got lucky but the FORS Gold gets the credit.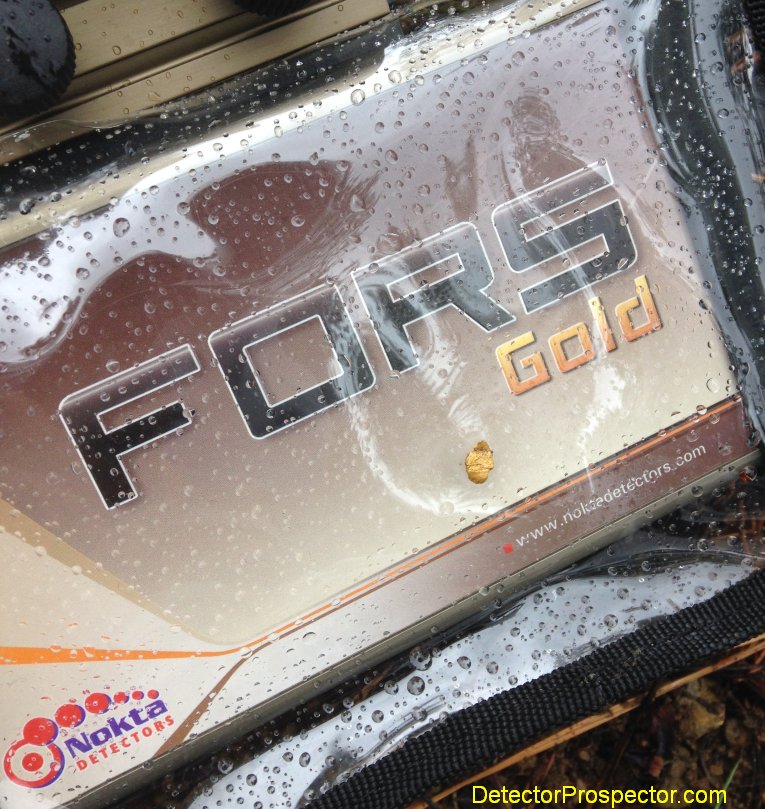 My first nugget found with the FORS Gold - and yes, those are rain drops on the rain cover!
After three nice nuggets I was as happy as I could be, when I get another signal and dig up what I thought was some crumpled up foil. Then I realized I was looking at gold, and an exceptional 2 gram nugget revealed itself to closer inspection. I did something I almost never do and wrapped it in tissue to protect it until I could get it home and properly clean it. The Nokta FORS Gold helped me find one of the most delicate gold specimens I have ever found. I ended up with 3.3 grams total and enough information to finally file this review.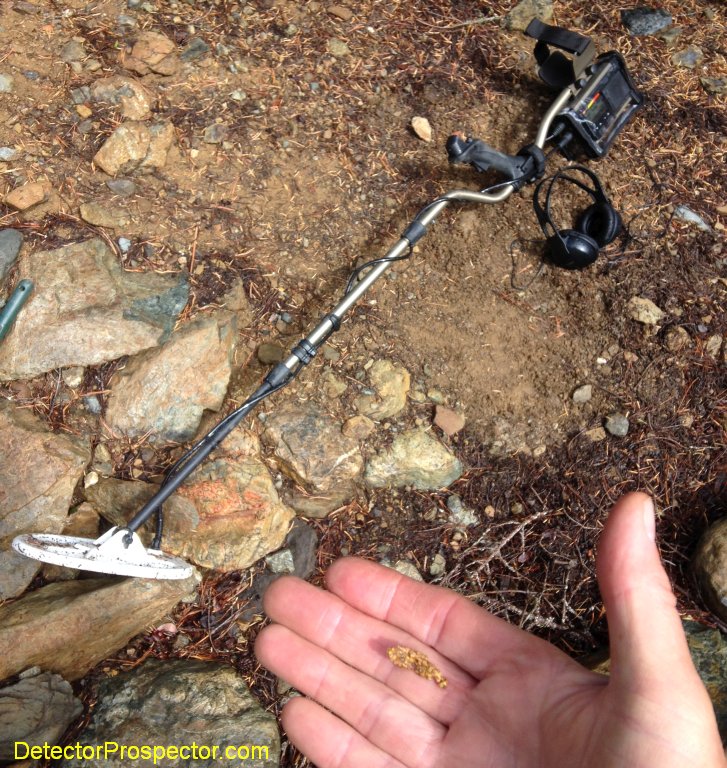 2 grams fresh out of the ground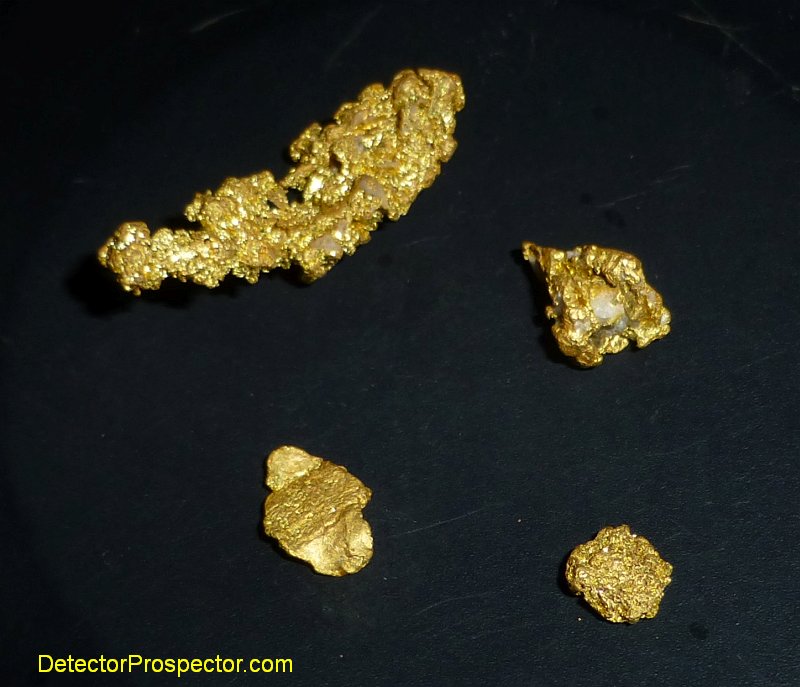 3.3 grams gold found with Nokta FORS Gold
I went into this basically just wanting to see if Nokta, as a relatively unknown player in the U.S. market, was a company that was not selling junk. I was pleasantly surprised to say the least, and found the Nokta FORS Gold to be a top-of-the-line VLF nugget detector that can go head to head with the best units made by long -time players in the industry. That being the case I recommend people keep an eye on this company  in the future because if what I am seeing is any indication, Nokta is a company that is going places. I am happy I had a chance to familiarize myself with the company and its products and thank Dilek and everyone else at Nokta for the opportunity. It's hard not to like a detector that puts such beautiful gold in my pocket!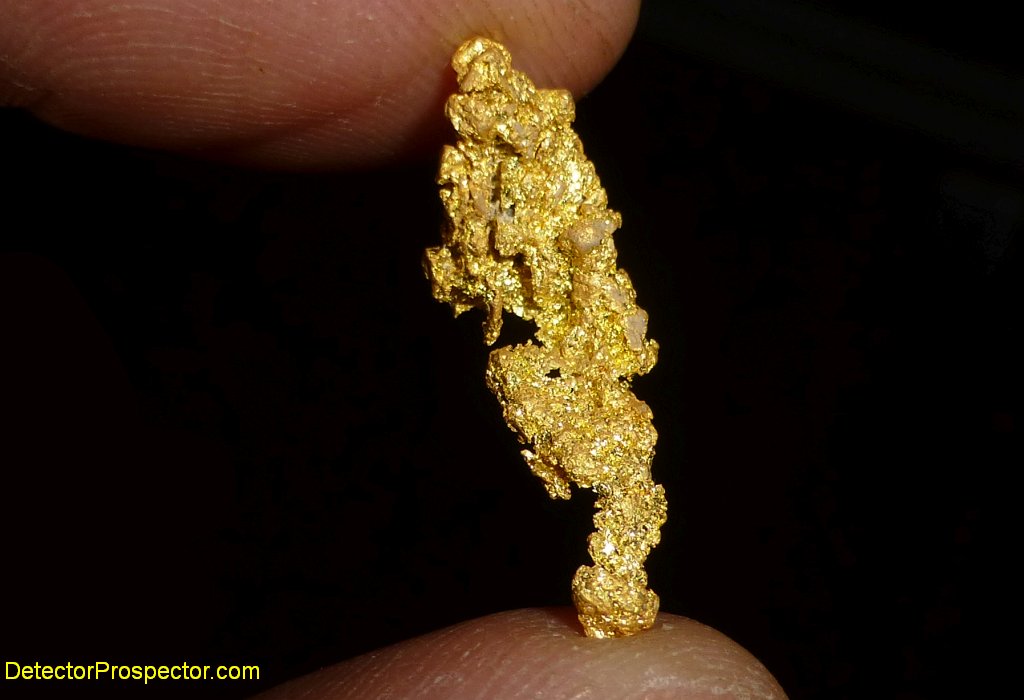 Close up of 2 gram specimen found with FORS Gold
~ Steve Herschbach
Copyright © 2014 Herschbach Enterprises
1