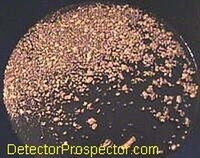 Winter is slow in coming this year. November has arrived, and temperatures are still relatively mild. I have decided to take advantage of the good weather and make one last dredging trip to Crow Creek Mine. Crow Creek is close to town, and when the weather makes a change it is easy to pull out. It is an ideal spot for a mining trip late in the year.
The old location I was dredging in the canyon a couple years ago was taken over by friend Andy. He worked the creek up until he reached a narrow spot choked with boulders. He also worked above this area, but a stretch about 100 feet long remained that had not been dredged yet. I decided to take up where he had left off and see how I could do.
My little 4" was easy to pack into the location and setup, so I was working away the first day. I started seeing some good gold, and was happy I had returned to this spot. The gold here is gold that was lost by the old mining operations, and is distributed rather evenly in the top few feet of material. It makes for easy dredging, and I used mask and snorkel rather than my hookah gear to mine the gold.
The second day was the best. I got in a long days dredging, and took out most of the width of the creek. Everything was going great, and I was constantly seeing gold as I removed the gravel. When it was time to cleanup at the end of the day, I was happy to see over an ounce of nice gold for my efforts. It's days like this that make dredging great!
It snowed that night, and temperatures plummeted. It seemed winter had finally arrived. Ice was forming on the creek as I dredged, but still it was not too cold to mine. I dredged up the gut of the creek, but I was not seeing as much gold as the day before. My cleanup revealed that I had only found about a 1/4 ounce of gold for the day.

Steve's 4" subsurface dredge & some gold recovered
I looked at the weather, and decided that if I left the dredge and returned the next weekend that I might be frozen out. I decided it would be easier to just go ahead and hang it up for the season, so I packed the dredge out and headed for town. A successful last trip for the end of my mining season.
What does a person think about while they are dredging for gold? Good question. Obviously, you think a lot about what you are doing, and where the gold is going in the creek. But sometimes the mind wanders, and strange things can cross a dredger's mind while they are working. While working this deposit I imagined a little fantasy about what it might be like to be a gold nugget buried in the creek for centuries, and to finally be uncovered by a miner. What follows is a little news release I imagined while dredging. I posted it to some mining forums, and it got quite a response. I'm reposting it here for the record.
Nugget Rescue A Success!
(AP Wire 11/5/00)
Girdwood, Alaska - Rescue crews braved frigid winter conditions early this morning in an attempt to rescue numerous gold nuggets buried under tons of gravel and rock. A crowd gathered under gray skies to witness the heroic effort. The scene was one of tense waiting, interspersed with periods of high emotion.
Finally… success! A cheer went up as first one, and then many more gold nuggets saw the light of day. Rescue crews worked slowly with special equipment brought in to deal with the unique situation.
"These little nuggets have been buried here for countless years," said Rescue Coordinator Steve Herschbach. "The material has hardened a great deal, and there are many large boulders to deal with. We considered the use of explosives, but decided the nuggets might suffer unduly from its use. We chose to use suction dredges to protect the gold nuggets from possible harm."
One nugget positively glowed with happiness upon his liberation from the dark depths. "You can't imagine what it was like" he said. "The floods were the worst. I used to be quite a bright, crystalline nugget. But once the boulders got though stomping the living daylights out of me… well, look at me now. They say it builds character, though."
Not every rescue attempt had a happy ending, however. Mr. Herschbach described one of the failures. "I saw a beautiful nugget perched on the edge of a crevice under a large rock. It was all I could do to hold on in the current as I reached for her with my rescue tweezers. The current must have reflected off my hand, because she slipped away just as I reached for her. Try as I might, the rock proved impossible to move. Her pitiful wail as she fell out of sight will haunt me forever."
In spite of tragic events such as this, the overall mood by the end of the day was one of jubilation. A crowd of gold nuggets lay gathered in the rescue pan, excitedly discussing their futures now that they are free. "I can't wait to see the sun," said one. "I hear it looks like a giant, glowing gold nugget!" There was the inevitable promise of a book or movie to come. Most heartwarming of all was the wish of one little gold nugget. "I just want to find my Mom," she said. "I hear that many people are looking for my Mother Lode. I hope someone finds her so I can tell her how much I've missed her."
AP Correspondent Les Silver
~ Steve Herschbach
Copyright © 2000 Herschbach Enterprises