People talk about how long it took to find their first nugget with a metal detector. Usually the discussion revolves around how much trash they had to dig before they found their first nugget. Well, I probably come close to setting some kind of record for the number of years involved. My problem was not finding lots of trash, it was not finding gold!
My first nugget hunt in 1973 taught me one thing about detectors at the time... they were nearly worthless for finding gold. I had my first metal detector, a White's Coinmaster 4. These old units could not ground balance, and had very poor sensitivity to small gold, even with the so-called Gold Probe accessory coil. I was panning 1/2 pennyweight nuggets from the little gully pictured at Moore Creek, and found I could not get a reading from those nuggets when they were placed directly under the coil.
My next detector was one of the early White's Goldmasters. I figured I needed a nugget detector instead of a coin detector. Imagine my surprise when I discovered all the Goldmaster was in those days was the Coinmaster circuit board in a larger box! If you are shopping for a used Goldmaster do not buy one of these old ones by mistake. They were blue and about the size of a mailbox. And about as useful for finding gold. I was getting into dredging at the time, and decided detectors were a waste of time for gold.
I got into business in 1976 selling mining gear and as a White's dealer. But my stock answer for people coming in looking for a gold detector was "Don't waste your money, you'll find more gold with a $5 gold pan". That was good advice at the time. We concentrated on selling metal detectors for finding coins and relics.
My bias caused me not to keep up with changes in the technology, however. Reports of a large nugget finds would appear every once in awhile. I chalked them up to "Yeah, sure you can find gold with a detector, if it's big enough"! And the nuggets found were usually pretty big, not something likely to be found in my immediate area.

Steve's First Nugget Hunt 1973
White's Coinmaster 4 with 4" Gold Probe
Moore Creek, Alaska
The first commercially available detector with ground balancing capability was the White's Coinmaster 5 Supreme. I was seriously into coin hunting, and purchased one of these new units. It was a very low frequency detector, and I found to my dismay that it really liked nails. One nice thing about the very old detectors was that they pretty much ignored nails, They Coinmaster 5 loved them and I was finding so many nails I took a dislike to the detector. But the depth of detection was amazing for the detectors of that time.
I sold it to a friend who was a heavy equipment type miner. He found a gold nugget weighing several ounces with it at his mine. This should have clued me in, but once again I chalked it up to being a lucky find of a very large nugget. I went on about my dredging, sluicing, and panning.
Finally in the 1980's I was also selling Compass detectors, and I hauled a Compass X-80 up to my claims and gave it a try. It had the capability, as my tests on smaller gold nuggets revealed it was pretty good. We were selling them now as nugget detectors, and some finds were being made with them. Unfortunately, I was not lucky enough to find any gold with the unit the one time I gave it a try. And it just reinforced my feeling about detectors as being a waste of time.
It was not until June 18, 1989 that I decided to give metal detecting for gold another try. Compass had repackaged the X-80 as a nugget detector called the Gold Scanner Pro. Here is my log entry for that day:
"Went to Crow Creek and used Compass Gold Scanner Pro. Found my first gold nuggets ever with a metal detector! Two nuggets within 10 feet of each other between Area #1 and Area #2 below old tailing pile at lower end. One nugget at 9 grains and the other at 4 grains, total of 13 grains. Also found two bullets."
I was hooked! I COULD find gold with a metal detector. It only took me 16 years to find my first nugget with one!!
I planned my first real nugget hunt. The destination was high in the Wrangell Mountains of Alaska on some bench deposits above a creek named Bonanza Creek. I had been visiting this area for years and had found lots of nice gold sniping the bedrock in the area. It seemed like a perfect spot to try my new detector skills. I used the Compass Gold Scanner Pro and I set my father up with a Fisher Gold Bug. I used the stock 8" round coil on the Compass, and outfitted my father with a 3-3/4" round coil that used to be available for the Gold Bug. We had a weekend to see what we could do, and so off we went on our first real nugget hunt.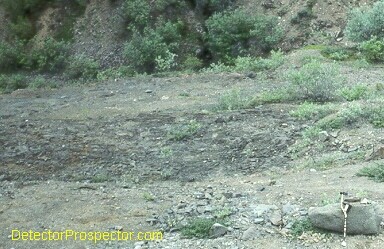 Bedrock Exposed by Oldtimers
Bonanza Creek has several bench deposits high above the current creek level. These are remnants of stream deposits left high and dry as the stream eroded deeper into the valley bottom. They can often be spotted as flat areas on the valley sides above gold-bearing creeks. In some areas there is more gold in the bench deposits than in the creek itself. The problem for the oldtimers was in getting water up to these locations to work the gold deposits. Ditches many miles long were often dug to bring water along the valley walls from places father upstream to the deposits.
They usually used "giants", a term for very large water nozzles fed by pipes with water from the ditch systems to wash the gold free of the hillside gravels. Large areas could be worked in this fashion, with the material being funneled into sluice boxes running down the hill. Much gold was lost in these sluicing systems due to the large volumes of material being washed through the boxes. However the best target for the metal detector operator is not the tailing piles, but the large areas of bedrock exposed by these operations. Nuggets lodged in cracks and crevices as the material was being washed down the hill, and original concentrations of gold in the bedrock were often missed.
The only way for the old miners to get this gold would be to tear up all the bedrock and process it. The amount of gold to be had for this extreme extra effort was not much compared to what they would get just going on with their large scale washing operations. And so that gold is left to this day, waiting for someone to find it. Trying to scrape and pan crevices can produce some of this gold, but it is a needle in the haystack kind of search. Metal detectors are the perfect way to locate deposits of gold left in these old workings. The picture above shows a dark area of exposed bedrock we searched with our detectors.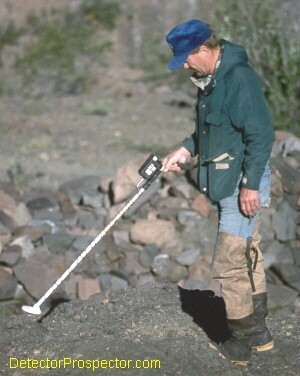 Bud Herschbach with Fisher Gold Bug & Steve with Compass Gold Scanner Pro
We actually wasted quite a bit of time on bedrock along the creek before heading up to try the bench areas. We only found a few nuggets, and I now attribute this to the fact that most mining activity goes on near the water. People pan and sluice the material along the edge of the water, and dredgers work in the water. The area nearest the creek is the area receiving the most attention. One of the first things an experienced miner must do when getting into metal detecting is to lose this natural desire to stay near the water. What really makes detectors great is you need no water to find the gold, and so working away from the water actually will increase your odds of making finds overlooked by others. You have no choice in desert areas, but in stream valleys do not let the water distract you. Any exposed bedrock or material from the highest ridge on down has potential.
We started finding gold, but it was one particular hump of a dark slate bedrock that really started producing gold. My years of coin hunting paid off as I have much better detecting habits that my father. I always keep my coil as close as possible to the ground, and do not raise it on the end of my swings. I am methodical and carefully overlap my sweeps if I feel I am in the gold. My father tends to have his coil off the ground a lot, and wander around with no set pattern. The number one thing he could do to improve his finds would be to slow down and develop better coil control. But as he has often noted, he does not have the patience I do with a metal detector. And he makes good finds nonetheless.
Still, technique is important. My father was scanning along up a steep rise in the bedrock. He stepped up the rise with just a couple sweeps over the bedrock. I followed behind, carefully scanning every inch. The bedrock was nearly vertical at one point, and as I scanned the face I got a nice signal. My father was about 20 feet ahead of me when I yelled at him to look at the flat 4 pennyweight nugget I popped out of a crevice in the rock! It turned out to the largest nugget of the weekend, and in fact the largest nugget I had ever found up to that point prospecting for gold.
Gold Found by Bud & Steve - from my notes:
Large Flat Nugget - 4 dwt 2 grain
Fat Pendant Nugget - 2 dwt 8 grain
Dad's Big Nugget - 1 dwt 5 grain
Sitting Bird Nugget - 16 grain
Chunky Nugget - 16 grain
Long Flat Nugget - 14 grain
plus others total of 11 dwt 6 grain
Grand Total 1 oz 4 dwt 12 grain
"Great weather, great gold, GREAT TRIP!"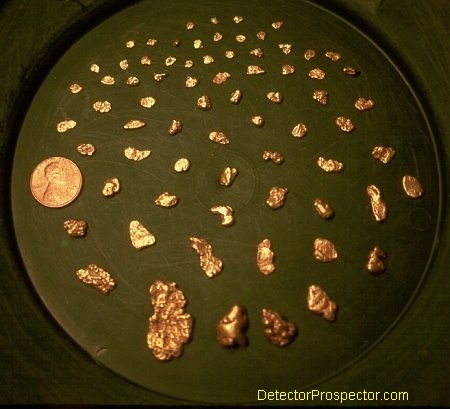 Gold nuggets Steve found with Compass Gold Scanner Pro
I had a fantastic time. Probably the most fun I'd ever had looking for gold. Metal detecting really appeals to my desire to just get out and walk around the hills. I went nugget hunting regularly after this trip. I tried new machines as they came out, and kept getting better results as the technology improved, allowing me to go back and rehunt old areas many times. My finds close to home really took off when the White's Goldmaster II was introduced, as the local creeks had lots of smaller gold on which the Goldmasters excelled.
Still, gold dredging produced the bulk of my gold yearly. I dredged locally, and large nuggets suitable for detecting were rare, although I did finally dredge a 1 ounce nugget at Crow Creek in 1998. Then in 2000 a few things happened to make me really get serious about nugget hunting.
First, I finally started getting bored with dredging. I had been doing it so many years it was becoming mechanical. It was mostly an equation. Run the 6" dredge for X hours at X location and get X gold. Dredging was also causing me to stay at the same locations for years at a stretch. I wanted to start moving around more and doing more pure prospecting. I was also finding my body was beginning to suffer from the years of cold water dredging. But the most important thing was those big nuggets. I decided that if I really wanted to see lots more really good-sized nuggets I'd better change my tactics. One 1 ounce nugget in 25 years of dredging meant I was going to die before I found a couple more!
So I consciously set dredging aside and concentrated on metal detecting. I sold my 6" dredge and used the funds to buy a Minelab SD2200D. Paired with a White's Goldmaster I figured I could handle most anything. The Goldmasters are very hot on smaller gold, but suffer in highly mineralized ground. The SD2200D is not very good on small gold, but excels on larger gold in the worst of mineralized ground conditions. So the two make an excellent combination for varying gold and ground conditions. Finally, and most importantly, I started contacting miners I've met over the years looking for access to big gold creeks.
The payoff was immediate. I found more pennyweight range nuggets in 2000 than I ever had in one year and found my largest ever with a detector at just over 8 dwt. Then in the summer of 2001 at Ganes Creek, Alaska I found a slug of 1/4 to 3/4 ounce nuggets and my largest nugget ever, a 4.95 ounce gold and quartz nugget. I was one of the happiest guys on the entire planet when that nugget came out of the ground! In 2002 I bettered it with a 6.85 ounce nugget and over 2 pounds of detected gold.
So there you go. It took me the longest time to warm up to these 21st century prospecting methods. But I am ready now to let the past go and put my pan, sluice box, and gold dredge aside to concentrate on this exciting field of electronic prospecting. I'm more excited now about prospecting than I have ever been, and cannot wait for my next opportunity to test my skills in the field.
~ Steve Herschbach
Copyright © 2002 Herschbach Enterprises
3