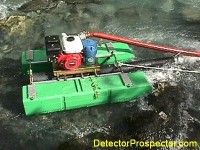 Summer passes too quickly in Alaska. August has the last hot days of the year, but the weather usually turns rainy. By September snow will start to appear on the mountain tops, and by the end of October snow arrives at sea level. I am trying to plan my fall operations, but the weather is always a question. I am afraid that the rains and high water of September will turn to snow and cold weather quickly this year, leaving only a short dredging season.
The current plan is to work at Mills Creek first, and then possibly at Crow Creek later, depending on weather and gold. My mining buddy Jeff Reed decided to move his 4" subsurface dredge up to Mills Creek and start working. He had marked out a stretch of creek that had very productive sniping (extracting gold with simple hand tools) last year and wanted to hit some of those same areas with a dredge. The gorge I had marked out for myself upstream of Jeff's ground was still full of whitewater, and it made me rethink my position. Here Jeff was starting mining, and I was still waiting for the water to go down. I decided to look for an area further upstream that would be more suitable for dredging at higher water levels, as I want to do some dredging before it gets cold this year. I can then go after the gorge when the weather gets cold and the water level drops.


Jeff's 4" Subsurface Dredge at Mills Creek
The pictures above show Jeff's dredge. It is based on a new 4" subsurface sluice box by Keene Engineering, bolted between a small set of marlex floats. A 4HP Honda pump provides plenty of power for the dredge and air compressor. The entire unit, with 15' of suction hose and suction nozzle weighs just under 100 lbs. These units are nice for remote sites, as they weigh less and use less fuel than the equivalent surface dredge. The trade-off is some loss of fine or flaky gold, but I have found it to be an acceptable trade for the areas I work.
I hiked up the canyon to where the valley starts to open up, and located a very nice stretch of creek on a wide, sweeping bend below a waterfall. I had found gold in this location last year, so made the decision to move my markers up to this site. It is far enough upstream that I will have to abandon my normal campsite (pictured at the top of the page) and move upstream. The area is set in a beautiful alpine meadow, so I do not mind making this move, although the road up to this area will require some clearing. It is amazing how fast alders grow in Alaska's long daylight hours.


Views from camp down to creek and looking up valley
I will be camping on a hill overlooking my future dredge site, so it will be a short walk down to the worksite each day. I plan to set my dredge up in the lower portion of the on the inside curve (the upper left hand corner of the picture on the left). I'll proceed up the creek, generally hugging the inside of the curve. Bedrock is quite shallow, with no more than 1-2 feet of material in much of this area.
Satisfied with my new plan, I headed down to see how Jeff was doing. He had about 3 pennyweight (20 pennyweight per troy ounce) of nice gold as I came by, and had the rest of the evening and the next day left to dredge. I had to work the next day, however, so headed on back to Anchorage. When Jeff came back to work the following day, he had 2-1/4 ounces of very nice gold gold to show off, with quite a few nuggets weighing over a pennyweight each. His dredge had worked well and he got into a small, but hot stretch of crevices in the bedrock. His showing of gold certainly has me anxious to move my dredge up to Mills Creek the next weekend!
~ Steve Herschbach
Copyright © 1999 Herschbach Enterprises