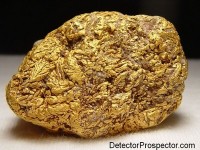 Our first trip of 2004 to Moore Creek got a lot accomplished, but the big jobs remained ahead. I was contacted by my friend George, better known on the internet forums as seeker. He has a background with heavy equipment and offered to help out with the generator and bulldozer. George is a very accomplished and well traveled detectorist and this trip would give him a chance to try out his brand new Minelab GP 3000. And so we scheduled a another trip up to the mine.
Our first attempt was aborted at Rainy Pass due to bad weather. It was some of the poorest flying conditions I have experienced in some time. We sat and drank coffee in Skwentna hoping for the weather to lift, but it never did. This is one of the frustrations of flying in Alaska that one faces from time to time. There is nothing much to be done about it but try again in the future. But the false starts are disappointing and you never get back the lost time.
Yet another trip was scheduled for a couple weeks later, and this time we made it. My brother Tom was able to break away from work for this short weekend trip, and so it was my father, George, Tom, and I. This time the weather was better and so we made it into the mine with no problem. Then came the usual task of hauling our gear to camp and opening the place up. Every time we leave we have to try and "bear-proof" the place by covering all the doors and windows with steel. Every time we return we have to open everything back up. I want to make some heavy-duty hinged steel doors for covers to speed this process up. For now it is lots of work with hammer and nails.
George took a look at the generator and after a bit of work with the fuel system got it going. The previous owners had rigged it to auto feed with a fuel pump out of a barrel. George hooked the original fuel tank back up and bled the fuel system and it finally fired up. We now had electricity to add to our propane stove and propane refrigerator/freezer amenities. Suddenly Moore Creek was starting to feel civilized; the microwave even worked!

Aerial view of Alaska Range on way from Anchorage to Moore Creek
Arrival days are always short days. We decided to look for a little gold. I gave Tom my Minelab GP 3000 and I tried the White's MXT I had brought along just to see how it worked in the hot rocks. George had his new GP 3000 and my father his Tesoro Lobo. It was a bit of fun at the end of the day, but only Tom came up with gold, a nice 0.55 oz specimen. Tom has always had a knack for detecting although he has done relatively little detecting over the years. It must run in the family.
The next day we got more serious. George wanted to try and start the old D9-18A bulldozer that we have sitting in camp. This unit had been sitting next to the trail going from the airstrip to the cabins during all those early years when we had made visits to Moore Creek. It apparently was abandoned as dead but in the last couple years the previous owner had finally got it running. A piston was replaced and they got a little trail work done before the unit started shaking badly again. They thought it might have a bent crankshaft, which would be bad news. Still, it was running when it was parked, so we figured we might as well try and get it started to see how bad it was. The fact that it is parked in camp makes it easier to work on than the one located over four miles by trail out of camp.
These old bulldozers have a small gasoline engine referred to as a "pony motor" that acts as a starter for the main diesel engine. The first thing to be done is to get the pony motor running. They use a six volt battery instead of a twelve volt to run their own little electric starter motor. We hooked up a battery with a charge and determined the starter worked. We then checked for fuel… and there was none to the carburetor. It turned out the fuel line from the little gas tank to the pony motor was plugged up with rust particles. The line was so well plugged it was hard to believe they had used the pony motor to start the dozer. Nothing all that hard to fix but time consuming taking all the lines apart, cleaning them out, and reassembling everything, especially since many of the fittings were stripped or otherwise in poor condition.
The throttle controls were disconnected from the pony motor, so George sat up top and ran the starter while I worked the choke and throttle manually. The pony motor started and I immediately wished I had hearing protection on. That little motor was loud. It also became immediately apparent we had a coolant leak in the head. But it did not look too bad for a short try, and so George kicked in the clutch and turned over the big diesel. It cranked and my brother shot some starter fluid in the air intakes while I kept working the pony motor throttle. The big motor turned and we got some smoke puffing. It looked ready to start. So we backed off.
We wanted to let the pony motor cool down as the short effort had it pretty hot. We also looked the big motor over and checked for coolant and found none. Off to the creek with buckets we went. We dumped the water into the system, and it promptly ran right back out of the bottom of the radiator. Well, we looked but the radiator is fairly well enclosed. We think there is a drain open or hose pulled. We sure hope so, and that the radiator is not cracked. I have to believe they drained it before walking away.
We were tired of fighting with the unit, and decided a set of manuals would be very helpful at this point. The dozer seemed like we could start it, but I had no desire to hurt things more by running the unit without better information about the recommended oils, coolants, etc. We decided to round up manuals before making another try at starting the dozer so we could run the unit through a full pre-start checklist. And find out where that drain is.
My father and I figured to start trail work up to the other bulldozer outside of camp and it was decided that George and Tom should go hunt for gold. It was hard to say when Tom would get a chance to visit again, and George had already done well in getting the generator going and a start on the dozer in camp. Dad and I figured we would go off and do some work and let them have a little fun. Prospecting can actually be pretty tough work, but looking for gold always beats working on equipment or clearing trails since you just might find gold.
There is an old bulldozer trail up to the unit that the operators were following when they got the dozer stuck about three miles from camp. It is about 4.25 miles by trail to the dozer along the trail itself. It starts out in the woodlands at camp, rises above tree line into that nasty alder and willow zone one runs into in Alaska, and then up onto the clear areas above. The small mountains around Moore Creek rise a couple thousand feet above camp, to total elevations of around 3000 feet for the tallest. Once you get above the alders it is very open terrain and very easy travel whether by foot or ATV.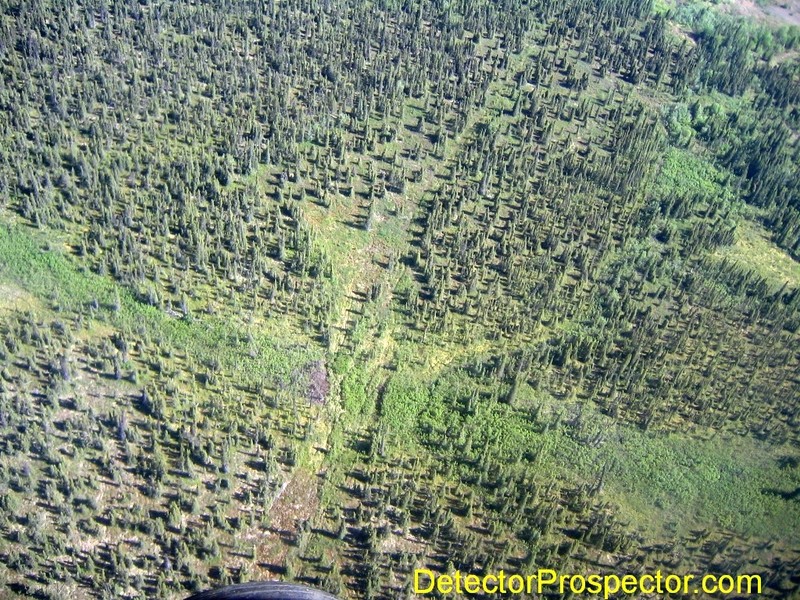 Old dozer trail in wooded area above Moore Creek camp
The old dozer trail was in pretty good shape but alders had grown into some lower stretches and willows choked off some upper stretches. These two plants are like giant weeds in Alaska, and the alders in particular grow at amazing rates in the long daylight hours. They are the bane of the Alaska hiker due to their propensity to grow outward horizontally from a slope before curving upward. Along trails they curve in from both sides and crisscross in the middle. You don't hike through alders; you climb over and under them, and so they really slow travel. It is impossible to drive an ATV through them, and they rapidly grow into and shut trails off to ATV access unless a trail is constantly maintained.
One secret of locating old trails in Alaska is to look where the alders are thickest. They love disturbed ground, and old trails and ditches are easily spotted by looking for lines of alders and willows on hillsides.
My father and I headed up the trail with chainsaws. He walked on up ahead and I followed with the Honda 200 three-wheeler. He was pretty much just scouting ahead, while I followed up at a slower rate, making sure the trail was clear enough to easily get through on the three-wheeler. With the dozer over four miles away by trail and over a couple 2000 foot hills, we wanted to be able to drive there with fresh batteries, tools, oil, etc. We could have just bushwhacked on up and got to work, but it would be a case where something would be needed, and then you would be looking at a long hike to camp and back. The trail needed to be cleared for ATV access to the dozer. This proved to be a very wise decision.
My father disappeared up the trail while I worked along. I would park the ATV, then clear on up ahead with the chainsaw. Then set the saw down, walk back tossing brush aside, and get the ATV to drive it up to the chainsaw. There was lots of back and forth but I was making pretty good time. There were long stretches that needed no clearing, and so after slowly getting though a thicket a sudden advance would be made for some distance.
I was bringing the three-wheeler forward at one point, when the unit made a loud squeak and stopped like the brakes were on. A long period of rolling back and forth and cutting logs to get the rear off the ground and I determined a rear axle bearing was seizing up. I decided to hike down and get George to seek advice as I had no tools on me anyway sufficient to tackle an axle.
I was about a mile out of camp but it was all downhill and therefore a short hike. I found George by the ponds above the cabins with his new Minelab GP 3000 metal detector. I told him what had happened. Then I finally asked him if he was having any luck. He said he thought so and dropped a heavy rock in my hand. I could tell by the heft this was more than one of our regular gold/quartz specimens. Amazingly, George has not washed it off yet. Gold was glinting thought the yellow mud caked on the nugget. I headed over to the pond and washed it off. I think I was almost more excited than George. It was a fantastic gold nugget about the size of a golf ball! Not just any nugget, but one with small fingers of gold creating a delicate pattern over the entire surface of the nugget.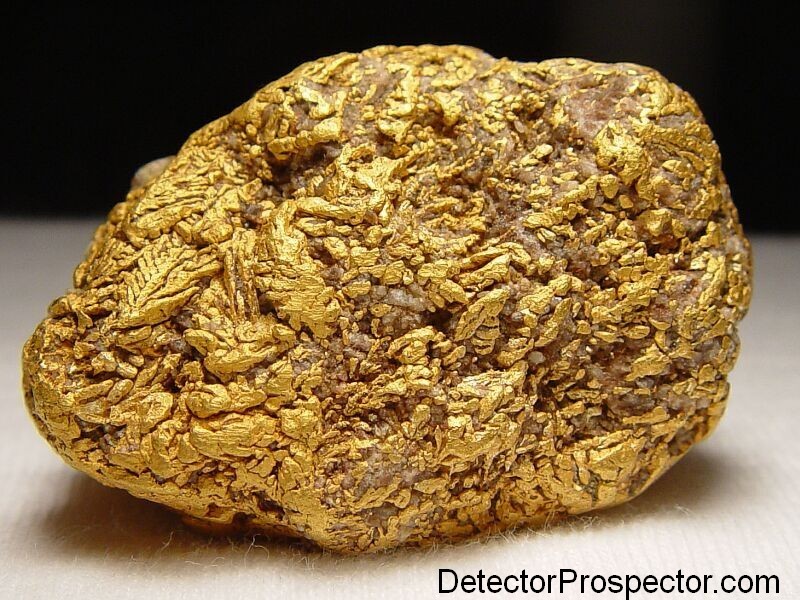 George's amazing museum quality gold nugget from Moore Creek
Moore Creek has lots of smaller nuggets that are predominately just gold, but the gold here is very close to the original source. Even the smallest gold is not worn or rounded, but just as it appeared as the rock that enclosed it rotted away. This also means that much of the gold has quartz attached, and the larger multi-ounce pieces have generally been about half gold and half quartz. I had come to expect this, and was surprised and very happy to see such a large relatively solid chunk of gold come from Moore Creek. The fact that George found one means that more are out there to be found in the future, and that made me very excited indeed. We went back to the cabin, and the nugget weighed in at 3.74 ounces. This surprised George somewhat as it was heavier than he thought and so he was thrilled. Not a bad find for his very first nugget with his new Minelab GP 3000 and his first at Moore Creek!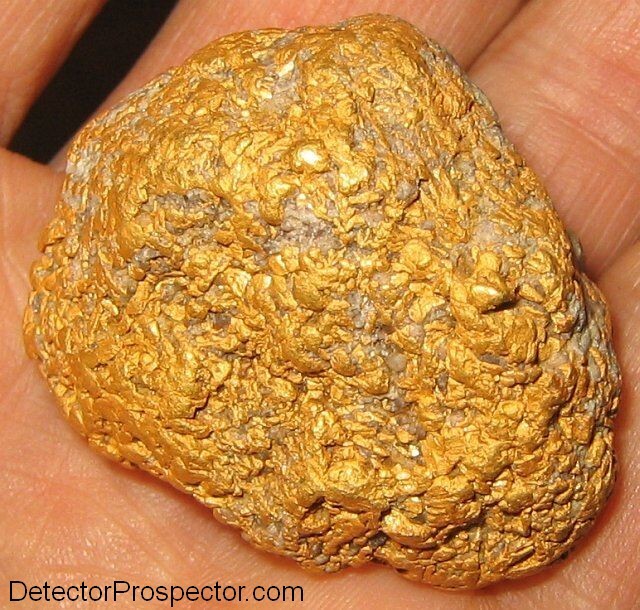 Bottom view of George's Nugget
Another very good sign for the mine is that the nugget was found in virgin soil on the edge of what we suspect is a large chunk of virgin ground. The fact is that I and others had missed the nugget by the smallest of margins. We had all hunted the area getting just smaller gold. I'm sure I'd been within a couple feet of the nugget, and it was only a few inches down. Anyone could have found it, but George was the first to get right over it. In any case, that virgin area is looking pretty good right now.
I figured George would be hot to go look for more gold after a find like that. But on hearing the problem with the three-wheeler he put his detector aside and we hiked up to the Honda. After a brief consultation we decided I should just get on it and ride it back to camp. It needed more work then we wanted to tackle there in the woods. So I got on and went. It squeaked, and would seize up but I would roll it backward to free it up and go on again. Then it seemed like it decided to work again and I cruised into camp without pause.
We drained the oil out of the motor and got the Honda turned upside down. We got it apart enough to determine there was really not much we could do without a new rear axle assembly. One wheel had actually been welded onto the axle and the rest was in poor shape. We drilled a hole in the bearing carrier and pumped it full of grease. Then got it back together and I drove it around camp a bit. It seemed better, but it was obvious we had not repaired it. The bearing could totally give out at any time.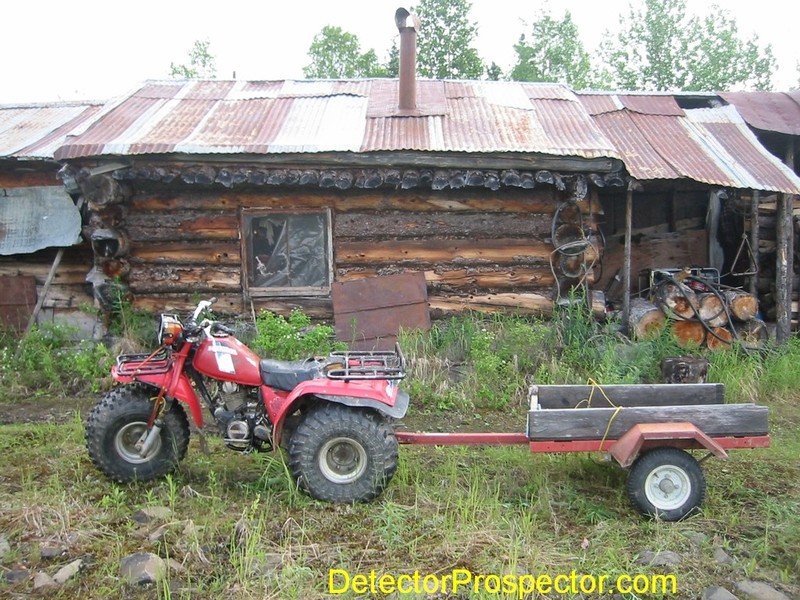 Honda 200 ATV with trailer at old cabin in Moore camp
Tom finally showed up and he had quite a pile of gold to show. He actually had not been doing very well, but got into a hot spot and found several specimens in a fairly small area. He had 0.19, 0.43, 0.53, 1.06, and 1.78 ounce pieces and so was feeling pretty good about it, but his eyes about popped when he saw George's nugget. George was playing it all kinds of humble and stuff but we assured him we'd trade twice the normal type of gold finds at Moore for a fantastic museum quality piece like he had found. It is truly a find to be proud of.
It was late and we all were tired so we cooked up some food and waited. It was starting to get darker, which tells you how late it was, and still no sign of dear old Dad. I learned a long time ago not to worry about Bud Herschbach in the wilds of Alaska, but still as it got even darker I started to wonder at what point we should go out looking. But then he finally showed up, and just as well as it was getting dark enough to be hard walking.
My father can out-hike most people half his age, and had decided to go all the way up to the stuck bulldozer to check it out. He reported that a half mile up the trail from where I had stopped there was a very thick patch of willows where he lost the trail. He calmly described literally crawling through these willows and having "something very large" jump up a few feet in front of him and make a huge amount of noise moving off in the brush, but he never did figure out if it was a bear or a moose the brush was so thick. It was probably a moose. He is telling this and I'm thinking I would have had a heart attack right about that time but he refused to make much of it. He has run into a lot of animals in the woods in his years as one of Alaska's pioneer surveyors.
He finally made it up to the bulldozer and reported it looked in a lot better shape then he had expected and certainly better than the one in camp. It was buried to the top of the track on one side and to about half a track on the other side. On his return trip he found looking downhill that he had gone through far more willows then need be, and had picked out what he thought was the shortest route possible through the thicket and marked it with flagging on both ends.
There was one day left to go on our three day weekend trip. After a good night of sleep Dad and I hiked up to do more trail work. We decided to save the Honda for now for the critical task of hauling heavy loads to and from the airport, like the big empty bottles of propane we planned on backhauling out this trip. I had decided to go on a hunt for more three-wheelers to fly into the mine. Honda three-wheelers are still pretty common in Alaska and can be had for very little money. Most importantly, we can fly them in easily in the Cessna 206. Being dependent on a single three-wheeler that could break down any moment did not seem like a good idea. I wanted some redundancy and more spare parts. We could also use more ATVs for the upcoming bulldozer project to make it easier to get multiple people with loads up to the site.
This trip wound down with little excitement to report. We got the trail cleared all the way up to where the willow thicket started, and once through that it would be clear sailing. My father and I had had enough clearing for the day and so we figured we'd leave that last small but tough stretch for later. Tom and George had prospected most of the day, but the luck had run thin and only Tom had found a 0.35 ounce piece. Funny how quick you get spoiled finding gold that I now say things like that. Not long ago a third ounce nugget would have really seemed like a big nugget.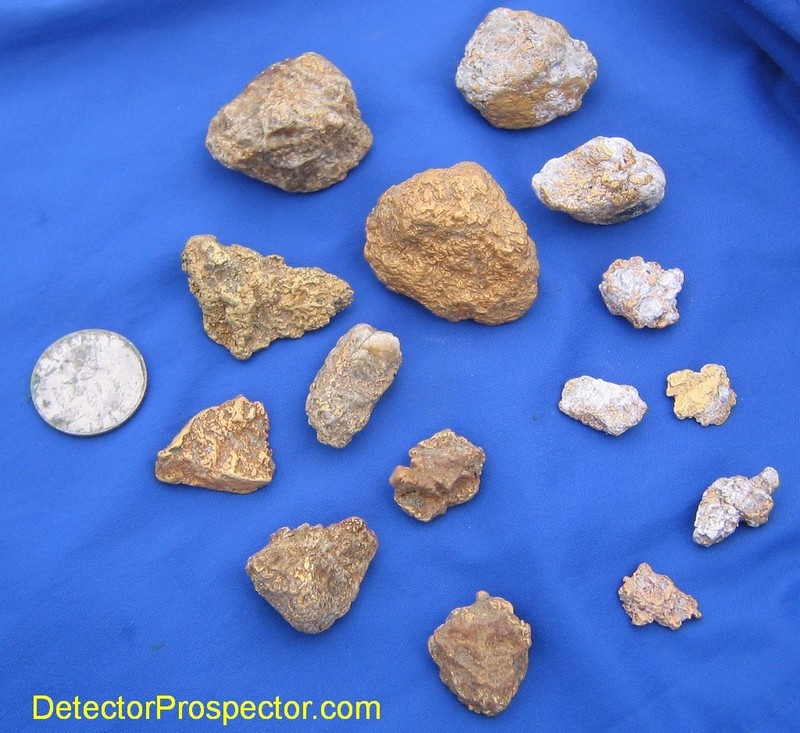 Just over 8 ounces gold nuggets and gold specimens found at Moore Creek, Alaska
Overall the nugget detecting was quite productive. Tom and George did most of the detecting and found over 8 ounces of specimens between them. George's 3.74 ounce nugget is his largest ever, and Tom's 1.78 ounce piece surpassed his previous largest of 1.64 ounce, found at Moore Creek on his last visit. While this nugget detecting is fun it serves a very serious purpose at Moore Creek. First, 50% of detected nuggets go to the LLC to help fund operations. Or, as in George's case, the finder has the option of purchasing back the LLC percentage which achieves the same goal. More importantly, every nugget find is plotted on maps. As of this trip almost 70 specimens and nuggets have been located totaling over 50 ounces of finds. The map is revealing certain "hot" areas on the creek. Certain zones are producing more nuggets than others. Some tailing piles have produced multiple finds, some none at all, and some just a single piece. Any finds at all increase the probability of a particular pile containing more gold from mere speculation to almost total certainty. Some areas that look very good have turned out to be not so good and vice versa. At Moore Creek it can truly be said that metal detectors are a vital part of our initial exploration program.
Our short but really productive trip wrapped up and we flew back to town. Our generator is running, old dozer puffing, trail nearly cleared to the stuck dozer, and more. But this particular trip will always be remembered as the one when George found that beautiful 3.74 ounce gold nugget. It truly is a find of a lifetime and the nicest at Moore Creek so far.
~ Steve Herschbach
Copyright © 2004 Herschbach Enterprises
Edited by Steve Herschbach
9