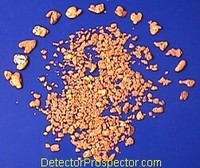 The adventures continue! I left Anchorage rather late Saturday morning. I was happy to find that the creeks had dropped by over half compared to the previous week. I met Al and his partner Kenny at the claims, and found that they were pulling their equipment out in anticipation of the coming snows. After a short visit, I headed up to my camp.
The weather was nicer than I expected. The forecast had called for rain, but it was only cloudy. Everything was looking good. I suited up and headed down to my dredge. Since the water was now down, it was an easy chore to move it across and down the creek. I fired up and ran a tank of gas, cleaning up the area I had worked by hand the previous trip. The light began to fail, so I cleaned up and found I had about 1/4 oz of gold.
This encouraged me and I decided the site was worth more effort. I set my tent back up and moved in. The clouds cleared and the temperature was dropping as I turned in for the evening.
The thermometer read 30 degrees when I got up, and heavy frost covered everything outside. The weather was clear but the clouds were moving in again, and the day soon warmed up into the 50's. I headed down to the dredge and got back to work.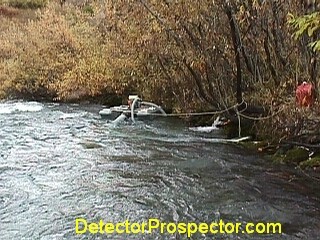 New dredge site at Mills Creek
The bedrock is quite shallow at this site, less than two feet underwater and with only a foot of overburden. The overlying material has some gold, but not as much as I had hoped. Most of the gold is in the shale bedrock crevices, and is not readily visible until you split open the crevices. Unfortunately this slows things up a lot, as you don't know where the gold is, and so all crevices must be broken open. Some have gold and some don't. The bedrock is really rotten at this point, and so I basically just rip it all up, remove the larger pieces that will clog the hose, and then dredge up the rest. The value per yard is high, but the going is too slow to do really well. Running two more tanks of gas netted another 1/4 oz of gold.
My father was still interested in coming up, so I had told him I would drive out Sunday night to give him an update. I quit before running my normal third tank of gas (each tank lasts about 2 1/2 hours) and buttoned up the camp. I headed out as dusk fell.
My truck had made a funny noise on the way in, and now it was apparent that something was really wrong. My transmission grumbled and chirped on the way out, but the noise quit once I got on the highway and into high gear. When I got to Anchorage and had to go to lower gears, it REALLY made noise. I decided it had to go in the shop in the morning.
I cleaned up the gold, and it weighed in at 9.8 pennyweight. Not bad for the equivalent of a days dredging, so I want to work the site some more. So far the gold is a little smaller than I would like to see.
I ran my truck into the shop, and was told it would take a couple days. I called my father, and told him the creek looked good, so we decided to head up the morning of the 5th in his truck. We plan on metal detecting the bench deposits further for a couple of days. Then back to town, and hopefully my truck will be ready so I can get back up to do some more dredging before the snow hits.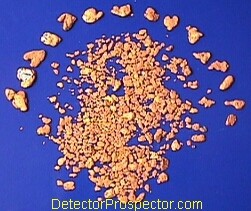 Gold for October 2nd & 3rd
Since I had some time to kill, I drove down to Crow Creek to see how my friend Jeff Reed was doing. He started dredging Saturday in the upper creek, and I figured if he was finding lots of nuggety gold that I might be tempted to pull out of Mills and head his way. I met him coming up the creek. He reported that a couple days dredging upstream had produced very little gold. The area is spotty, so this was no surprise, but we had been hopeful of finding coarser nuggets in the upper creek. He had just spent the day sniping around for a new site, and had found about 1/2 oz of gold in bedrock crevices. The crevices were isolated spots, though, and he was still unsure as to where he would dredge next. In any case, since he was not getting rich quick, I felt better about continuing at Mills for the time being. We'll see how it goes.
~ Steve Herschbach
Copyright © 1999 Herschbach Enterprises