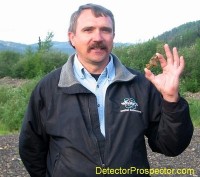 A large placer mining operation that has produced many large gold nuggets has been made available to the public for a fee, and this week saw the first group of ten people visiting the claims. Steve Houston with White's Electronics, Fred Brust with Fisher Research, Fred's grandson Brian, John Pulling, the local Fisher representative, and myself flew into Ganes Creek Tuesday morning. I had convinced the owners of the mine that it would be a good public relations move to have to factory representatives visit the mine.
The big news on arriving was that Bob(AK), who had not found any nuggets the first two days, has just scored a 5.81 ounce and 5.62 ounce nuggets in the same day! So there goes my record of a 4.95 ounce nugget, and my single day record of 8.41 ounces. Bob blew them both away at the same time. His White's Goldmaster V/SAT paid for itself many times over.
Most everyone had gold, but a few people did not. Everyone seemed happy, however, as large nuggets were being found. And when our little plane load of "celebrities" showed up everyone was out hunting gold. So much for our celebrity status.
More gold had been found right in camp, so we gave it a quick try, but soon we decided to head upstream to a spot I had in mind from my last visit. My big goal was for my guys to find some gold before we left, as we only had the two days.
A large ditch had been dug at one location, and I thought the material piled up next to the ditch looked interesting. We hit the material along the ditch, except for John, who got right down in the bottom, since the water had dried up.
It was not long before John yells up "I've got one"! That always helps raise spirits, and everyone got even busier. Fred got a target and proceeded to dig it, while Steve and I worked nearby. It was deep, and Fred was cussing the junk he was probably digging. Steve later remarked that Fred was down to his elbow in the hole. Then I heard a whoop and Fred got up with a big smile. He had a real nice nugget that looked about 3 ounces, but later weighed in at 1.48 ounces due to the quartz in it. It was about the size and shape of a walnut, and is the largest nugget he has ever found.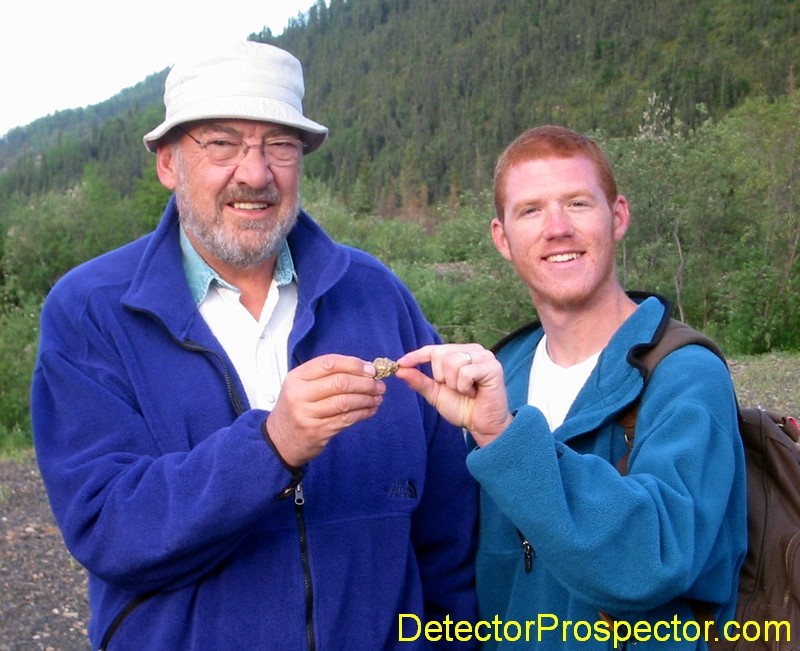 Fred Brust and Brian with 1.48 ounce nugget found with Fisher Gold Strike detector
And less than 15 minutes later Steve lets out a yell. A big 3.25 ounce nugget, pretty solid gold, and lots of character. It was also the largest nugget Steve has found, and better yet, larger than the nuggets his regular hunting buddies have found.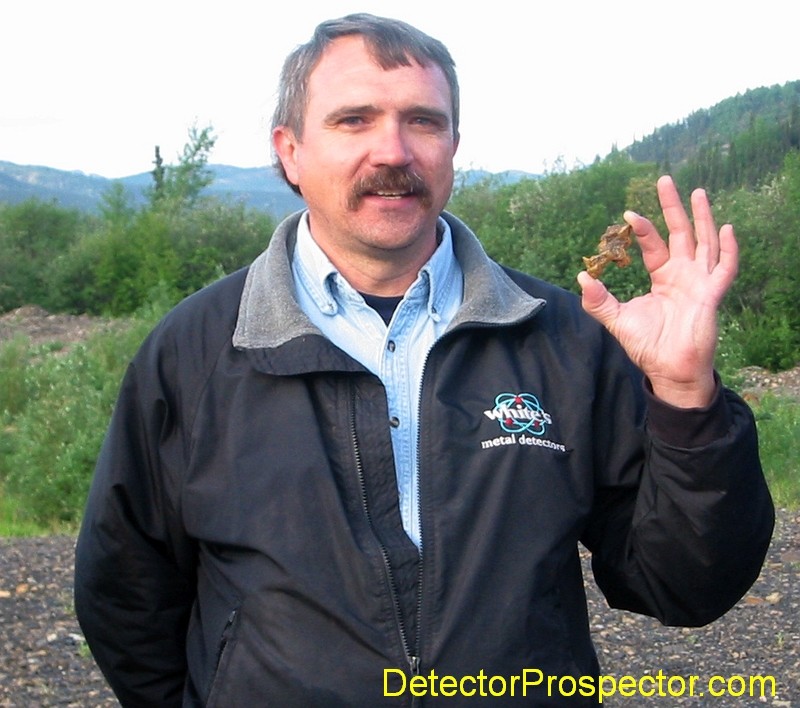 Steve Houston with 3.25 ounce gold nugget
John found a couple more nuggets, including a 1/2 ounce nugget, his largest to date, and then the nuggets stopped. We all wandered off in different directions, and I finally found a 0.23 ounce nugget wandering up the ridge of a large tailing pile. And that was it for the day. We continued after lunch at other locations, and late into the evening after dinner at other spots, and came up dry. The others were having luck that day though and the nugget count climbed.
We slept in a bit, but got a decent start. We were all rooting for Brian to find a nugget. Everyone else was happy, including myself. Fred, John, and Steve had already found their largest nuggets ever, and I was just along for the ride.
We went downstream, and covered lots of ground. My record hot streak had sure come to an abrupt end... now I could not find any gold at all. Just goes to show how in tailing piles where the nuggets are randomly scattered that luck is a big factor, and on my last visit I was exceptionally lucky. Finally John came up with a really solid 2.21 ounce nugget; a real beauty. I decided I could not go a day with no gold, so went up to the top of the Windsock Pile where we had found numerous nuggets Memorial Day weekend, and put my detector in all-metal mode. Up came several nuggets, the largest 1.2 pennyweight. I had gold for the day.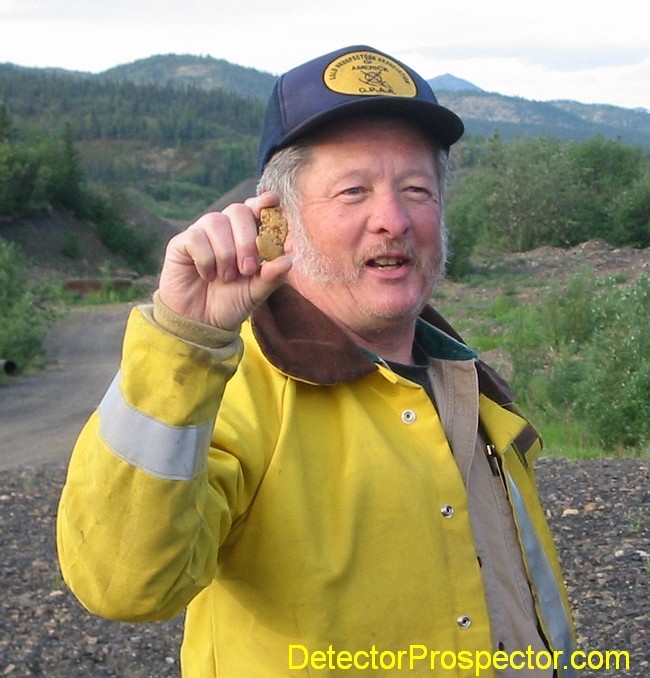 John Pulling with 2.21 ounce gold nugget
And that ended up being that. We hunted until late, but found no more gold. Brian was a bit disappointed, but still had lots of fun, and a smile on his face. He was happy to see his uncle find a nugget, which is nice to see. Our little visit was deemed a resounding success. Just the visit itself is an adventure for people from out-of-state, and Steve commented repeatedly about the small plane ride. Bush flying is an adventure in itself!
More nuggets came in from the main group, and when we left only two people had no gold, and of those one was not putting in many hours. Large nuggets when I left were:
5.81 oz Bob(AK)
5.62 oz Bob(AK)
3.01 oz Harold(FL)
2.98 oz Todd(AK)
1.85 oz Stephen
1.22 oz Todd(AK)
1.16 oz Bill(AK)
1.12 oz Bill(AK)
1.11 oz Todd(AK)
.89 oz Bob(GA)
.79 oz Zooka
plus
3.25 oz Steve Houston
2.21 oz John Pulling
1.48 oz Fred Brust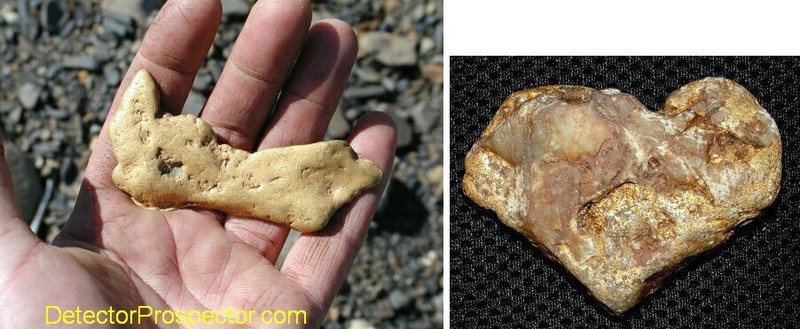 Bob(AK) 5.81 oz "Goldfinger" nugget and 5.62 oz "Heart Throb" gold specimen
And me? My largest nugget the two days was .23 ounce. My lucky streak finally petered out. But then again it was not long ago I would have considered a .23 oz nugget to be a monster. I guess I'm getting spoiled.
Numerous smaller nuggets were found by the visitors. Everyone seemed happy, even the guy with no gold. He always had a smile on his face. One interesting fact is that not one person in the first group has any real prior nugget hunting experience. I was surprised to find most had never done it or considered themselves novices. You'd think some pros would have jumped at this first. Maybe the pros have places they can go already for less money. What makes Ganes exceptional is anyone who can come up with the money can visit.
So what are my current thoughts on the chances of finding gold at Ganes Creek? Well, the chances of finding large nuggets is great... most everyone is scoring in that regard. But it is pretty much a crapshoot, with large spells of patient scanning and trash digging punctuated by large nugget finds.
All involved agree good iron discrimination is a must, but do not overdo it. The only guy without gold so far is using an Explorer, and has it really tuned to reject iron. In theory, he has it set up ok, but no gold so far. Bob(GA) had no gold, and when I checked he had his disc cranked way too high. He'd probably walked over nuggets. After setting it lower, he scored several nuggets in one day.
But the biggest factors are patience, persistence, and perseverance. It is needle in a haystack work, and you can go for two days, like Bob, then get two 5 oz nuggets in one day, like he did. You may get lucky right off the bat, like my group, or go days without a big nugget. You have to put the coil over a big nugget, and the more ground you cover, the greater your chances are. Next week the troops return and we will finally get other thoughts than mine on Ganes Creek.
The real proof of Ganes Creek will lie in the second group. I still must assure everyone that the area involved is vast, and all the detecting going on is random wandering - "hit and run" detecting. The nuggets are still out there. Obviously some of the easier pickings are being covered, so a little more effort will have to go into it. That, and Doug will push dirt around if the results seem to be thinning out. I've asked him to hold off until that happens, however, as we will only get one chance to see the tailings undisturbed. After they get flattened out a certain magic will be lost.
And for what it is worth, Fred Brust and Steve Houston, who have both been around, promptly declared Ganes a "once in a lifetime opportunity" The term came up repeatedly. Steve was already figuring out which friends to get together for a return visit.
~ Steve Herschbach
Copyright 2002 Herschbach Enterprises