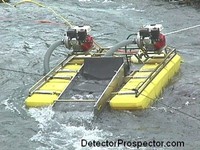 It is a fact that a lot of the very best mining ground is already claimed. The diligent prospector can find new ground, or careful study of claims records can sometimes reveal a claim that has lapsed and can be restaked. These methods are time-consuming, and the ground acquired is still not usually the best. Excellent mining ground tends to be claimed, and these claims rarely lapse.
This leaves working out permission to access claims, whether on percentage or lease deals, or the outright purchase of mining claims. When it comes to purchase, the problem becomes money. When that good deal arises, money can be all that is lacking.
In 1997 a group of mining claims on Mills Creek on the Kenai Peninsula came up for sale. This creek is one of the better producers historically on the Kenai Peninsula, and so attracted my attention. Unfortunately, I did not have the funds to buy the claims outright, and so did not pursue them.
Luckily, some friends, also excited about the claims, decided that a group of us should pool our money to buy the claims. The idea was discussed, possible pitfalls worked out, and the purchase proceeded. So it was that I am now a member of the Mills Creek Cooperative. We made a group purchase of the claims, and agreed upon a set of rules governing the member's use of the claims. A written agreement of this sort is very important, so that minor (or major) misunderstandings can hopefully be avoided.
Last summer some basic exploratory mining took place, and it was found that the ground contained good, reasonably coarse gold. Match head size nuggets are common, with nuggets up to several pennyweights found. I'll backtrack and add last years Mills Creek experiences to this Journal some time in the future.
One of the agreements about our claims is that each dredger must mark a 300 foot stretch of creek as his current site of operations. These sites are first-come, first-serve, and are good as long as they are worked at least once each thirty days. I had let my old site lapse last fall, and decided it was time to pick a new dredging area for the year. My friend Darrell, who has recently arrived in Alaska, has never mined for gold before, so I invited him along for a little mining and camping.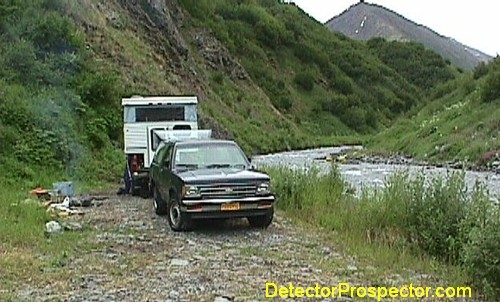 Camp at Mills Creek
An old mining road leads several miles off the highway to our claims. This small road is normally designated as non-motorized access only, but our permits for the claims allow us to use vehicles on the road. This is very important, as the distance and elevation change would make bringing in equipment very difficult otherwise. It also provides a small measure of security, as non-miners are not allowed to access the claims with motorized equipment, somewhat reducing the problem of theft. The above photo is of my normal camp on the lower portion of our claims, where one branch of the road ends as it is pinched between the creek and a cliff.
I marked off a 300 foot stretch of creek upstream, in a section where the water is forced through a small, vertical rockwall gorge. The water is fast and furious at this point, and it will not allow me to dredge until water levels drop in the next couple of months. This is fine, as it will allow me time to pack my equipment in, and do a little trail work. I'm hoping the bedrock gorge may have some nice pockets of gold. We sniped gold both above and below the section late last fall. The water in the gorge itself was deeper than we could check out with hand tools alone, so only a dredge will tell how good it is.

Marshall & Lyle's worksite          and           Al & Kenny in the water
Several of my partners were actively trying new ground in the lower, more open portion of the creek. All the work to date is being done with 4" and 5" dredges, with plans for a 6" dredge in the near future. I am currently planning on using a 4" subsurface dredge in the gorge.
A few hours of panning bedrock exposures along the creek produced minimal results. Darrell and I then switched to metal detecting an area that had decent results last summer. Exposed bedrock along one side of the creek had produced numerous nuggets, but was fairly well picked over. A couple hours detecting located a dozen nuggets that were missed, however. This resulted in Darrell going home with a couple of pennyweight of nice nuggets, not bad for a first time mining trip.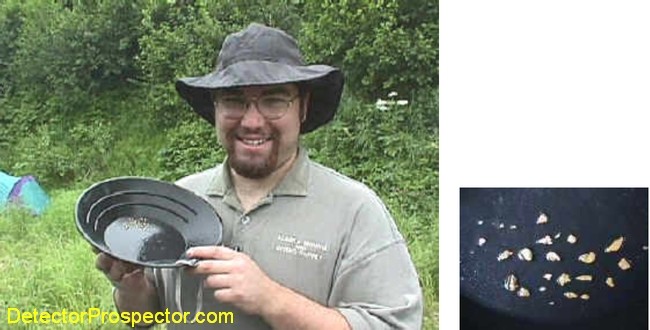 Gold putting a smile on Darrell's face!
Everyone got gold, but no fantastic finds were made. Everyone was getting setup for the first time this summer, and getting the bugs worked out of the operations. I don't intend to do any real dredging myself until September, when water levels start to come down, but may get tempted to come up sooner. We'll just have to see what develops.
~ Steve Herschbach
Copyright © 1999 Herschbach Enterprises