This ended up being one real busy trip. I blew out of here about 7PM last Friday night and got to Mentasta by midnight. I sacked out in the front seat of my truck, and was back on the road by 5:30AM. Had breakfast in Tok, then on to Chicken to deliver gold pans to Sue Wiren in "downtown Chicken".
Then off to Boundary at the Canadian border. I spent several hours chasing down miners to get permission to hunt land. Permission had been lined up in advance from a couple but one in particular I was trying to find. He was around, but I kept missing him. It was worthwhile as I got to talk to a couple other guys in the area. The area looks interesting so once I get permission I will have to head back up for another try. I finally headed to one of the fallback locations I had lined up, and by 10PM had found just over an ounce of gold with my new Minelab GP 3000. The largest nugget was just shy of 1/4 oz and the rest were nice chunky pieces. The area was pretty brushy and so I ran the 11" DD coil instead of something larger. I like the GP 3000... it ran smooth as silk and lacks the faint "warble" of earlier Minelab units.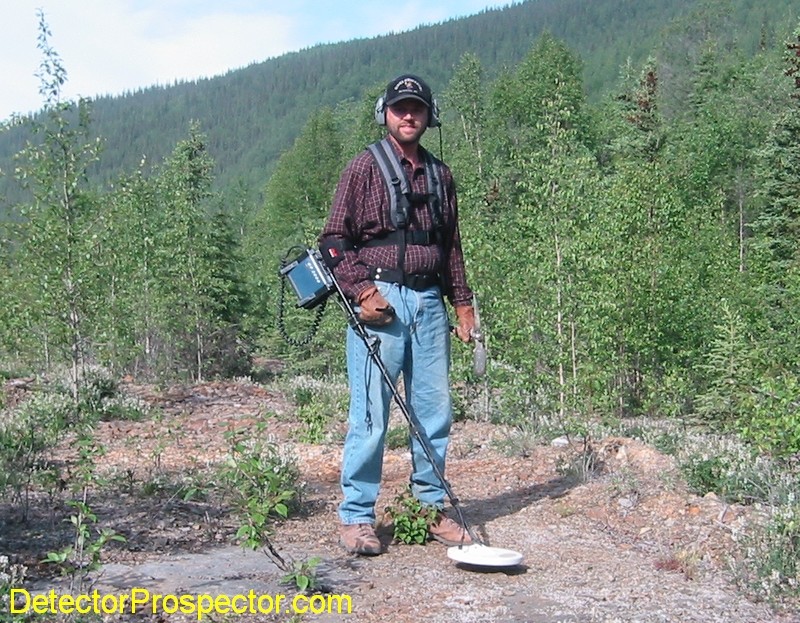 Steve with Minelab GP 3000 hunting gold in Fortymile area, Alaska
I camped out in the truck again, and was up early again the next morning. By afternoon I had just under an ounce of gold with the GP. I wanted to hit the magic one ounce mark and so grabbed my White's MXT with 10" elliptical DD coil and headed back to the spots where I had found gold with the GP. I found another pennyweight of smaller nuggets that put me over the ounce mark.
I had to meet my father and brother at the Chicken airstrip by 5PM and so I hightailed it back to town. They were there when I arrived. My father had flown up while my brother and sister-in-law had driven up. We loaded up the plane and flew over the hill to Napoleon Creek to visit Judd and his son David.
My brother had never detected gold before so I hooked him up with the MXT to start with. But as usual his beginners ear interpreted the threshold ground noises as signals. Nugget detecting requires more expertise in interpreting signals than most other types of detecting, especially when using VLF detectors. So I set him up with the GP 3000 instead. The Minelab SD/GP detectors are Pulse Induction (PI) detectors and by virtue of their design essentially ignore ground mineral and mineralized rock signals. What this means is they generally do not have a variation in the faint threshold sound unless an actual target is under the coil. This can be much easier for a beginner than learning the sounds a VLF detector puts out in highly mineralized ground. The GP 3000 does have a lot of control settings that can overwhelm a beginner, but using the suggested stock settings works just fine. I made a few extra adjustments for Tom (my brother) and sent him detecting.
And he started finding nuggets! I always get a kick out of helping someone detect their first nuggets, and it was just that much better in that it was my brother. He decided he really liked the Minelab. Still, to prove a point I grabbed the White's MXT, and started finding about two nuggets for every one he found. Expertise does count, and in trained hands the MXT is a very capable detector. I thought it did quite well indeed in the admittedly mineralized soil conditions.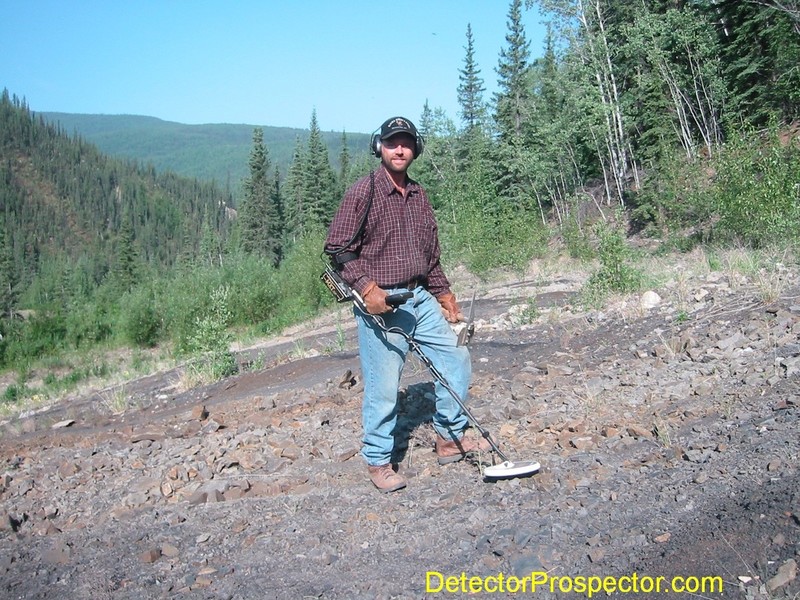 Steve with White's MXT metal detecting for nuggets on bedrock exposure
My father was having no luck at all. He has fairly poor detector technique, and I just can't convince him to slow down and keep the coil close to the ground. I have no doubt he walks right over many nuggets as his coil is often several inches off the ground. Coil control is one of the real secrets of nugget detecting. If you only have a few inches to play with, giving them up by running the coil high over the ground really makes it hard to find gold. But he insists on doing it his way, as he eventually always finds some gold. But he could find more.
Judd put us up for the evening. We got some more time in the next morning, and Tom and I found some more gold. I ended up with about 3/4 oz with the MXT while Tom got just over 1/2 oz with the GP 3000. Dad still came up dry.
Our real reason for being in the Chicken area was that we had volunteered to survey a lot for the 40 Mile Miners District. We had to meet a State survey team in Chicken in the afternoon, and so flew back to Chicken. We hooked up with them and planned the lot survey. It is amazing how something that years ago would have been very simple can turn into a major project these days. We got the planning done and then my bother and sister-in-law drove back to Anchorage.
I had planned on heading back to Anchorage that night also, but the time was late, and my father still had no gold. So he talked me into going back to the border to my earlier digs to score a few nuggets. A good decision, as I came up with four fat nuggets that totaled over an ounce in weight. One round chunk weighed over 3/4 oz plus three other nice pieces. I had set my father up with the Troy Shadow X5. It was getting quite a lot of ground noise in the all-metal mode, so I set it up in the silent search discriminate mode with the discrimination set at 3. Dad ended up finding two round nuggets weighing in at over 8 pennyweight (20 pennyweight per ounce). So he was happy... he had his gold for the trip.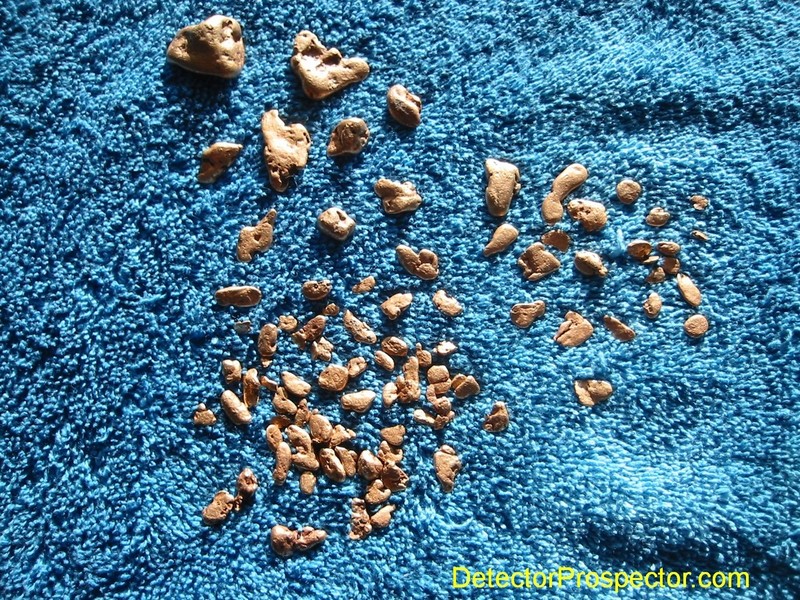 Over 4 ounces of chunky Fortymile gold found with metal detectors
I ended up with the gold above for the trip. 4.27 ounces of nice, solid nuggets. The larger ones on the left were found with the Minelab GP 3000, and the smaller nuggets grouped to the right were found with the White's MXT.
I had a 9 hour drive ahead and so took Dad back to the airport and sent him on his way. A 2-1/2 hour flight for him, and an 8-1/2 hour drive for me. But well worth the drive, with gold in the poke and lots of visits with friends and miners in the Fortymile!
2011 Update: As great as this gold and outing were it turned out to be the end of this stretch of Fortymile gold adventures. In 2003 something else came along that diverted my attention for years to come - Moore Creek, Alaska.
~ Steve Herschbach
Copyright © 2003 Herschbach Enterprises
3