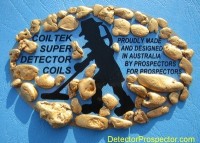 It sure is nice to know gold miners who own bulldozers! My nugget detecting buddy Jeff and I made a very successful and enjoyable trip to the Fortymile country of Eastcentral Alaska last year. Check out the story here. Judd and Gail had invited us to come back and now with summer waning I figured we had better get with the program.
I had mentioned to the miners that my father is a pilot with a Cessna 206. But imagine my surprise when I contacted the Judd and was told "I built you an airstrip"! It seems Judd had been thinking about it for some time, and so all of the sudden we had the ability to pop up for a short weekend visit rather than having to travel overland like before. Judd's brother actually made the first landing on the airstrip with a Super Cub so we were to be the second plane into the new strip.
I contacted my father and set the trip up. Luckily he is always game for adventures to new places, and I was surprised to find he had never been in the Fortymile over the years. So he was raring to go, and Jeff was certainly in for another try! So finally the day came and I picked Jeff up and drove out to meet my father out at Big Lake.
We left under cloudy skies, and the weather through the passes was questionable. But we decided to just go and see. Our route pretty much followed the Glenn Highway east out of Anchorage heading up past Matanuska Glacier. Sure enough, as we approached the top of the pass at Gunsight Mountain the clouds were down on the ground. But there is an airstrip at Gunsight Mountain Lodge next to the highway, so we set down and walked over to the Lodge to wait. Finally the clouds lifted enough to let us through and we were on our way.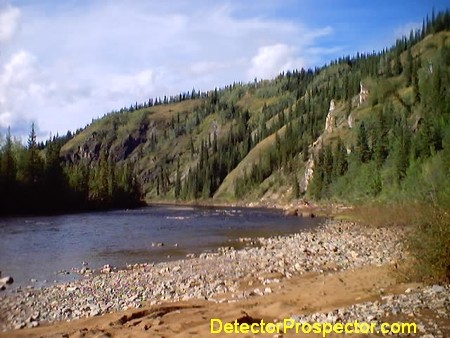 Fortymile River near mouth of Napoleon Creek
The weather cleared on the other side of the pass, and by the time we got to the town of Chicken, Alaska on the Taylor Highway it was sunny, blue skies. Chicken is an old mining town and is still surrounded by active mining claims. The first thing you see driving into Chicken is the Goldpanner Gift Shop & RV Park that forms the hub of the basic supply center for the area. It is the only place you can get gas, diesel, and propane in Chicken. There is plenty of RV parking at this site. George is still actively mining the area, and is a large-scale heavy equipment operator. There is a big pile of paydirt stacked up next to the store where you can pan for gold free of charge. Make sure you stop by and visit if you are in the area. Another place to visit is the Chicken Gold Camp which features the old Pedro gold dredge along with gold panning, RV Park, cafe, gift shop, and more. Also nearby is "downtown Chicken" which is Greg and Sue Wiren's bar, gift shop, cafe, and salmon bake.
We landed at the Chicken airstrip to redistribute our load before heading into the mine. As we came in to land we circled over the Chicken Creek mining operation, and I was able to get a photo of the operations. The ground is opened up and overburden piled to the sides. This will be used later to cover over the mined area as part of the recovery process. The ground is mined in a very methodical fashion. A strip of ground is being excavated moving to the right in the photo, and the recovery system is set up to dump tailings into the previous strip of mined ground. All the water is recirculated so there is no discharge into the creek. The gold at Chicken is quite small, but it is relatively consistent and so production is fairly reliable. A very professional operation.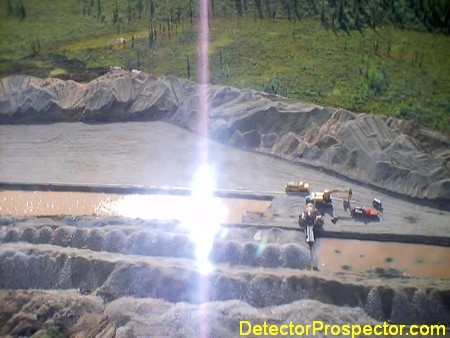 Commercial gold mining on Chicken Creek, Alaska
We departed Chicken and made the short hop over to the mine. The approach up the river and then up into the short side valley left little room for error. I did not like the looks of it in that if we missed our approach there was barely enough room to power back up out of the little valley. Dear ole' Dad seemed unconcerned, however. His main worry was the actual condition of the strip itself. Since it was so new there might be soft spots or large rocks to cause trouble as we touched down. But the landing was rather anticlimactic. We just glided on in and landed with plenty of room to spare. We taxied over to park and got out and met Judd and Gail.
These are some of the nicest folks in the world. Judd and Gail have mined in the Fortymile for many years, and have what is truly a family mining operation. Judd operates the equipment but is also a mechanic par excellence and keeps the equipment in prime running condition. All his equipment looked in fine condition compared to some of the worn out stuff I've seen some miners using. Gail is truly a "miner Mom" who keeps the whole operation running by tending the books and very often by also running the backhoe. Sons Derek and David also help out, and so the family truly represent what small Alaskan mining operations are all about. Hard working families earning a living from the land in the middle of Alaska's wild country.
They have found many large nuggets, including a 17 ounce whopper that Judd located with a Fisher Gold Bug detector in the course of mining. Judd keeps a detector on his bulldozer to help decide where and how much farther to excavate. The gold they find is like much of the gold in the Fortymile. It is in very smooth, well-worn nuggets yet they are thick and generally weigh much more than one would guess. Most of the gold has little or no quartz in it. The gold makes great jewelry because it is so clean.


Plane on the strip and From left: Derek , yours truly, Gail, David, and Judd
We visited awhile, but as we only had a couple days we were chomping at the bit to go find a little gold. Both my father and Jeff were sporting the Tesoro Lobo SuperTRAQ and I had my Minelab SD2200D. From my experience the year before I had settled on the Coiltek 14" mono coil as my favorite search coil. It seems to hit pretty small nuggets and yet have very good depth of detection. Many people consider this to be one of the better coils for the Minelab detectors. Jeff and my father were both initially running the round 11" DD accessory coil on the Lobos.
We headed up the hill to the old bench deposit workings. A bench deposit is a remnant of old stream channel materials deposited in an earlier era when the stream has not eroded down as far into the underlying rock. So bench deposits are above the current stream level, sometimes hundreds of feet higher. They can also be deposits laid down by other streams that ran in different directions than the current stream channel, and so they can be very unpredictable. When in gold country, any gravels exposed at any elevation above the current stream should be examined with a metal detector. These areas hold great potential, as their distance from water means they were difficult to work, and were often overlooked. Only the richest bench deposits could be worked in the early days.
We were all pretty excited to hit the bench as we knew there was gold there from the summer before. But this time I guess I was not playing fair. The ground there is fairly mineralized, and although the Lobo is a good detector, it simply was no match for my Minelab SD2200D with 14" coil. PI (pulse induction) detectors are at their best in mineralized ground as they are less affected than standard nugget detectors by the ground conditions. PI detectors are also able to effectively employ much larger search coils, which gives an added advantage on larger gold.
Now, Jeff is a very competent detectorist and he has at many times in the past found more gold than I on our trips together. But in this case I had him hopelessly outclassed equipment-wise. The gold on the bench seemed to be just barely out of reach of the Lobos 11" coils yet readily within reach of the 14" coil I was sporting. Jeff reported that the nuggets he was finding were barely discernible, while the ones I found rang loud and clear. But what really demoralized Jeff was that after he had carefully detected a chunk of ground I could just walk over and find nuggets deeper down he had missed. While he and my father both found a few nuggets, I was getting the lions share. Jeff actually finally just sat down and watched me, which I have never seen him ever do. I felt kind of guilty and tried to cheer him into keeping at it, but he just gave up! I ended up with about a dozen nuggets weighing around an ounce total. The largest nugget was 7.3 pennyweight or just over 1/3 ounce (20 pennyweight per troy ounce).


Jeff searching the bench, and 7.3 dwt nugget found with SD2200D
The next day started out a bit foggy but the fog soon burned off to reveal a beautiful fall day. We spent the day wandering all over the place exploring and detecting. We had to stop and visit the current mining cut, but Judd reported they were not into very good gold at the moment. We detected around in the immediate area looking for nuggets that had been missed. I did come up with one in particular that was buried dead center under a rather good-sized rock. I was quite impressed with that one... the SD2200D just saw right through the mineralized cobble to see the nugget below. A very amazing metal detector indeed.
Judd was running the dozer while Gail used the backhoe to feed their new recovery system. Judd built it himself and it is quite the little unit. All self-contained and easy to move around, with a cute little monitor mounted over the tail end of the sluice to help blast tailings away as they build up. Quite the efficient setup and Judd seemed quite justifiably proud of it. I got a kick out of watching Gail run the equipment as she is simply not what people envision when they imagine an Alaskan gold miner running heavy equipment! We gave the few nuggets we found to Judd and Gail as anything in the current mining area is their paycheck.


Gail with the equipment, and portion of creek recovered from previous mining operations
Like most mining in Alaska today the operation recycles it's water and the ground is recontoured and planted after mining is completed. The lower portion of the creek is very much like a park, with open grassy fields interspersed with small ponds. Alaska's fast growing brush has begun to pop up everywhere and in a few years this will all be very grown over. I kind of like it the way it is right now... very open and pretty. It's perfect moose pasture, and they are often seen wading in the ponds, probably enjoying the respite from the mosquitoes afforded by the open areas. Of course, being the nutty detectorist I am, all I can think of when I see an area like this is the many nuggets that were probably reburied and are now beyond the reach of my metal detector. In fact the detecting here is very limited by the fact that so much of the ground has been recovered.
There are some very old bench workings along one side of the creek, where many rocks have been laboriously stacked by hand. We had found a few nuggets here before, and so we switched to small coils to search to exposed bedrock. My father had wandered off down the creek to the Fortymile River in search of some fishing. I was having no success at all but it was very nice out, in fact, it was almost too hot in the direct sun. Derek was with Jeff and they were working up the hill way above me up near the brush line. All of the sudden I hear some whooping from Derek. Jeff had come up with a good-sized nugget!
I wandered up into their immediate area and tried around the bushes, and finally found a small nugget. Nothing to brag about, but I certainly was in no position to complain. I like to see everybody finding gold so that we are all having a share of the action. At this point I was as happy to see my father and Jeff finding the gold. And so the day continued, with a nugget here and a nugget there, but no real bonanzas. We tried some more old workings up near the cabin as the light finally began to fade. I finally tired of the mosquitoes which tend to really come out after the sun set. So I wandered back into the cabin. Jeff and my father had worked up an old side channel behind the cabin, where the mosquitoes were particularly ferocious. I figured they could just go have their fun without me!
Dad finally wanders in and I ask him how he did. He holds out his hand and drops a 1/2 ounce nugget into my hand! I could not believe it. He had been running the Tesoro Lobo with the small 7" elliptical coil as he decided he really did not like the 11" coil. The small coil gives sharper signals and works in nooks and crannies better. This was fortunate as when he worked up into the gully he found a little pocket in the bedrock. Getting the coil down in there produced the signal, and out popped the nugget. It is a very nice elongated piece that he has since had made up into a pendant for one of our relatives down south. I had taken a picture of it for this story, but have been unable to locate the photo so far. I hope to add it here in the future. In any case, it turned out to be the big nugget of the trip, as we had to leave the next morning. My father ended up with big nugget bragging rights literally at the very last minute. He ended up having this nugget made into a pendant for my cousin Rosie.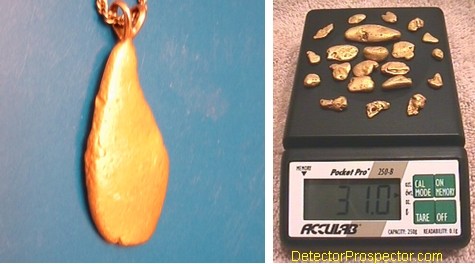 Bud's half ounce nugget on chain, and Steve's nuggets from trip
While Jeff did well, I had found the bulk of the weight for the trip. I ended up with 31 pennyweight or just over 1.5 ounces of nice chunky nuggets. The largest was the 7.3 pennyweight piece. Together with my gold from the previous summer I have 3.5 ounces of Fortymile gold. It really is pretty stuff, and remarkably heavy compared to the gold I am used to finding over the years. The 31 pennyweight is all in just 21 nuggets. Their thickness and lack of quartz makes them add up faster than gold from many other sites in Alaska. I'd like to say it was because I'm such a hot detectorist that I found the most nuggets, but this was truly a case of my "cheating" by having superior equipment for the particular conditions. If the goal is big gold nuggets in heavily mineralized ground, nothing beats the Minelab SD/GP series of detectors. But as my father proved once again, any detector can find the gold, and nothing pays off like perseverance!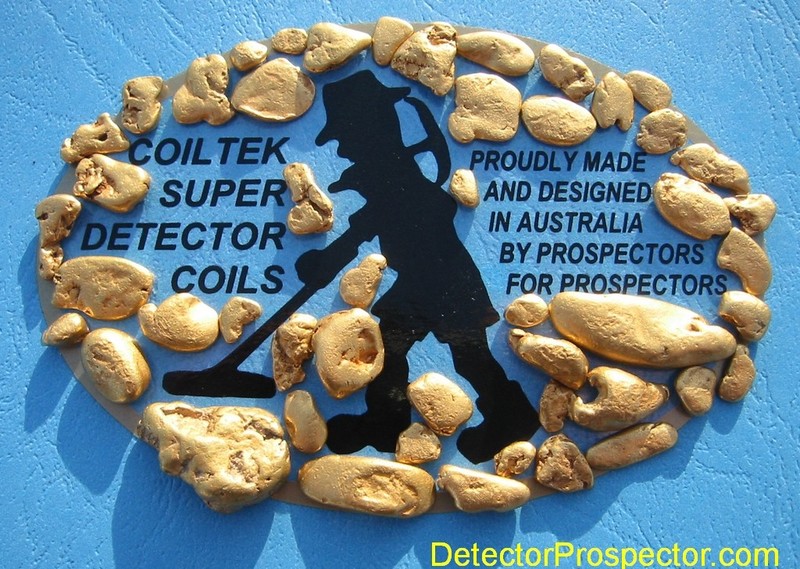 Steve's nuggets from last two trips (about 3.5 oz total), all found with Minelab SD2200D detector
We said our goodbyes the next morning, once again thankful for the warm Alaskan hospitality shown us by this remarkable Alaskan family.
~ Steve Herschbach
Copyright © 2001 Herschbach Enterprises
For more information on the Fortymile Mining District, get Gold Placers of the Historical Fortymile River Region by Warren Yeend.