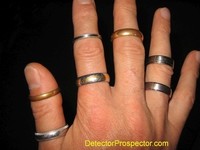 I've been metal detecting in Hawaii several times over the years, and have used several makes and models there. They include the White's Surf PI, Minelab Excalibur, and Garrett Infinium. My wife and I have obviously taken a liking to the south shore of Kauai, as we keep going back there. It is like a second home to us, and certainly a nice place to be when it is the middle of winter in Alaska. See the links here and here for stories about previous visits. I have more details in those previous stories that I am not going to repeat here so you'll want to check them out if you have not seen them before.
This trip I decided I wanted to try out the White's Surf PI Pro, the latest version of the White's Surf PI that I used previously in Hawaii. The PI Pro has improved sensitivity to small gold items and a redesigned, more reliable control box design. The Surf PI Pro has only two controls and so is very easy to operate, and better yet it is a real bargain for an underwater detector with a list price of only $699.95. Many diving detectors run well over $1000.00.
This is the beach fronting the resort area where we stay on Kauai. I've done very well here before and every time I leave I'm sure there is plenty left to be found. The sands runs out onto a coral bottom, and right about where the waves are breaking there is about a foot of sand on top of the coral. I find the rings in nooks and crannies in the coral basement and so I try to work in that zone where I feel the coral bottom is not too deep. I've detected out in the bare coral and find lots of coins but have had less luck with jewelry out beyond the surf. The results are similar up out of the water, with lots of coins but an even poorer chance of jewelry finds. The surf break has been the hot spot for me.
Since it is mid-winter the surf is about all I can handle when it comes to staying in one place. I use a neoprene suit to keep from getting beat up if the waves toss me on the bottom. I have a 40 lb. weight belt that keeps me in place, and allows me to instantly duck to the bottom to retrieve the finds. Frankly, using too much weight is dangerous and should not be attempted by anyone not very comfortable in the water. I have numerous SCUBA certifications plus thousands of hours of hookah diving time so I'm more comfortable than most people in the water. I have an excellent US Divers snorkel that sheds most of the water taken in as waves pound over me. After awhile you develop a sixth-sense about when and when not to take a big breath of air!

Gear used for metal detecting in heavy surf
I've found a scoop to be just one more thing to be hanging on to, and since the rings are down in coral depressions a scoop would miss them most times any way. When I get a signal I duck down and with my left gloved hand I quickly fan away the sand. I usually blast it hard for the first breath hold dive, then come up for air, and go down a second time to retrieve the target. The glove protects my hand when I dig around as I sometimes scoop out a hole. I keep my right hand bare, as sometimes stuff gets into such little holes I can't get my gloved fingers on it. Everything goes in a little goodie bag I keep attached to the armrest of the detector.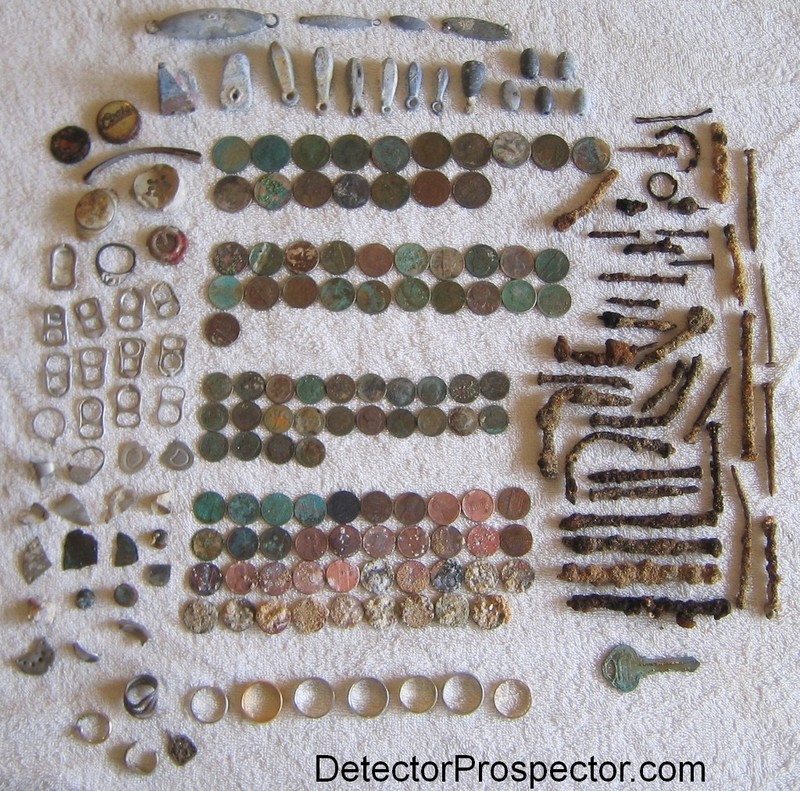 Seven morning finds - aluminum trash, coins, lead weights, rings, and ferrous junk
I hit the beach at daybreak, because once the boogie boarders and novice surfers get going it is too dangerous to be ducking down and popping up. If I was to get hit in the head and knocked out I would immediately sink to the bottom from being over-weighted. Since this is pretty hardcore detecting 2-3 hours a day is just fine with me anyway. The picture above shows most of the finds except the oversized junk which I toss in the trash cans down near the beach. The Surf PI Pro did just fine. It falsed on basalt rocks buried in the sand and falsed when picked up off the bottom but I generally had no problems discerning good target signals. Overall the machine was quieter than the Garrett Infinium I'd used previously at this location. I've decided that this is because the two-tone signal used by the Infinium inherently generates more noise when the machine is falsing than a single tone unit like the Surf PI Pro. It is not so much that the Garrett falses any more than other units but that it makes more noise when it does.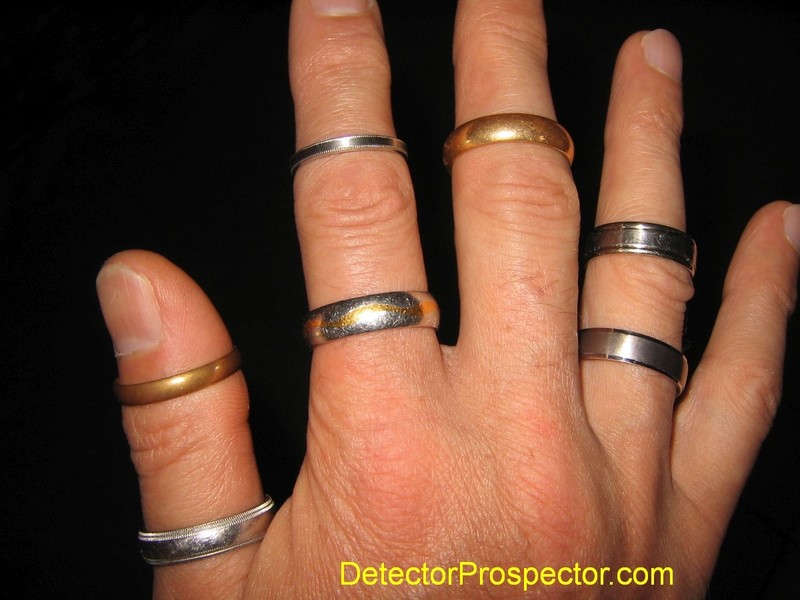 Steve's gold and platinum ring finds with White's Surf PI Pro
I got four platinum and three gold rings. One of the gold rings is white gold so it looks like only two gold. All fairly plain men's bands reflecting the rough surf area I was hunting. Once again that big diamond ring eluded me, but the number of platinum rings really pleased me. I guess I'll just have to keep going back and trying until I find that big diamond!
~ Steve Herschbach
Copyright © 2004 Herschbach Enterprises
1