My friend Rich Lampright and I planned a joint dredging expedition to Crow Creek Mine in the fall of 1996. We planned on a three week trip in October, which is generally after the rains but before any seriously cold temperatures. We obtained permission to stay in one of the cabins at the mine, and spent a day one weekend cutting firewood to supply the barrel stove in the cabin for the duration of our trip.
We planned on putting both our dredges in the canyon at Crow Creek and working up the creek together. This allows each person to work at their own pace, and avoids the need to split the gold as would be the case if a single dredge were used. I have found that rarely do two people double the production on a dredge. Yet, it is wise to dredge with a partner, both for safety and for companionship.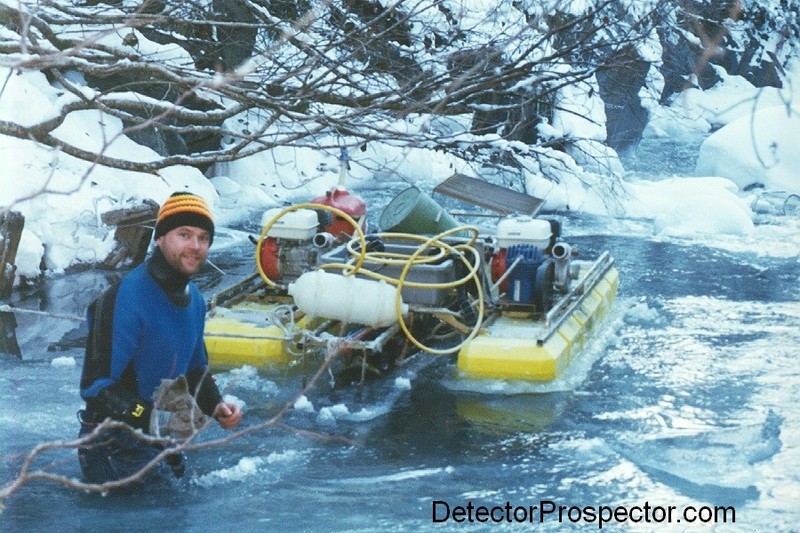 Steve breaks up the ice around his dredge - Photo by Rich Lampright
This trip, as is often the case, ended up going completely differently than planned. Rich, who was in the Air Force then, was called upon to go to do a tour of duty in Saudi Arabia. He ended up deciding the time before he left would be best spent with his family. The weather also took a surprise turn, and a very early snow storm made things interesting. Temperatures fell to about 10 degrees by day and below zero at night. It just plain got cold.
Rich has done such a good job detailing this trip at his website that I will not duplicate the effort here. Instead, follow the link below to Rich's website:
Suction Dredging at Crow Creek in October 1996
~ Steve Herschbach
Copyright © 2000 Herschbach Enterprises