FISTS FULL OF GOLD - How You Can Find Gold In The Mountains And Deserts by Chris Ralph
Yes, it's true that you can prospect for and find your own gold – it's still out there! The title of my book is "Fists Full of Gold" because that's what I hope it will bring you. I've put in years of experience to make this book the most comprehensive prospecting book ever written. It's very different from what is on the market already – It's focus is to teach you how to find gold deposits, both placer and hard rock. There is a huge amount of information here that is just simply not available in any other prospecting book. It has plenty of basic coverage for new prospectors but lots of material for those guys who have some experience and want to learn more, plus even more advanced information for prospectors with decades of experience. It is up to date with all the latest technology and science. - Chris Ralph
This book takes a unique and different approach in teaching the "trade skills" of prospecting – it covers not just equipment, but the knowledge you really need to find those locations with recoverable gold. This information is important because in the final analysis, no matter well you operate your dredge, metal detector or other prospecting equipment, unless you can find the deposits where the gold is concentrated, your equipment cannot help you recover it. It's designed to be the one prospecting book you will never outgrow. It's a quite a reference: more than 360 pages long with over 225,000 words. That makes it longer by far than any other prospecting book written for individuals – longer than any 2 or 3 of them combined! In spite of this, it's all written for the average individual who does not have any formal training in geology or mining.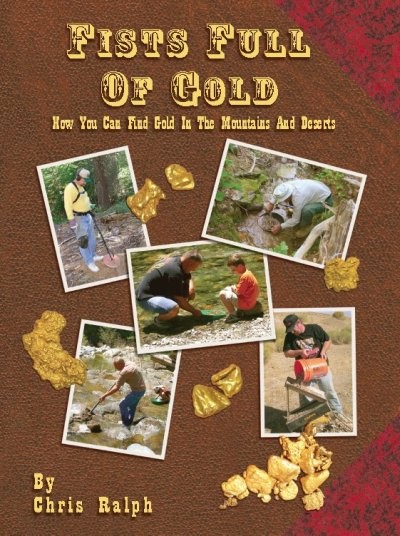 Fists Full Of Gold book by Chris Ralph
A note from Steve Herschbach, professional prospector - "I was privileged to be able to help proof Chris' book and I can say without doubt it would have saved me years of learning things the hard way had it been available when I started out. This book addresses the huge gap that exists between books teaching elementary prospecting methods and hard to read technical manuals. Chris brings together a wide array of information in a readable fashion. If you are ready to take that next step up from the basics, this is THE book to read".
Some of the highlights of the information contained in the book include:
The basics of prospecting and finding gold, including:
The fact that there is lots of gold is still out there to be found
How to use a gold pan, including crevicing, mossing and sniping for gold
How to get the best recovery out of your sluice box or highbanker
How to use a suction dredge to find and recover paystreaks
How to operate a dry washer for gold
An extensive section on metal detecting, perhaps the best on the market
Building your own equipment, including building your own:
Portable sluice box
Lightweight suction dredge
Desert dry washer
How to operate a small scale commercial mining operation
How to deal with and get the most out of your black sands
How to get the best prices for your gold, specimens and nuggets
A full coverage of the geology of gold and silver mineral deposits:
All about minerals and how to identify them
Minerals associated with gold deposits
Rocks: what they are and how to identify them
Basic geology for the prospector in an understandable form
A detailed explanation of placer geology and how paystreaks form
A detailed explanation of hard rock geology and how gold deposits form
How to recognize many types of hard rock gold and silver deposits
How to do research to find your own rich concentrations of gold:
Using and understanding topographic maps, aerial photos and GPS
Where to find little known sources of information on gold deposits
How to use geology maps to find gold
Signs and indicators of gold deposits that you want to look for in the field:
How to read and interpret signs of old timer workings
How to recognize geologic indicators of gold mineralization
How to prospect for commercial deposits of gold and silver
Mining law and how to stake and maintain your own claim
Platinum placers and deposits – How to prospect for them
Diamonds in placers – How to recognize them
Maps of where to find gold in the US and Australia
Plus hundreds of photos, diagrams and illustrations to explain the concepts presented in the book. 8" x 11" 362 pages.
Edited by Steve Herschbach
2