The Fisher Impulse AQ is a new pulse induction (PI) metal detector with an expected released in 2022. The Fisher Impulse AQ is part of a series of new pulse induction detectors from Fisher Research. The AQ (AQua) is a waterproof model intended for beach and water hunting. Pulse induction technology offers extreme performance on highly mineralized beaches that inhibit the depths attainable with VLF metal detectors.
The AQ was released first in 2020 as a limited production model, the Impulse AQ Limited. This machine has a depth rating of three feet and a NiMH battery with running time of up to 3.5 hours. The battery is attached by an exposed cable that is the main cause for the 3 foot depth rating, and which must be handled with care. The Impulse AQ Limited ceased production in December 2020 after a run of about thirty units.
The 2022 production model of the Impulse AQ will feature various upgrades and improvements to the Limited version of the detector:
Battery system replaced entirely with four drop in 18650 rechargeable Li-Ion batteries
Depth rating to be increased
Lower rod made longer to accommodate taller users
Headphone connection being relocated to back of pod
An 8" accessory coil is in the works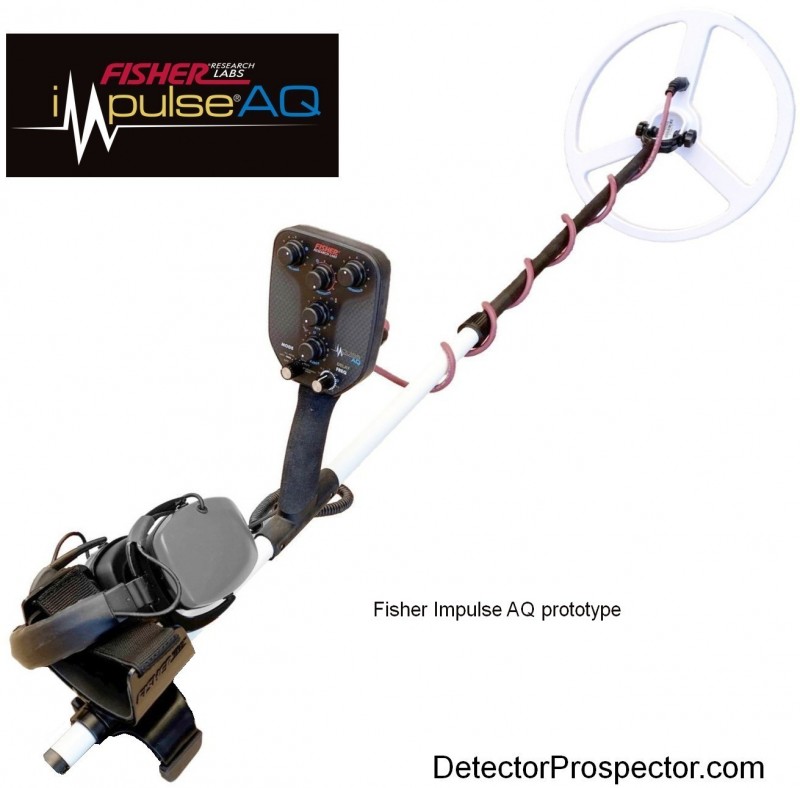 Prototype Fisher Impulse AQ pulse induction metal detector
The Fisher Impulse AQ offers excellent depth and superb sensitivity to gold jewelry - the machine is highly optimized for finding gold rings in particular. The most anticipated feature is discrimination better than that currently offered on any other pulse induction metal detector. The discrimination is focused more on high value gold rings than coins, and may actually exclude many coins if enabled. This is not considered a problem for many serious beach hunters as a lot of time is wasted recovering coins under difficult conditions when gold rings are actually the desired target. The compact waterproof design and relatively light weight is also attracting attention. Other Impulse models are expected to be aimed at gold prospectors and possibly even the relic/coin detecting market.
Threads on this websites First Texas Forum are tracking the latest developments. Information will be added here periodically.
Fisher Impulse AQ Specifications
Latest pulse induction technology
Tested waterproof to 3 meters / 10 feet
Ergonomic balanced design
12.5" Mono Coil, weighs 400 grams or 14.1 ounces
8" coil accessory coil will be available
Yoke type lower rod for extra coil stability in water
Knob controls for easy control location and use in low visibility conditions
Detector complete with batteries approximately 4.2 lbs
Length 43" - 48" adjustable
Warranty - to be determined
Controls:
Volume 1 - 9
Threshold 1 - 9
Sensitivity 1 - 9
Auto Tune Speed (ATS) 1 - 10
Reject (Iron Mask) 1 - 12
Pulse Delay / Frequency Adjust (Noise Cancel) 7 uS - 15 uS
Mode Switch:
Power On/Off
Battery Test / Frequency Adjust (EMI Noise Cancel)
All Metal (Monotone)
Tone (Two Tones, Ferrous and Non-Ferrous)
Mute (Block the Ferrous Tone)
Volcanic Sand
Battery Check LED
First Texas - Bounty Hunter, Fisher & Teknetics Metal Detector Forum
Fisher Impulse AQ Ltd User Guide (for a preview of the final AQ features)
Fisher Impulse AQ Final Version Thread
1