The Minelab GP 3000 detector was released in April 2003 and it was discontinued in 2005, replaced by the Minelab GP 3500. The GP 3000 is a pulse induction (PI) metal detector aimed primarily at the gold prospecting market. The Minelab GP 3000 had initially had a manufacturer suggested retail price of $3495 which was later raised to $3650. The machine would commonly be discounted to about $3000 new.
"The GP 3000 incorporates new technological advances and control functions which have resulted in a detector that combines stable and effective ground balancing with depth and sensitivity. Like its predecessor, the GP extreme, the GP 3000 can handle heavily mineralised and salty ground conditions with greater ease than previous detectors, which effectively opens up NEW detecting areas. The new Low-Noise circuitry found in the GP 3000 results in a smoother threshold, enhancing your ability to hear faint signals caused by small and deep targets. This allows you to revisit old "worked-out" areas, and find the gold others have missed." Source: GP 3000 Owner's Manual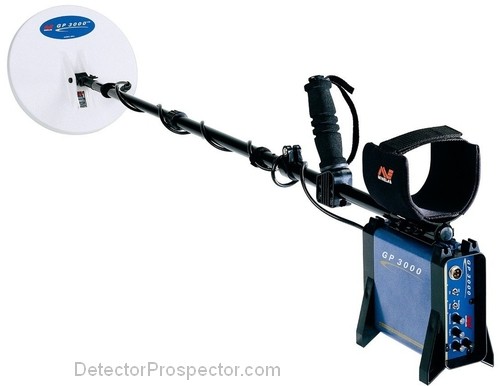 Minelab GP 3000 metal detector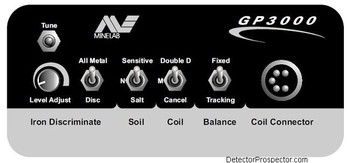 Minelab GP 3000 control panel
Utilises "Dual Voltage Technology" (DVT), which is based upon the Bi-polar technology used in our military range.
NEW Low-Noise circuitry
NEW battery harness
NEW "Smart Point" diagnostic port
DVT technology for optimum depth and sensitivity in all soil types
Long-life 12A/hr Gel Cell battery
Selectable Tx (transmit) modes (Soil Switch) for optimum performance in different soil conditions
Selectable Rx (receive) modes (Coil Switch) for greater sensitivity and less susceptibility to interference
Heavy Duty Bungy Strap
Minelab GP 3000 Owner's Manual
Minelab GP 3000 - Steve's Review
Forum Threads Tagged "minelab gp"
Edited by Steve Herschbach