The Tarsacci MDT 8000 metal detector was introduced in late 2018 and is still in production. It is a selectable frequency metal detector aimed primarily at beach detecting at this time but that may find applications in relic detecting and other types of detecting. The Tarsacci MDT 8000 allows the operator to choose between one of four operating frequencies - 6.4, 9, 12, and 18 kHz.
Tarsacci is a new U.S. based company just getting off the ground , founded by Dimitar Gargov. Dimitar worked previously at Fisher Labs and is credited with being a major force in the development of the Fisher Gold Strike, Coin Strike, and ID Edge detectors.
The Tarsacci MDT 8000 is a different detector in that it is employing time domain processing in a selectable single frequency detector. This is in addition to the frequency based phase processing typical of most single frequency detectors, and so the MDT 8000 is being referred to as having multi domain processing, or as the Tarsacci website calls it, Mixed Domain Technology. This means the MDT 8000 has some unique capabilities and operating characteristics compared to nearly all standard single frequency detectors on the market today. The method employed is unique and currently has a patent application pending.
In particular, the MDT 8000 features completely different controls for handling ground balancing, and also what it refers to as a salinity balance control. Multifrequency detectors usually handle the compensation for ground and salt mineralization as an under the hood process beyond user control. The Tarsacci MDT 8000 gives you the ability to ground balance with one control, and compensate for salinity and other low conductive issues with a separate control. In a nutshell, this unique ability is what makes the MDT 8000 different from other metal detectors available today. See the owner's manual link below for details.
November 2020 - It had been firmly announced that a 12" elliptical DD accessory coil is under development, with availability sometime in 2021. The price is projected to be under $400. 

Tarsacci MDT-8000 metal detector
From the Tarsacci MDT 8000 Owner's Manual:
"The Tarsacci was developed under the premise of mineralized dirt. There is a wide variance of minerals around the World. As such, performance may be gained (in many cases) with "Black Sand" and/or "Salt" Mode(s) invoked, even if local dirt conditions do not contain black sand or salt. Finding a few deeper targets; then experimenting with the Black Sand and Salt Modes on these deeper targets, can be a real eye-opener. For example: a combination of natural graphite (a form of hot rock) present in mineralized magnetic soil. In this case, find a piece of native graphite. Using the salinity balance function, balance the detector to it: then ground balance the detector. With a proper salinity balance setting, the graphite will no longer exist to the detector and the targets ID and detectability range, in graphite presence, will be greatly improved (unmasking more targets).
Depending upon local conditions, the Tarsacci can use the conductivity of the wet-salt to enhance overall depth performance. This is to say; there may be cases whereby buried wet-salt performance presents better results when compared to air-test performance. It is also common for the conductive wet-salt to increase depth performance too much; subsequently, lowering the Sensitivity a few points becomes a 'stability' requirement. Remember: The intended purpose of balancing the Tarsacci to "Salt"...… is to generate a condition whereby the Tarsacci no longer sees the wet-salt; unlike conventional detectors that must phase-shift out/compensate for the wet salt. If the Tarsacci sees/uses too much of the conductive properties of the wet-salt, the unit may become unstable; hence, zero the salt via "Salt" balance. Use this function wisely and to your advantage. If the volume of salt becomes too conductive (i.e.: submerged in salt water) it may also become a requirement to lower Sensitivity in order to bring excessive (unstable) depth performance back down to maximum (stable) depth performance."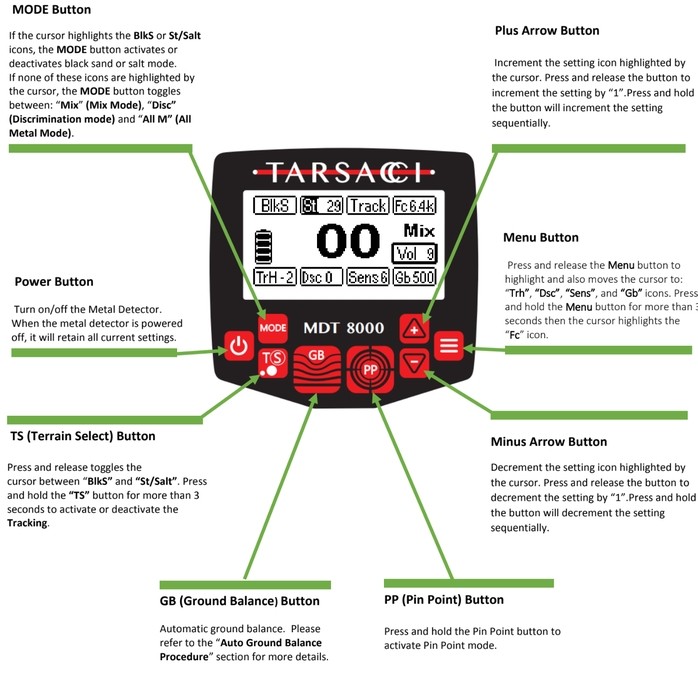 Tarsacci MDT 8000 control panel and display
Technology : Mixed Domain (Patent Pending)
Operating Frequency : 6.4kHz/9kHz/12kHz/18kHz
Ground Balance : Manual / Fast Auto
Tracking : Yes
Black Sand Mode : Yes
Salt Mode : Yes
Salinity Balance : Manual
Salinity Level : 0 to 50
Target Identification : Ferrous -30 to 0 / Non-ferrous 1 to 30
Sensitivity : 1 to 9
Threshold Level : -9 to 0
Target Volume : 1 to 15
Target Tones : 4
Tone Break : Ferrous and Non-ferrous with adjustable notch filter
Audio Modes : All Metal / Discrimination / Mix
Audio Output : Speaker / Headphones
Display : 128X64 Graphic LCD
LCD Backlight : Yes
Battery : 26650 Rechargeable Lithium-ion battery (3.7V @ 5000mAh)
Battery Life : Up to 18h@6.4kHz/24h@9kHz/30h@12kHz/36h@18kHz
Operating Temperature :-10C to +50C (+14F to +122F)
Search Coil : Tarsacci MDT 11" x 9" DD
Optional Coil : 12" Elliptical DD for release in 2021
Shaft : Telescopic 3K carbon fiber with molded 3K carbon fiber "S" rod and armrest
Length : 965cm to 1346cm (38" to 53")
Weight : 1280g (2.82 lbs) including the battery
Waterproof : IP68 (Up to 1.5 meters for up to 30 minutes in still water).
Headphones (Included) : Wired 3.5mm non-waterproof
Tarsacci MDT 8000 Owner's Manual
Tarsacci MDT 8000 Quick Start Guide
Tarsacci MDT 8000 Usage Notes, Part 1
Tarsacci MDT 8000 Usage Notes, Part 2
Edited by Steve Herschbach
2