The Tesoro Cortes metal detector was introduced in 2001 and ceased production in 2018. It is a 10 kHz VLF metal detector aimed primarily at coin, jewelry, and relic detecting.
"Get the best of the Epsilon series with visual and audio identification, notch filter and pre-set ground balance in discrimination mode, and manual ground adjustment in all-metal mode. The Cortes' VID (Visual Identification) system works in two ways: the detector samples the target and provides a nine-segment bar graph of the entire signal, and a two-digit identification number shows the ID at the maximum signal strength. In addition to the expansive information provided by the VID, the Cortes boasts nine different tones for superior audio identification. Never guess a target again." Source: Tesoro 2013 catalog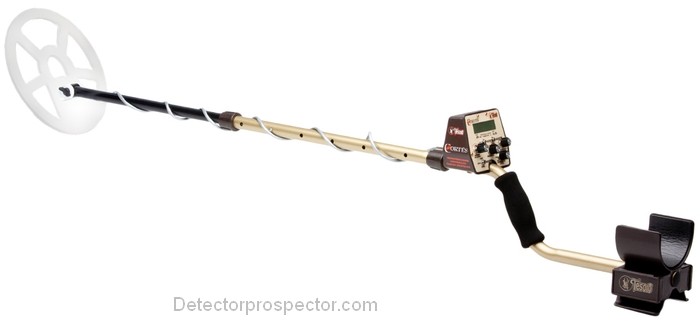 Tesoro Cortes metal detector

Tesoro Cortes control panel
Operating Frequency    10 kHz
Searchcoil Type    Concentric
Searchcoil Size    9 x 8
Searchcoil Family    Epsilon
Cable Length    Approx. 3'
Audio Freq. Target ID Tones    Approx. 350 to 800 Hz
Audio Freq. All Metal VCO    Approx. 350 to 920 Hz
Audio Output    2 ¼" speaker and headphone jack
Headphone Compatibility    ¼" stereo plug
Weight (may vary slightly)    2.98 lbs
Battery Requirement    Eight AA (alkaline)
Battery Life (typical)    10 to 20 hours
Optimum Temp. Range    30° to 100° F
Optimum Humidity    0 to 75% R.H.
Operating Modes    Silent Search Discriminate, No Motion All Metal, Sum, Notch Narrow/Wide
Official Tesoro Cortes Product Page
Forum Threads Tagged "tesoro detector"
Edited by Steve Herschbach