The Tesoro Outlaw metal detector was introduced in 2012 and ceased production in 2018. It is a 10.6 kHz VLF metal detector aimed primarily at coin, jewelry, and relic detecting.
"The Outlaw represents the return of true no motion, all-metal treasure hunting. This detector is a continuation of the Bandido series of metal detectors, which was designed with all of the controls needed to get maximum performance from its machines. Like its predecessors, the Outlaw has discrimination, sensitivity, threshold, and ground balance adjustments. Its "Retune" button is used to reduce the response from the metal, which shrinks the target area and allows for precise pinpointing. The Outlaw is available with either an 8" round concentric coil, or a three-pack of coils: 5.75" round concentric, 8" round concentric, and 12x10" widescan. The 8" coil provides great balance between depth and sensitivity, and is an efficient pinpointer. The 5.75" coil utilizes tremendous sensitivity, making it an optimal tool for pinpointing targets. The 12x10" coil is less susceptible to ground effects, which means it is perfect for heavily mineralized sites or hunting larger targets." Source: Tesoro 2013 catalog


Tesoro Outlaw metal detector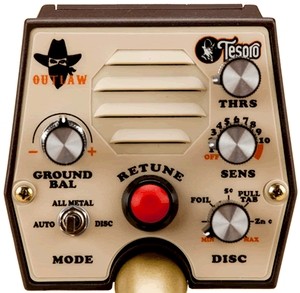 Tesoro Outlaw control panel
MicroMAX Design
Low Noise Circuitry
VLF 10.6 kHz Frequency
One Drop-in 9 volt Battery
Silent Search Discriminate Mode
No-Motion All Metal Mode
Motion All Metal Mode
3-Piece Knockdown Pole
Limited Lifetime Warranty
Official Tesoro Outlaw Product Page
Forum Threads Tagged "tesoro detector"