The Tesoro Silver uMax metal detector was introduced in 2001 and ceased production in 2018. It is a 10.6 kHz VLF metal detector aimed primarily at coin, jewelry, and relic detecting.
"The Silver μMax represents the evolution of the Tesoro Silver Series. The Silver Series is known for its capable, uncomplicated two-knob detectors. With both a sensitivity and discrimination adjustment, the Silver μMax provides more information about your targets and the conditions of your hunt. This machine also offers the option to change search coils, enhancing the versatility of this ultra-lightweight machine." Source: Tesoro 2013 catalog


Tesoro Silver uMax metal detector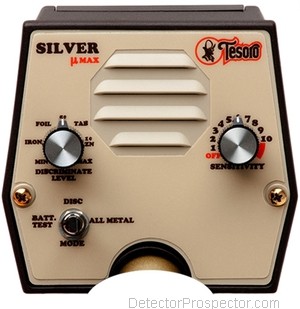 Tesoro Silver uMax control panel
Microprocessor Technology
MicroMAX Design
Low Noise Circuitry
VLF 10 kHz Frequency
One Drop-in 9V Battery
Push Button Battery Test
Silent Search All Metal Mode
Silent Search Discriminate Mode
8" Concentric Coil
Interchangeable Coils
Built-in Mineral Rejection
Limited Lifetime Warranty
Official Tesoro Silver uMax Product Page
Tesoro Silver Umax Owner's Manual
Forum Threads Tagged "tesoro detector"