The Tesoro Vaquero metal detector was introduced in 2004 and ceased production in 2018. The Vaquero is a 14.5 kHz VLF metal detector aimed primarily at coin, jewelry, relic, and gold nugget detecting.
"The versatile Vaquero is an all-around detector designed to do just about anything a detectorist could want. Named after the Spanish word for "cowboy," the Vaquero lives up to the hard-working, take-on-the-tough-jobs reputation that made cowboys in the Old West famous. What enhances the Vaquero's versatility is its 3-3/4-turn manual-adjust ground balance, which gives the detectorist the capability to set up the machine to suit mineralization conditions and personal treasure-hunting style. We've also added an ED180 discrimination feature for filtering trash from treasure, a push-button pinpoint for easier digging, and a VCO-style all-metal operating mode—features that give the Vaquero its "do anything" power. With a weight of just under 2.2 pounds, the flexibility to use any Lobo SuperTRAQ or Tejón accessory coils, and its lifetime warranty, the Vaquero is the ultimate go-anywhere treasure tool." Source: Tesoro 2007 catalog


Tesoro Vaquero metal detector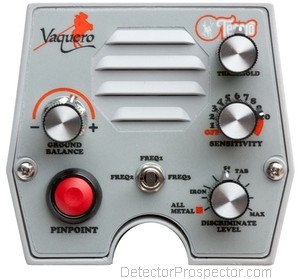 Tesoro Vaquero control panel
MicroMAX Design
VLF 14 kHz Frequency
One Drop-in 9V Battery
Variable Threshold
3 3/4 Turn External Ground Balance
Ultra-lightweight Design
9x8 Monolithic Coil
3-Piece Knockdown Pole
Limited Lifetime Warranty
Operating Frequency    14.3 kHz, 14.5 kHz, 14.7 kHz
Searchcoil Type    Monolithic (Carbon Fiber)
Searchcoil Size    9 x 8
Searchcoil Family    Delta
Cable Length    Approx. 3'
Audio Frequency    Approx. 293 Hz or VCO
Audio Output    1 1/2" speaker and headphone jack
Headphone Compatibility    ¼" stereo plug
Weight (may vary slightly)    2.2 lbs
Official Tesoro Vaquero Product Page
Forum Threads Tagged "tesoro detector"
1