The White's DFX was released in 2001 and replaced by the DFX 300 (same detector with larger coil) in 2008. The DFX series was discontinued in 2012. The DFX is a VLF metal detector aimed primarily at coin, jewelry, relic detecting, and saltwater beach detecting. The White's DFX is a multifrequency detector that can also run at one of two single frequencies: 3 kHz and 15 kHz.
"Here it is. The finest all-around metal detector. DFX™ is simply unsurpassed in its ability to find treasure - older, deeper and smaller items that other detectors pass over. DFX™ brings together the ultimate combination of sophisticated microprocessor technology, and turn-on-and-go simplicity. You're out and hunting right away, but there are dozens of adjustments available if you choose. White's patented multifrequency method partners with the target I.D. you get only from DFX. "See through" minerals in the ground and detect coins, jewelry and relics other detectors miss. Hunt in 3 kHz or 15 kHz (the two best frequencies for finding treasure) or use both together for unequalled hunting. Choose Best Data and the DFX™ displays data from the most reliable frequency. Choose Correlate and questionable targets, including iron, are rejected. All happening automatically while you hunt! There are dozens of features that come together in the DFX™ to create the world's best metal detector. It's built on White's proven digital platform, with the features that give you more flexibility to find it all!" Source: White's 2006 catalog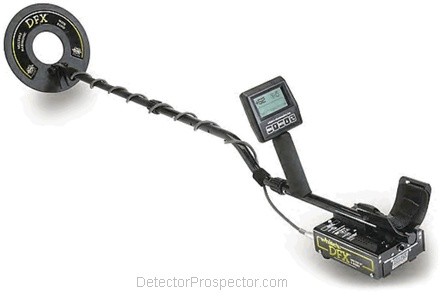 White's DFX metal detector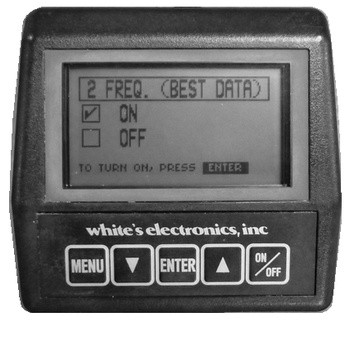 White's DFX control panel
Multiple Frequency Operation. Hunt in 3 kHz, 15 kHz, or both frequencies simultaneously.  BEST DATA analyzes and displays data from the most reliable frequency. Used for: Parks, beaches, yards and most other general hunting. Correlate compares both frequencies and displays target info. only when both frequencies "agree". Used for: Homesteads and areas where nails and other iron are bothersome.
4 EEPROM hunting programs. Use these Pro-designed programs or erase them and create, name and store your own custom programs.
DSF™ Digital Signal Filtration. Change your ground filtering - use 2 for quick response in high-trash areas or 3, 4, 5, up to 6 to optimize depth in mineralized grounds.
Sweep Speed Adjust. Use higher settings to move quickly through an area with few targets, and lower settings when you want to move more slowly through areas where you need to get in between trash.
Hot Rock Rejection. A complete accept/reject range.
9 Turn-on-and-Go! Programs - ready to hunt right out of the box. Completely automatic, professionally engineered for high performance.
10 Basic Adjustments and 34 Pro Options. Adjust every aspect of your hunting. Popular adjustments include Tone I.D., Sweep Speed, Silent Search, Fade Rate, Recovery Speed, Block Edit, and AutoTrac® Speed.
Complete Visual Display. Target icons, VDI numbers and White's exclusive SignaGraph® target signature. 3 independent and precise ways to define a target. Squeeze the trigger and activate the depth screen.
Automatic Ground Balance with AutoTrac®. Tracks and adjusts to changing grounds as you hunt.
High Definition megapixel display.
Powerful, waterproof 9 1/2" search coil for optimum depth and versatility.
Slide-in Nicad Battery System. Up to 15 hrs. of power-packed hunting on a single charge. Backup penlight pack also included.
Two-year Parts and Labor Warranty.
White's DFX | DFX 300 User Guide
White's DFX (+ XLT) Handbook V1.1
Edited by Steve Herschbach