The White's MX Sport metal detector was introduced in 2016 and was still in production when White's closed up shop in 2020. It is a fully submersible 13.9 kHz VLF metal detector aimed primarily at coin, jewelry, relic, and gold nugget detecting.
"THIS WATERPROOF METAL DETECTOR can do it all! Hunt for relics, coins and jewelry, even gold nuggets. With its roots in the MX lineup, MX Sport builds on the legendary MXT with the latest technology for improved performance, more options, and expanded features." Source: White's 2018 catalog

White's MX Sport metal detector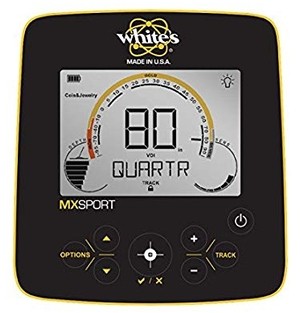 White's MX Sport control panel
WATERPROOF HOUSING IP-68 certified waterproof to 10 feet
SIX ADJUSTABLE HUNT PROGRAMS. Coin and Jewelry, Beach, Relic, Prospecting, High Trash and All Metal. Plus, Pinpoint
FAST RECOVERY SPEED. Pick out those good targets right alongside trash
REJECT VOLUME™. Maximize depth and filter target responses by the intensity of the volume- 8 settings
SALT TRACK. An option in all hunt programs, Salt Track enhances performance in wet sand, in some farm fields and in the alkali patches often found in prospecting areas
TONE ID. Hunt in 1, 2, 4, 8 or 20-tone I.D.
AUTO GROUND BALANCE WITH TRACKING. Grab options. Complete versatility to go from the park to the beach to the
desert
FREQUENCY OFFSET for hunting alongside other detectors
FREQUENCY 13.9 KHZ
WATERPROOF SPORT HEADPHONES included
8 "AA" BATTERY PACK included
ADJUSTABLE ARMREST with arm strap
10" DOUBLE D WATERPROOF COIL (other Sport coils available, sold separately)
2-YEAR PARTS & LABOR WARRANTY
Official White's MX Sport Product Page
White's MX Sport Owner's Manual
White's MX Sport - Steve's Review
Forum Threads Tagged "whites mx sport"
Edited by Steve Herschbach