The White's MXT was released in 2002 and is still in production as the MXT All Pro or MXT Pro. The White's MXT is a 14 kHz VLF metal detector aimed primarily at coin, jewelry, and relic detecting as well as gold prospecting. The MXT was originally released with the 9.5" round concentric 950 coil (MXT 950) with a shiny black paint finish. The MXT was later reissued as the MXT 300 with a flat black paint job and 12" (300mm) round concentric coil. Both earlier versions have been discontinued.
"MXT is 3 metal detectors in one. A versatile high performance detector that's as comfortable hunting for coins in the park as it is relic hunting an old battle site. Plus, it's designed by prospectors for the tough task of finding gold. MXT™ combines easy operation with all the performance and versatility you need to find coins, rings and jewelry, relics, and gold nuggets." Source: White's 2008 catalog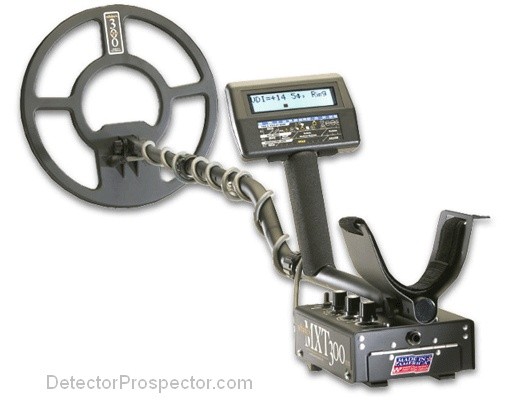 White's MXT 300 metal detector

White's MXT 300 display
3 completely separate easy-access hunting programs - COIN & JEWELRY, RELIC, PROSPECTING
3-position Mode switch. Works in conjunction with your hunting program to give plenty of options. Each mode functions differently in each program. Unique target responses, display information and audio frequencies.
GAIN maximizes sensitivity and depth.
THRESHOLD allows you to hunt with a slight hum or hear only the sound of detected targets.
DUAL control fine tunes discrimination in the Coin & Jewelry and Relic programs. Adjust the full range of discrimination - ignore trash or hear all targets.
In the Prospecting program, DUAL control adjusts the S.A.T. speed - an essential for serious prospecting detectors.
Automatic Ground Balance keeps the detector perfectly balanced even in the harsh grounds of prospecting areas.
Pull the trigger forward and the Pinpoint mode "zeros" in on detected targets
Operating Frequency - 14 kHz
Drop-In Battery Pack. 40-hour operation from 8 "AA" batteries (Nicad Rechargeable system available.)
Waterproof 300 mm (12") search coil for maximum depth. Compatible with Eclipse accessory search coils.
Two-year Parts and Labor Warranty.
White's MXT 300 Owner's Manual