The White's V3i metal detector was introduced in 2009 and is still in production. The V3i is a VLF metal detector aimed primarily at coin, jewelry, relic detecting, saltwater beach detecting, and gold prospecting. The White's V3i is a multifrequency detector that can also run at one of several single frequencies: 2.5, 7.5, and 22.5 kHz.
The V3i was originally released as the White's Spectra Vision or simply White's Vision. Due to a name conflict with another company the name was changed to White's Spectra V3. The original Vision and V3 models both had software updates issued. The updates were consolidated into the final White's Spectra V3i model which is still being manufactured today. All previous models can be updated to the latest V3i software by returning the detector to White's Electronics. Details here.
"THE SPECTRA® V3i IS WHITE'S PREMIER METAL DETECTOR. We've included all our treasure hunting features and your investment is backed by a comprehensive 2-year warranty. The beautiful, full-color HD display clearly explains the depth and metal type of detected objects. And, if you're just starting out, the V3i has 9 preset programs, for turn-on-and-go versatility that fits the terrain and target... whether it's coins, jewelry, relics of the past, or gold nuggets. Expert users will appreciate the V3i's dozens of optional settings. You'll experience unparalleled depth and sensitivity, even in previously-hunted areas!" Source: White's 2018 catalog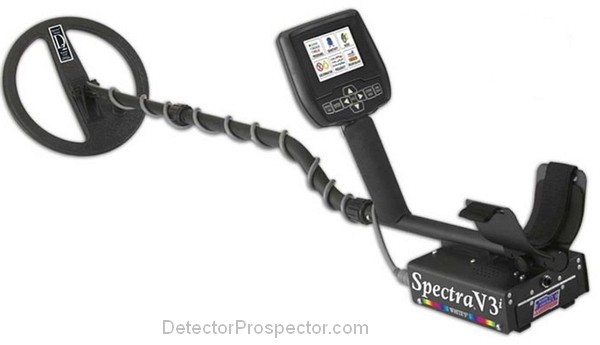 White's V3i metal detector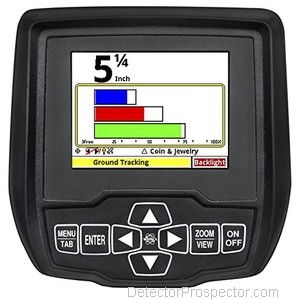 White's V3i control panel
HD COLOR DISPLAY with adjustable backlight SPECTRASOUND® wireless custom-built headphones (optional)
TARGET ID via 3x3 Target ID system - Search, Analyze and Pinpoint
VDI NUMBERS for most accurate target ID
DEPTH READING
10 TURN-ON-AND-GO! HUNTING PROGRAMS: >> Coin >> Coin and Jewelry >> Salt Beach >> Relic >> Prospecting >> Deep Silver >> High Trash >> Hi-Pro >> Mixed Mode Pro >> Meteorite
MULTI-FREQUENCY DETECTION: 2.5 kHz, 7.5 kHz, 22.5 kHz
10" WATERPROOF DD Search Coil
NIMH RECHARGEABLE Battery System
LIVE "DASHBOARD" control adjustments as you hunt
PRECISION ANALYSIS SCREENS showing data for all 3 frequencies:
PROSPECTING SCAN
POLAR PLOT Vector Screen
SPECTRAGRAPH® Target Signature
SOIL TYPE SELECT
LANGUAGES: English, Spanish, French, German, Russian and Turkish
Owner Registration Software pre-installed
Official White's V3i Product Page
White's V3i Advanced User Guide
Forum Threads Tagged "whites v3i"
Edited by Steve Herschbach
1

1