The White's XLT metal detector was introduced in 1994 as the Spectrum XLT. It was cosmetically refashioned as the XLT E-Series in 2001 and finally discontinued in 2010. The XLT is a 6.59 kHz VLF metal detector aimed primarily at coin, jewelry, and relic detecting.
"XLT® is high-performance simplicity and versatility at it's best. High tech treasure hunting is as easy as turning on the XLT® and selecting a Turn-on and Go! program. With 5 expertly-designed programs to choose from, you've got virtually every kind of hunting covered. It's easy to enhance a program, too, for your particular hunting with one of 10 Basic Adjustments or even a Professional Option. Completely automatic or totally adjustable!" Source: White's 2006 catalog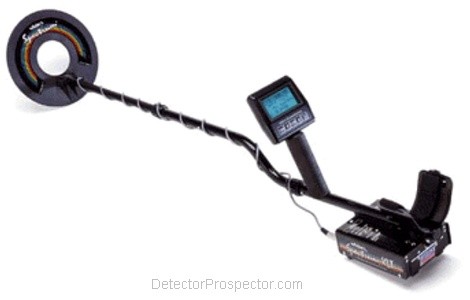 White's Spectrum XLT metal detector

White's XLT control panel
5 Turn-on-and-Go! Programs - ready to hunt right out of the box. Completely automatic, professionally engineered for high performance.
10 Basic Adjustments Adjust every aspect of your hunting. Popular adjustments include Tone I.D., Silent Search, Fade Rate, Block Edit, and AutoTrac® Speed.
29 Pro Options
Complete Visual Display. Target icons, VDI numbers and White's exclusive SignaGraph® target signature. Flip the trigger and activate the depth screen.
Automatic Ground Balance with AutoTrac®. Tracks and adjusts to changing grounds as you hunt.
High Definition megapixel display.
Powerful, waterproof 9 1/2" search coil.
Slide-in Nicad Battery System. Up to 15 hrs. of power-packed hunting on one charge. Backup penlight pack also included.
Two-year Parts and Labor Warranty.
4