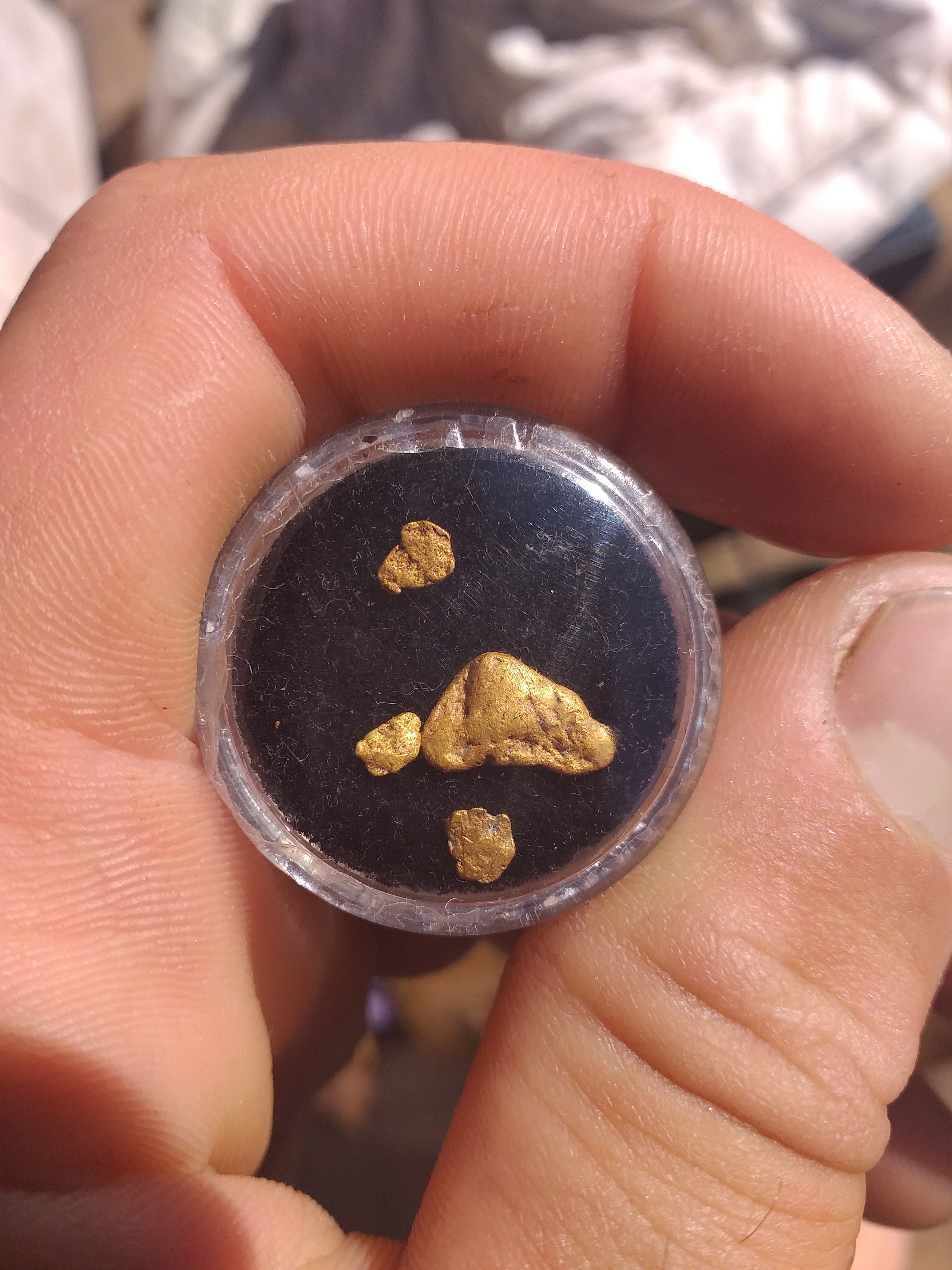 Content Count

34

Joined

Last visited

Days Won

6
Community Reputation
140
Excellent
Hi there, has anyone here used geophysical surveys to define a buried river chanel?

Beautiful location and fantastic gold. I've got a real soft spot for crystalline gold

Hi phrunt, 1.2g is better than nothing, makes for a low hourly rate $ though!

With yesterday being fathers day I went down to my claim with my dad. Targeted the same spot as last time where I got 3.2g in an hour. This time we spent almost 4hrs and did a huge amount of digging but only managed to find 1.2g. Including a little specimen, which is a bit more rare for that area.Such is life, golden day out with dad though.

Thanks for your kind remarks folks, this gold is from the Marlborough region in the South Island of NZ.

Although I could be persuaded to get an equinox 800😉

Interesting about the coil covers, I used to get white ones and then later when I got a replacement coil it does not fit the white covers anymore. Not sure what the change was about, no change in performance seemingly. I still really rate the gold bug as a detector despite having seen in action and used a number of other (late model) detectors. Largely due to the local geology and my style of gold digging.

That gold bug is almost 10 years old and still going strong. Have yet to find a way to kill it. 100s of trips under its belt if you include land based relic hunts.

Some additional photos of the gold, including close ups of the largest one which I believe shows some remnants of crystal character. Quite rare in Nz

Hi guys and girls, My wife is due to give birth to our second child next weekend so I thought I'd squeeze in a quick trip up to the local gold field to find some gold. We'd had a fresh dusting of snow on the higher hills the day before and so my very pregnant wife, daughter and mother in law decided to tag along to try and find some snow. We drove up to the same spot I last went to on our claim with my 2yo daughter. I was dropped off at the creek and the ladies continued on up the hill for a snow/picnic adventure. We arranged to meet back at the road in 1.5hrs time. The spot I chose has a 1.5m high gravel/clay Bank resting on bedrock. Flooding has exposed the bedrock at the base and on our last trip we were successful in finding gold by removing the remaining material off the bedrock and detecting the nooks and crannies. This time I applied the same method and soon found my first piece of perhaps 0.3g. There were some very large worms in some of the gravely clay which were very impressive! Some almost half a meter long! So I managed to get 6 pieces for one hours digging and detecting. The largest was 1.6g and the total weight was 3.2g. A perfect quick mission before baby arrives. Alas the ladies didn't find any snow. Cheers

Incredible find! Especially for NZ. Out of interest was this from west coast otago or Marlborough? Love the character of this piece with the quartz and dark staining

Nice gold John. I'm a real aficionado of crystal gold. I get some on the odd occasion. Your diamond shaped piece is great. Gold can grow in situ in gravels. Doesn't need a vein as such to be rough/spiky / crystalline

Hi John, yeah I hope my daughter gets the bug. Maybe it would be better if she had a milder dose of the fever than me though. I'd like to do more posts / videos but unfortunately I've not been getting out golding as much as I'd like and I'm generally too busy to do write ups. Plus I'm about to start an extension on my house and have another kid due in August. I'll be lucky to sneak out a few more times this year. I'm glad you get out as much as you do and do a superb job of reporting on your trips. I especially like your down to earth reporting on the various minelab models. I might add another detector to my arsenal once the house is done... Equinox or sdc not sure yet.

Thanks for the comments guys. I'm hoping that my daughter grows up to appreciate the outdoors as much as I do. In my opinion too many kids these days are stuck indoors without the opportunity / motivation to get outside and get muddy like I used to.

Gidday phrunt, you have to bribe kids these days. I had to get a tablet with cartoons out for a bit. The claim is patchy, have found less than today in a whole day on odd occasions.