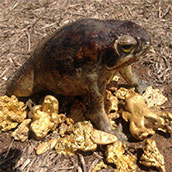 Content Count

149

Joined

Last visited

Days Won

3
Community Reputation
319
Good
Profile Information
Gender
Location:

North Queensland Australia.

Gear Used:

gpx 5000, gold monster 1000
Contact Methods
Website URL

Blood Gold revenge facebook group
Recent Profile Visitors
The recent visitors block is disabled and is not being shown to other users.
Hey big fella, yep was some fun with the kids.

Hi JW, yeah mate we are all good up this way.

Good luck in OZ buddy, hope you do well. And above all enjoy and soak up the experience and learn,adapt to the part of our great country that you are having a swing. Cheers Dave.

Good onya mate, good to see your finding some.?

Hey mate yeah that is strange, to cold in the gulf for Barra. Might even get out for a swing myself shortly, seeing Pauls gold is giving me itchy feet.☺️

Not missing much mate, all the Barra are quite when it is cold, even the pro's that unload to us are catching bugger all ATM. Come on Vic looks like you need to pull your finger out mate.

A big congrats mate from all the Goldhound crew over here. It was always going to start getting bigger with your determination to hang in there, listen and learn. Goodonya mate.

LOL, yeah enough said well, you know how things roll over here then. Brisbane bitter would kill ya quicker than xxxx. We used to call it Brisbane river ☺️

Looks like your done your homework mate.☺️No mate he is all safe and well.

Hey Paul, good to see you made it over the other side of OZ all A OK. Make the most of it mate, cool climate, flat country, a very knowledgeable host. Have fun, and find some gold.? PS,back from the USA, had a great time. Though the tipping side of things did my head in at times.

Yeah mate, could be a tall order that one. It's like letting a dog off the chain in a butcher shop ?.

Well it is official...........l-the Yank is back He rolled up in a new truck all knocked up ready to go detecting-- I think he is staying in my motorhome tonight--Already ate me out of house and home for dinner! Giving him over to Tremain tomorrow. Lol , great to see you back in the North buddy. ?

Look forward to catching you up soon mate.

Good onya Lunk, nice find.

Hi Doc, yeah I would agree with your post mate. You have done well explaining it in an overall prospective, well written. Cheers Dave.Merry xmas to all.