The Fisher Gold Bug metal detector was introduced in 1987 and discontinued in 1998. It is a 19 kHz induction balance metal detector aimed primarily at gold prospecting. The original 19 kHz Gold Bug design is a classic, featuring an "S" rod with a compact removeable control box, plus a selection of elliptical search coils. There was nothing quite like it at the time, and the Gold Bug represents one of the first truly modern gold nugget detector designs.
"The metal detector engineered for one job... find gold nuggets in mineralized soil. Many gold bearing areas are literally peppered with small nuggets just inches below the surface. The trouble is, most metal detectors pass right over them. The nuggets are too small and the ground too mineralized. But not for the Gold Bug. It performs where others can't. Users have already reported finding thousands and thousands of nuggets in highly mineralized soil from here to Australia. Only 2.9 pouinds with a cushioned arm rest and grip, double locking fiberglass stem, push-button retune and double derivitive, quartz crystal locked electronics. All backed by a 5 year Limited Warranty and the world's oldest and proudest name in metal detectors." Source: Fisher Gold Bug brochure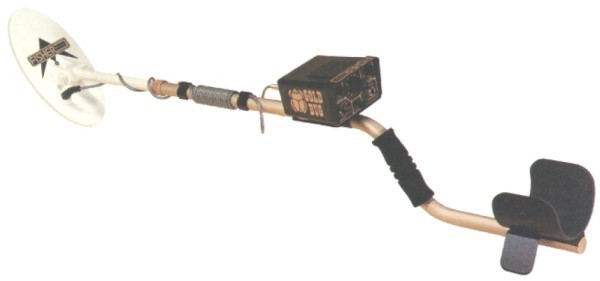 Fisher Gold Bug metal detector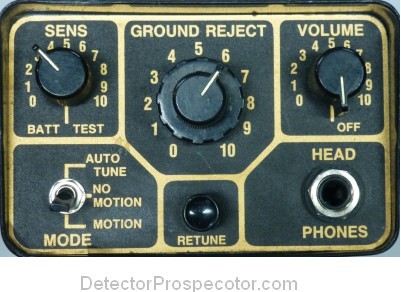 Fisher Gold Bug control panel
Powerful 19 kHz VLF ground rejection. High sensitivity to gold
16-turn, fine-tune ground adjust
Auto-Tune and No-Motion modes with threshold tone; silent running Motion Mode
Double-derivative, quartz-crystal locked electronics
Push-button instant retune
Convertible to hipmount
Only 2.9 pounds. Cushioned arm rest and grip
Standard 10 inch elliptical search coil; optional 14 inch elliptical, 6-1/2 inch elliptical
Double locking fiberglass stem
Built-in detector stand
Drop-in batteries, long battery life
5 year limited warranty
Fisher Gold Bug Color Brochure
Fisher Gold Bug Owner's Manual
Advanced Nugget Hunting with the Fisher Gold Bug Metal Detector
Forum Threads Tagged "fisher gold bug"
First Texas (Fisher) Metal Detector Forum
Edited by Steve Herschbach