I became involved in metal detecting and gold prospecting at an early age and have been at it now for over 45 years. My quest has taken me all over the world and this journal documents many of those adventures.
I hope to offer an idea of what can be done by one person with relatively inexpensive equipment. Keep in mind I have been doing this most of my life, and that I am familiar with the areas I am working. I don't want to imply you can just jump right in and have the same results I have. On the other hand, if one works at it, the rewards can be immense. I'm not talking about just the gold and other finds, but the sheer fun and adventure of the search! So here we go, with the successes, and occasional failures, of a prospector and detectorist from Alaska.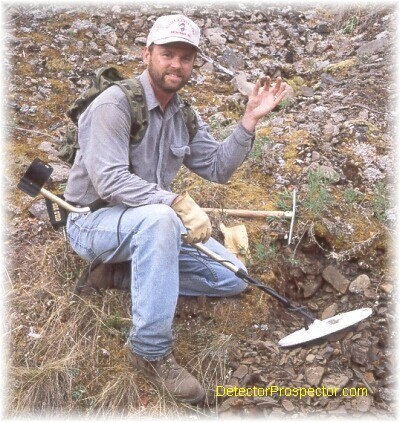 Steve with 14.1 Dwt Nugget found at Ganes Creek, Alaska
The reuse of these stories and images is strictly protected under the copyright laws. You may not do so without my express permission. Image reuse on other websites will normally only require a credit and a link back to this page... but only if I am notified in advance for permission. This Journal is dedicated to my wife for encouraging and supporting my adventures, and to my father for getting me started on the search for gold.  ~ Steve Herschbach
ads by Google...
5

4