The Garrett AT Max was released in 2018 and is still in production. The AT Max is a fully submersible 13.6 kHz VLF metal detector aimed primarily at coin, jewelry, relic detecting, and gold prospecting. The AT Max includes Garretts proprietary Z-Lynk wireless headphone system built into the detector.
"Garrett AT MAX is our most versatile and advanced all-terrain VLF metal detector. With increased detection depth, built-in Z-Lynk Wireless Technology, and many other improvements, AT MAX helps treasure hunters push their limits to the MAX!" Source: Garrett 2018 catalog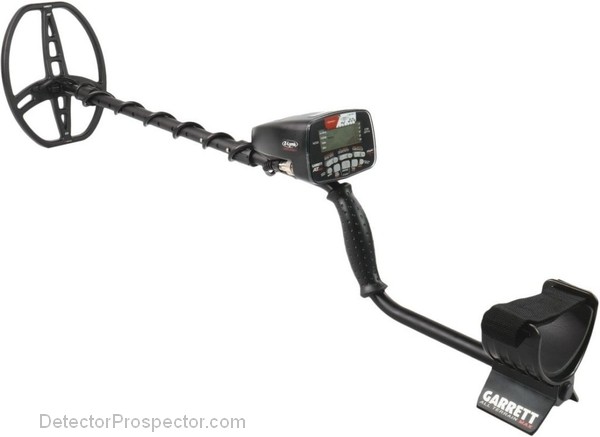 Garrett AT Max metal detector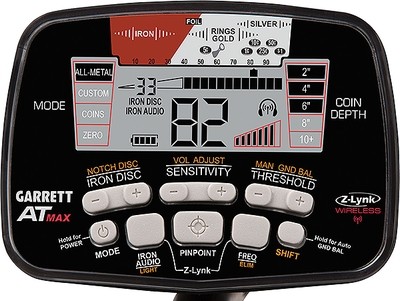 Garrett AT Max control panel
Built-in Z-Lynk™ Wireless Technology - Cut the cord! Integrated wireless circuitry transmit signals to your MS-3 Wireless Headphones (included)!
Maximum Detection Depth - Increased transmit power, enhanced electronics, and a 13.6 kHz operating frequency allow the user to detect a wide range of targets - from tiny gold nuggets and jewelry to large silver coins—deeper than other Garrett AT detectors.
True All-Metal Mode - Detects all types of metal and provides the greatest possible detection depth and sensitivity.
Advanced Ground Balance Options - Automatic and manually adjustable for improved performance. 175 points of hi-resolution Ground Balance allows the AT Max to handle both conductive soils (such as saltwater beaches) and highly mineralized ground. In addition, Garrett's exclusive automated Ground Balance Window feature will simultaneously ground balance to a range of values to help overcome localized ground variations. 
All Terrain Versatility - Weatherproof design for dusty, humid, or wet environments; and fully submersible to 10-foot depth. For underwater use, optional waterproof wired headphones must be used.
Backlight - Illuminates LCD screen for improved visibility in low light situations.
All Metal Iron Audio™ - Garrett Exclusive feature that audibly identifies iron while operating in a True All-Metal Mode (also available in the three Discrim Modes).
Digital Target ID - Large numeric scale from 0 to 99.
Fast Recovery Speed - to help separate adjacent targets.
Official Garrett AT Max Product Page
Garrett AT Max U.S. Owner's Manual
Garrett AT Max International Owner's Manual
Forum Threads Tagged "garrett at"
Edited by Steve Herschbach