The White's Goldmaster 24K metal detector was introduced in 2018 and was still in production when White's closed up shop in 2020. It is a 48 kHz induction balance metal detector aimed primarily at gold prospecting. A waterproof version called the GMX Sport was released in 2020.
"Featuring a 50% increase in coil voltage over previous models along with an all-new XGB ground balance system, take your prospecting to new depths with the Goldmaster 24k. This machine represents a new generation of VLF detection technology, with features that both sourdough and greenhorn prospectors can appreciate. Starting with the industry-standard 48 kHz operating frequency, we've packed all the necessities into one package to put you on the gold. A large, backlit display shows you all the machine's settings as well as valuable target information. The Target Graph at the top of the display shows Ferrous, Gold, and High Conductor ranges, which is mirrored with Target ID numbers ranging from 0-99. An all-new XGB ground balance system can handle mineralized ground unlike other VLF prospecting machines." Source: Goldmaster 24K brochure


White's Goldmaster 24K metal detector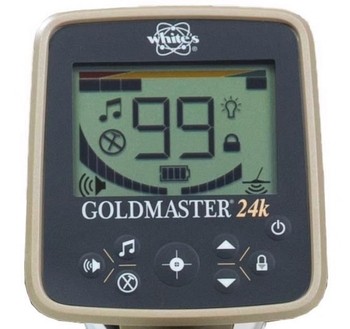 White's Goldmaster 24K control panel
For advanced users, TracLock and Ground Grab are just a tap of button away. You can assign a ground balance offset in both TracLock or XGB modes. To help prospectors that prefer drywashing, sluicing, or panning, the Goldmaster 24k features a Ground Scan mode that can show you where valuable paystreaks are in streambeds and washes. The Goldmaster 24K offers 10 levels of adjustable sensitivity, adjustable audio volume with two levels of Boost, adjustable discrimination, vSAT, adjustable threshold, non-motion pinpoint, and a Tone ID mode. But don't let that scare you if this is your first prospecting machine – this is a turn-on-and-go machine, with advanced features you can grow into as you gain experience.
SENSITIVITY – Set the sensitivity at a level that does not result in false signals from the ground. Very strong ground may result in the symbol on screen and a loud sound – this means the sensitivity is too high.
GROUND BALANCE – With the default setting, the detector will use XGB to automatically ground balance. Tap to lock the ground balance to the current setting. Tapping when the ground balance is locked will update the current ground setting to what is under the coil.
GROUND SCAN – Hold to put the detector into Ground Scan mode. The top bar displays the ground strength and the two digit numbers display the ground type (phase). Useful for tracing paystreaks.
IRON CANCEL – Tap to silence hot rocks, trash and mineral changes in both audio modes. Hold to select the Iron Cancel setting (1 bar is default). Note that this setting may decrease the detector's sensitivity to very small gold, but is necessary in difficult ground conditions.
VOLUME and THRESHOLD – Tap to adjust the volume with the up and down buttons. Hold to adjust the threshold with the up and down buttons ("th" displays on screen). Set these to a comfortable level for your hearing and preference.
AUDIO MODE – With the displayed on screen, the detector is in "BEEP" audio mode (high tone = good target, low tone = bad target). The default setting (without on screen) is a traditional All-Metal audio mode with greater sensitivity to small targets.
SAT – SAT can smooth out ground inconsistencies. Hold to adjust it ("Sa" displays on screen, 2 is the default setting).
PINPOINT – Hold for non-motion pinpoint mode. In difficult ground this mode may be affected by mineralization.
BACKLIGHT – Tap to enable the backlight (this reduces battery life).
FREQUENCY SHIFT – Hold when turning the detector on to shift frequency (useful when there is EMI). Power off to save the selection.
FACTORY RESET – Hold when turning the detector on to perform a factory reset.
AUDIO - Built in speaker, 1/4" headphone jack
BATTERIES - 8 AA
WEIGHT - 3.5 lbs
COILS - 6" x 10" DD standard. Optional 6" round concentric and 4" x 6" DD coils available
Official White's Goldmaster 24K Product Page
White's Goldmaster 24K Owner's Manual
White's Goldmaster 24K Color Flyer
White's Goldmaster 24K XGB Ground Tracking Explained
White's Goldmaster 24K - Steve's Review
Forum threads tagged "whites 24k gmx"
Edited by Steve Herschbach
1