The White's Goldmaster 24K has been announced and has just started shipping to customers. The Goldmaster 24K is an alternative to the White's GMT updated for the 21st century, with advanced ground tracking technology and increased power. XGB technology is a patent-pending automatic ground balance system. It is purpose-built for operating a high-frequency VLF gold nugget detector in the worst ground conditions. Traditional VLF detectors struggle to balance rapidly changing ground mineralization. Historically this has been where Pulse Induction machines fared much better.
With XGB technology, the Goldmaster 24k is able to track small changes in soil composition as well as longer-term shifts in both ground phase and strength. This allows it to operate in ground that traditional VLFs struggle in. Users have extended control over the range of XGB in the Goldmaster's All-Metal mode. Simply enable Iron Cancel to expand the ground filter in moderate soils. In very challenging soil conditions, hold the Iron Cancel button and select the 2-bar setting for maximum performance in variable ground.
New 9/12/18 - Detailed Review Of White's New Goldmaster 24K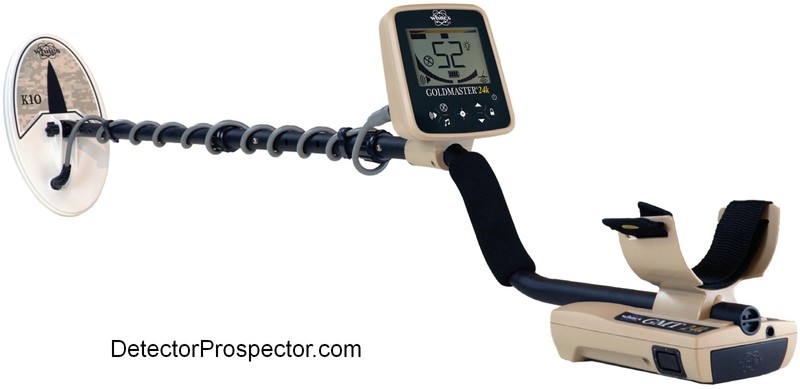 White's Goldmaster 24K metal detector - new for 2018
The new White's Goldmaster 24K also features a full backlit LCD target id screen and control suite. The potential target id is displayed on the screen whenever possible - the higher the number, the better the chance of a non-ferrous target. There is dual tone capability that reports a low tone for ferrous objects, and a high tone for all non-ferrous targets.
White's Goldmaster 24K Features
SENSITIVITY - Set the sensitivity at a level that does not result in false signals from the ground. Very strong ground may result in the symbol on screen and a loud sound - this means the sensitivity is too high.
GROUND BALANCE - With the default setting, the detector will use XGB to automatically ground balance. Tap to lock the ground balance to the current setting. Tapping when the ground balance is locked will update the current ground setting to what is under the coil.
GROUND SCAN - Hold to put the detector into Ground Scan mode. The top bar displays the ground strength and the two digit numbers display the ground type (phase). Useful for tracing paystreaks.
IRON CANCEL - Tap to silence hot rocks, trash and mineral changes in both audio modes. Hold to select the Iron Cancel setting (1 bar is default). Note that this setting may decrease the detector's sensitivity to very small gold, but is necessary in difficult ground conditions.
VOLUME and THRESHOLD - Tap to adjust the volume with the up and down buttons. Hold to adjust the threshold with the up and down buttons ("th" displays on screen). Set these to a comfortable level for your hearing and preference.
AUDIO MODE - With the displayed on screen, the detector is in "BEEP" audio mode (high tone = good target, low tone = bad target). The default setting (without on screen) is a traditional All-Metal audio mode with greater sensitivity to small targets.
SAT - SAT can smooth out ground inconsistencies. Hold to adjust it ("Sa" displays on screen, 2 is the default setting).
PINPOINT - Hold for non-motion pinpoint mode. In difficult ground this mode may be affected by mineralization.
BACKLIGHT - Tap to enable the backlight (this reduces battery life).
FREQUENCY SHIFT - Hold when turning the detector on to shift frequency (useful when there is EMI). Power off to save the selection.
FACTORY RESET - Hold the down arrow when turning the detector on. FD will display on the screen when the detector powers on. Now press the pinpoint crosshair button. The FD will clear from the screen, and the detector has been reset to default factory values.
Not only does the new White's Goldmaster 24K features a new ground tracking system, but the gain has been boosted with an increase of voltage to the coil. From the Advanced Guide (link below):
"When our engineers set out to build the GM24k, the goal was simple: improve the user's chance to find gold without hurting their wallets. The obvious way to achieve this goal is increased sensitivity. The GM24k features a 54% increase in coil voltage over the GMT. You will see this in increased sensitivity to small nuggets. While testing this machine in Brazil, this was shown in a tiny, 0.4 grain crystalline nugget we found encased in quartz. In some cases this much power can be counter-productive if the ground is very challenging, so use it with caution! Even at lower gain settings the GM24k is an extremely "hot" machine on small gold and specimen nuggets."
The new White's Goldmaster 24K comes with both rechargeable batteries and a holder for AA batteries. The GMK comes standard with the 6" x 10" DD search coil. Currently the is one accessory coil available, a 6" round concentric coil. Both a 14" x 8" DD and 6" x 4" DD coil are possible in the future but have yet to be offered for sale as of March 2019.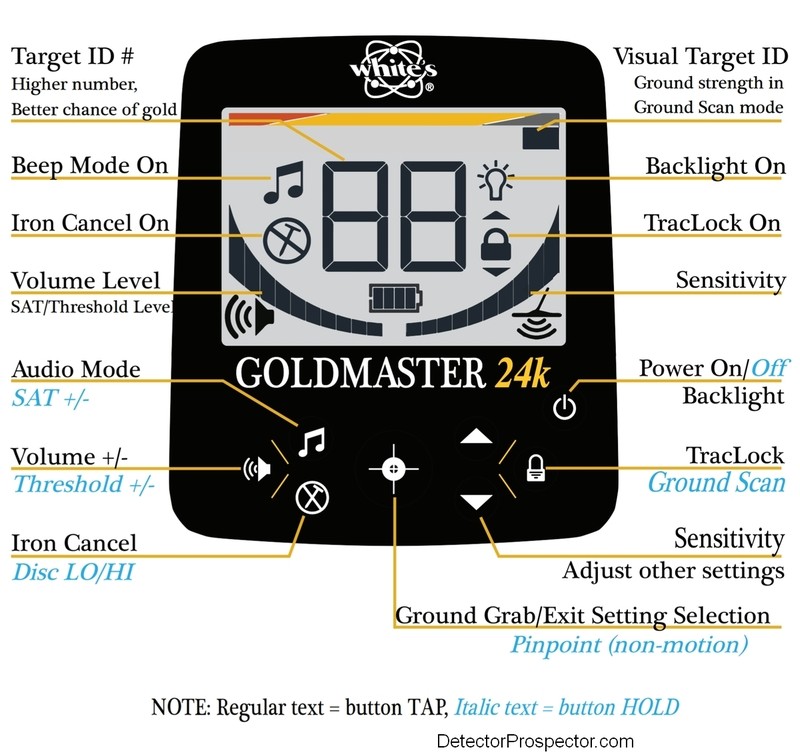 White's Goldmaster 24K display and controls
Here is a video released August 8, 2018 that goes over the basic features and operation of the Goldmaster 24K...
Official White's Goldmaster 24K Page
White's Goldmaster 24K Quick Start Guide
White's Goldmaster 24K Owner's Manual
White's Goldmaster 24K Color Flyer
White's Goldmaster 24K Advanced Ground Tracking Explained
Detailed Review Of White's New Goldmaster 24K
White's Goldmaster 24K & GMT Compared
Forum threads tagged "whites 24k gmx"
White's Goldmaster 24K Technical Specifications*

| | |
| --- | --- |
| Internet Price | $729 |
| Technology | Induction Balance (IB) |
| Frequency | 48 kHz |
| Autotune Mode(s) | Variable Self Adjusting Threshold (V/SAT) |
| Ground Rejection | Tracking & Fixed w/Grab function, Ground Balance Offset |
| Soil Adjust | No |
| Discrimination | Visual & Audio Ferrous ID |
| Volume Control | Yes |
| Threshold Control | Yes |
| Tone Adjust | No |
| Audio Boost | Yes |
| Frequency Offset | Yes |
| Pinpoint Mode | Yes |
| Audio Output | 1/4" headphone socket & speaker (Headphones Included) |
| Hip Mount | Shaft Mount Only |
| Standard Coil(s) | 6" x 10" DD Coil standard |
| Optional Search Coils | 6" round concentric coil |
| Battery | Rechargeable NiMH plus Eight AA Pack Included |
| Operating Time | 20 - 40 hours |
| Weight | 3.5 pounds |
| Additional Technology | XGB Ground Tracking Technology, Ground Scan mode for tracing black sand deposits, Meter backlight |
| Notes | IP54 Rain & Dust Resistant |
*Notes on Technical Specifications - Detailed notes about the specifications listed in this chart.
From this thread:
GOLDMASTER 24K WHITE'S PAPER
XGB - A New Way To Ground Balance
The biggest challenge we face as electronic prospectors is highly mineralized ground. Simply increasing the gain on the current VLF platforms might help prospectors in very mild ground conditions, but what about more difficult areas with concentrations of black sand, maghemite, serpentine, or alkali salts?
On a trip to Brazil we witnessed a combination of these conditions, with soil that ranged from red to black to purple, and exhibited a combination of ferrous and alkali properties within a 4 ft square section. We saw first-hand VLFs from each manufacturer fail to balance out the combination of minerals. Even the top-of-the-line pulse induction machines struggled in this area - machines which cost the garimpeiros (the local term for gold miners) several years' wages.
Our goal was simple: a nice even threshold in challenging ground conditions without giving up sensitivity. The theory is that the main battle most electronic prospectors fight is being able to discern a potential gold signal from ground noise. A smooth threshold would allow users to use more gain and increase their odds of finding small gold where it likes to hide - in mineralized ground.
The issue with other VLF detectors on the market is that they were tracking a single ground balance point. When the ground type changes quickly, the machine gives off a false signal. For a user the result is ear fatigue, frustration, and less positive signals dug. One easy way to mask variable ground is implementing an auto-gain feature  that automatically numbs the detector. This does not solve the issue, only hides it.
The Goldmaster 24k's XGB is a new automatic ground tracking system that works by tracking multiple ground points simultaneously and quickly. Where other VLF's track one ground balance point, the Goldmaster 24k tracks several, and can determine an optimal "ground window" based on ground history and strength. This is very useful in rapidly changing ground conditions, where other VLF machines may struggle to track the mineralization changes. Combine this with the speed at which the Goldmaster 24k is able to grab ground samples, and you have a superior ground balance system for a prospector's VLF.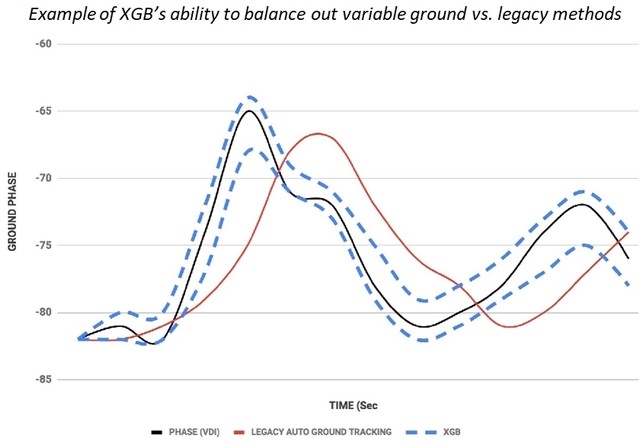 XGB Ground Balance versus legacy methods
With any automatic process, there are some concessions. Take vehicles for example - manual gearboxes are still preferred by car enthusiasts. That's why we felt strongly about including a TracLock® ground option. When used with the Ground Grab, a locked ground balance setting allows users to set the ground balance in an area and lock it until they need  to re-ground balance. For users after the tiniest bits of gold, this option allows for the maximum sensitivity to small signals.
One technique we observed from field testers was allowing the XGB to automatically track, and  then  after getting a solid hit or finding a patch, locking the ground balance for target location and retrieval. For  many users this combination will be the best of both worlds - the strength of XGB, but only when you need or want it.
 
The net result of an overhauled automatic ground balance system is a VLF gold nugget detector that  can  be   used   in wider variety of ground conditions with a nice stable threshold. Operating a machine with a smooth threshold allows for a user's ears to tune into those slight variations that just might be the next nugget. Our goal is that our customers are able to have success with the Goldmaster 24k in areas that other VLF's struggle, and at a price that allows more people to get a taste of electronic prospecting.
Tom Boykin
White's Project Manager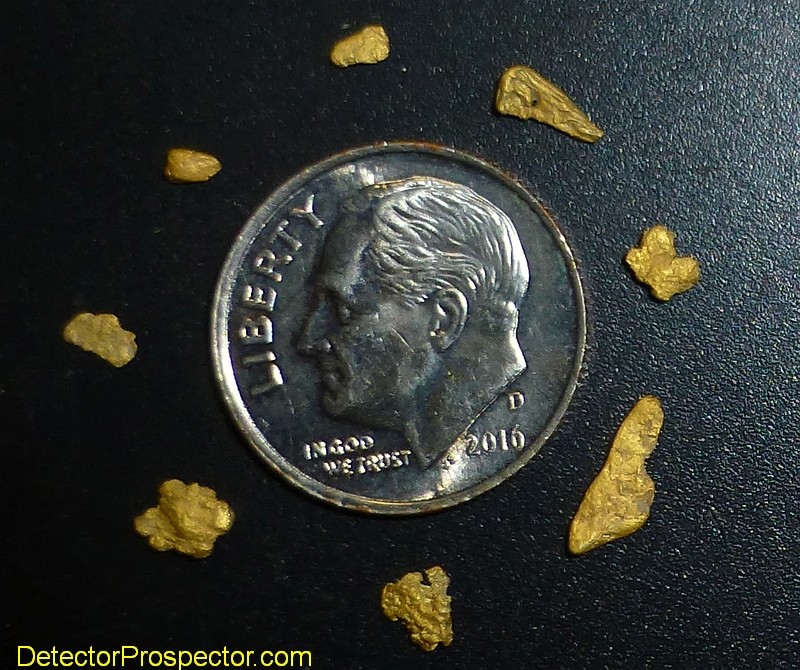 Gold nuggets found with new White's Goldmaster 24K - smallest under 1/10th grain
11