Metal detecting for gold nuggets is perhaps the most difficult type of metal detecting. That is partly because simply having an excellent gold nugget detector does little to insure success. The operator not only needs to be extremely proficient with a capable metal detector, but also needs to have general knowledge about gold prospecting and where gold is likely to be found. This short guide is intended to focus on some of the most important aspects a person should consider when starting out new in the nugget detecting game.
Metal detecting for gold nuggets is the gold mining equivalent of big game hunting. Many areas produce fine gold and small flakes, but these areas will not usually prove productive with a metal detector. Only areas with larger gold nuggets will be of interest, and so many locations that are fine for panning and other types of mining will not be worth your time if you plan on going for the big nugget. Researching the area to confirm that large nuggets have been found there in the past will help make your hunt successful.
While detecting may limit you to fewer sites and more time between each nugget you find, the fact is that successful detector operators tend to find gold nuggets far larger than the finds of the average recreational miner. Detecting is not nearly as physically demanding as most types of mining, and lends itself well if you enjoy roaming freely rather than working hard at a single site.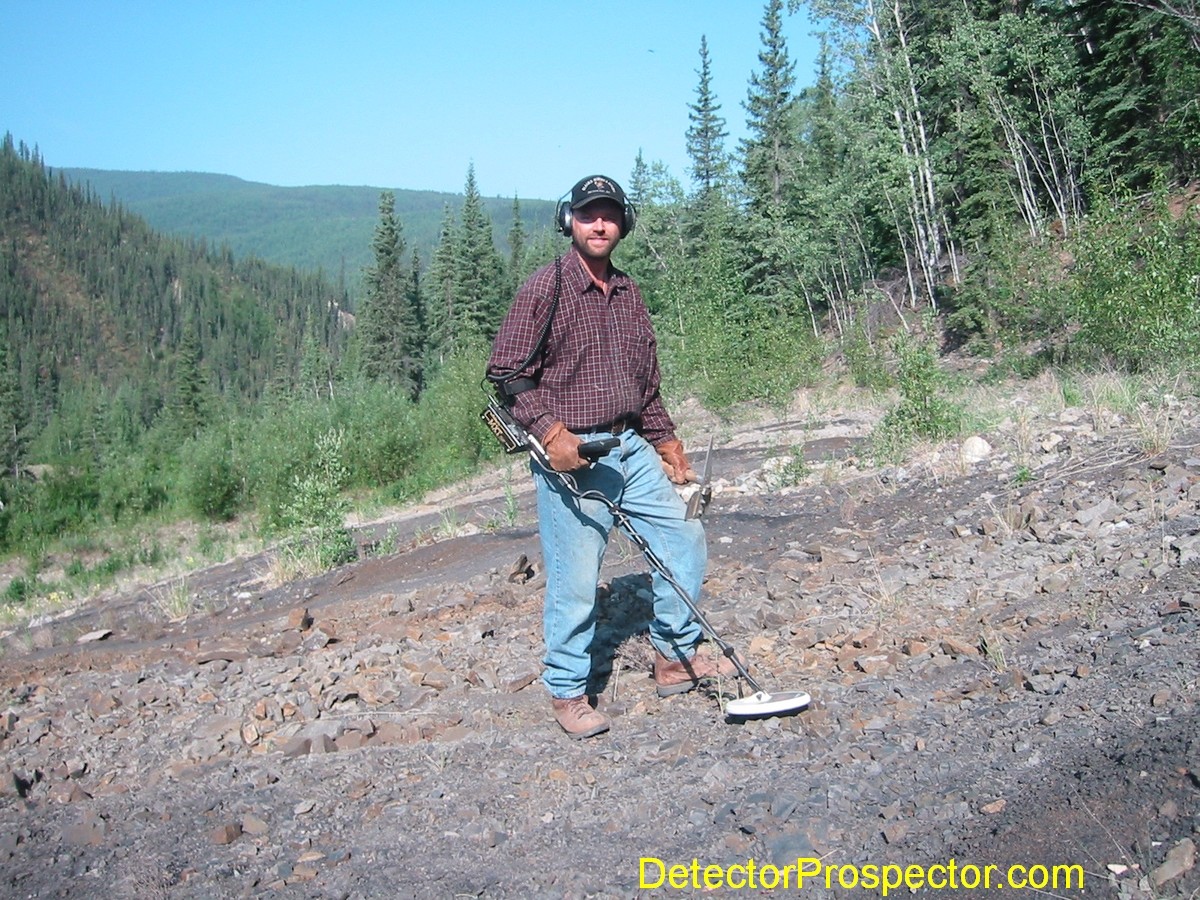 Steve metal detecting for gold with White's MXT metal detector
Here are a few facts and tips to get you started:
Today's machines can detect gold weighing under a grain with ease. There are 480 grains per Troy ounce with nuggets under a grain quite literally being pinhead size objects. The depth of detection grows with the size of the target. A one grain nugget may be found at two inches, a match head size nugget at four inches, and a quarter ounce nugget at ten inches. Only the largest nuggets will be found at depths over a foot. Metal detectors will not normally find buried accumulations of fine gold directly.
The higher the operating frequency of the detector, the more sensitive it will be to small gold, but with the penalty of also being more sensitive to iron minerals. This can result in more false signaling and difficulty of operation in highly iron mineralized areas. Lower frequency detectors are generally less sensitive to small nuggets, but handle iron ground better. Frequencies on today's nugget detectors range from a low of 3 kHz to a high of 71 kHz. Pulse induction (PI) detectors are a special type of unit that act like they are extremely low frequency detectors. PI detectors main strength is in ignoring the worst ground mineral conditions and finding large gold nuggets at maximum depths though a few models also do well on the smaller gold.
Most models feature manual ground balance controls, which allow the machine to be adjusted for the general iron content of the ground. When the ground being searched is relatively homogenous, these controls require minimal adjustments and work well. When the ground being searched has wildly varying iron content or many out of place mineralized stones (referred to as "hot rocks") then these manual controls will have to constantly be adjusted to maintain proper performance. Detectors that feature automatic ground balance will require less adjustment and will have less false ground noise. The best option is to have both manual and automatic ground tuning options in one detector.
Nugget detectors find all conductive metals. Most units have the ability to tune out many common iron and steel trash items. Pulse induction detectors are not so good at discriminating out trash items and should generally be considered as "dig-it-all" type detectors..
Any gold located should be treated as an indicator, since rarely will a nugget occur by itself. It is much more likely that more nuggets are nearby, and gold smaller than the detector can locate or beyond its immediate depth of detection is present. Such leads should be followed up with further excavation and sampling with gold pans or other mechanical methods,
A metal detectors greatest advantage is that it needs no water, a near-universal requirement for most methods of placer sampling. Use this to your advantage to easily check material that is far from water, such as arid locations or deposits located well uphill from the stream.
Large nuggets sing out with a loud signal, but since most targets will be small, train yourself using the smallest detectable nuggets your machine can find. Learn the faint but very distinct sound that small or deeply buried nuggets make. Small aluminum or lead targets can be used as an acceptable substitute for gold. Always use headphones to enhance your ability to hear these faint targets.
Coil control is one of the most important aspects of proper metal detector technique. Small items may only be detected at a few inches or fractions of inches. Hovering the coil any appreciable distance over the ground is one of the most common reasons for gold nuggets being missed. The detection field projected underground resembles an inverted cone, with the deepest depth of detection in the center of the coil. At maximum depths only a tiny area is seen by the detector, and so overlapping the sweeps is important when detecting a productive area or "patch".
To find gold go where gold is found! Metal detectors can be used to prospect new areas but do not expect to find much gold in areas where gold has never been found. Instead, research and frequent areas with past known production of the kind of gold you want to find. Research is a real key to success. Remember to always obtain permission to detect on mining claims or private property and be aware of any possible restrictions on public lands.
Commit yourself to learning your detector. Do not make the investment if you do not plan on spending some time to properly give the method a chance. It will be time profitably spent. The one thing that sets successful detector operators apart from the crowd is their patience and persistence. They enjoy the hunt itself, and consider the day well spent even if no gold is found. Consistent success will only come with practice.
I strongly believe there is no one best detector for all conditions. The best detector for each area will depend on how much ground iron is present, how large the gold is, and how much trash is in the area. Operator expertise has by far the greatest effect on success. If you purchase a second detector, having a low frequency model and a high frequency detector will give you more versatility. Identical detectors will also interfere with each other electronically and must be kept far apart, whereas differing models can work side by side.
The most important accessory item you can own is a quality set of headphones. A good set will muffle outside noise, enhance the faint sounds most nuggets make, and be comfortable for hours on end. Audio quality is of extreme importance. Insist on trying several headphones with your detector before you buy. The differences can be amazing. Make sure that the headphone has its own volume controls and matches your detector for mono or stereo operation.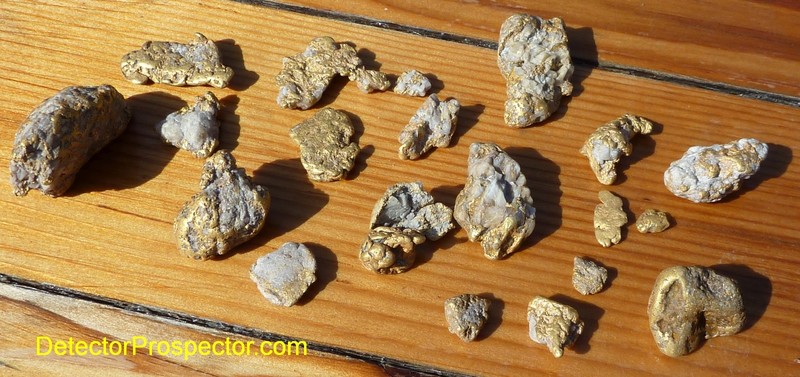 Several ounces of gold detected at Ganes Creek, Alaska in 2010 by Steve Herschbach
Other important accessories include a stout digging tool, such as a stainless steel trowel or a short handle pick. A magnet can easily pick up small steel trash items that may be found and are hard to locate exactly. A plastic scoop or cup is indispensable in helping to separate a small nugget from the soil by scooping and waving the soil over the detector search coil. Snap plastic search coil protectors over the bottom of your search coil to protect it from wear. Carry spare batteries and a plastic bottle for your finds. Check into the possibility of using a belt or chest harness with the detector control box to protect it and remove the extra weight from your arm.
Do not overlook accessory search coils. Smaller search coils will be more sensitive to smaller targets while giving up some overall depth. Larger coils will produce more depth of detection on larger targets, but will lose the ability to find some smaller nuggets. Small coils are more popular and will pay off in bedrock areas in particular. They can make a detector of moderate sensitivity perform like a higher frequency detector. Large coils work well for finding oversize nuggets discarded in tailing piles. Coils are not interchangeable between models; only coils made for your machine will work with it. The chart below shows the advantages of using both smaller and larger accessory coils.


Coil Size vs Depth Fisher Gold Bug 2
Source - Field Testing the Gold Bug 2 by Gordon Zahara
The most important goal is to put yourself on nugget bearing ground. These areas are well documented and can be researched. Check the land ownership and contact claim owners if need be for permission to nugget hunt. If you frequent areas that have not produced coarse gold, do not be surprised at a lack of success.
For information and reviews of specific metal detectors see Steve's Guide to Gold Nugget Detectors. A huge resource for questions asked past and present is this website's Metal Detecting & Gold Prospecting Forums.
Be responsible! Fill your holes behind you, and remove any small trash you excavate. Proper and responsible practices will keep more areas open to us all. Do not remove gold from mining claims without permission. It is theft and may result in that claim being made off-limits to other nugget hunters. Protect our hobby so we can all continue to enjoy it in the future.
Good Luck & Good Hunting!
~ Steve Herschbach
Copyright © 2009 Herschbach Enterprises
Edited by Steve Herschbach
4

2