Well, here I am, another year older, and 48 years of metal detecting and gold prospecting under my belt! 2020 has been an odd year for many reasons, the main being the pandemic that has wrecked havoc on life around the planet. The resulting shutdowns and social distancing requirements made this a challenging year for everyone, whether they caught the virus or not.
Once I saw where things were headed, I decided to gracefully accept that 2020 would be a good year to just kick back and relax. I did get in some metal detecting during the year, but it has been more about trying out some new detectors than making actual finds. I had a good time and learned a few things, but this was the first year in a long time that I had no specific "adventure" planned for the year. If you look back over my journal, you will see I have done well over the years at making some sort of special prospecting or metal detecting trip each year. This year however it was short day trips, or at most a few overnight outings. Travel did not seem like a good idea this year, especially anything involving airplanes.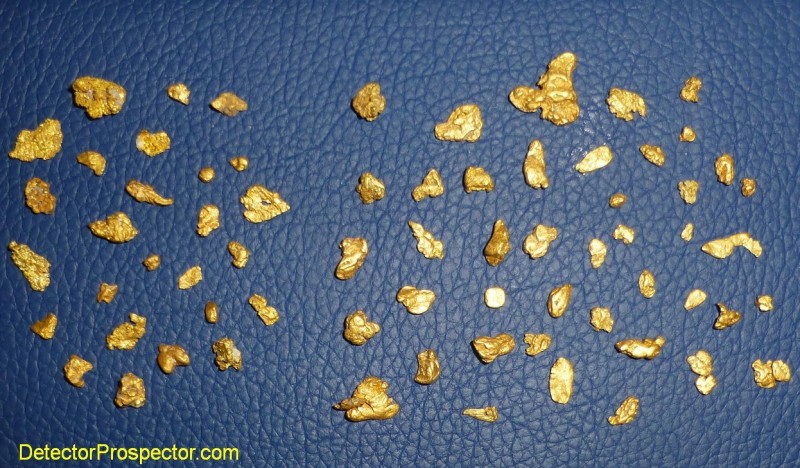 Some gold found by Steve while metal detecting in 2020
I made finds for the year; gold nuggets, coins, and jewelry. There was no one find however that stands out at all in my mind, more a reflection of how spoiled I am than anything else. In some ways it was a very nice year for me, just taking it easy and having fun. However, I would like to ramp it up for 2021, and I will make the effort in the coming year to try new places and locations more than I did in 2020, which was mostly revisiting old haunts. Happy New Year!
~ Steve Herschbach
Copyright © 2020 Herschbach Enterprises
Go To Prior Story     Journal Index Page
22