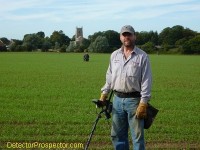 My friends George and Gary worked on me for a couple years to convince me to make a trip to the UK to hunt Celtic gold coins at http://www.colchestertreasurehunting.co.uk/ The guy next to the Welcome to Colchester sign is Gary, one of the pioneers and current record holder for gold coins found with this outfit. I finally committed in 2009 for a trip in October 2010. 
There is a pay to hunt operation in Colchester where deals are made with farmers to allow detectorists access to the fields to hunt for relics and coins. There are various rooming schemes and we went with the "full ride" version which is like an all inclusive vacation will all the trimmings. There are more fields to hunt then you will have time. It runs about $1500 a week plus airfare which from Anchorage was about another $1500. We booked a two week stay.
The group consisted of me, George, Gary, Todd, and Todd's brother. The flight from Anchorage to Heathrow was uneventful if a bit long. The overseas flights are quite comfortable though, with coach being more like First Class on a domestic flight. All the things you would normally pay extra for, like meals and in-flight entertainment, are included in the ticket price. Just like the good old days.

George Hunting the Stubble
We made the flights to Heathrow and were picked up at the airport. Settling in consisted of tossing our gear in our rooms and then heading right out for our first hunt. It was raining and the field we hunted had been plowed recently. It was thick mud, more like clay than dirt, sticking to the bottom of boots and search coils. It mattered little at the time in the excitement of finally being there with detectors on. All I found was a few buttons and other items but at least I was detecting.
The reason for going when we did was to get good weather but it did not work out that way. It rained for over a week. The farmers do not plow in the rain as all it does is make a muddy mess. We hunted fields harvested but not plowed (stubble) or fields that were plowed earlier. The plowed fields were sticky mud that made our feet weigh pounds as the mud built up on our boots. The stubble has no mud but you are swinging through 6" - 8" of cut off grain stalks. We ended up fighting conditions for the greater part of the trip.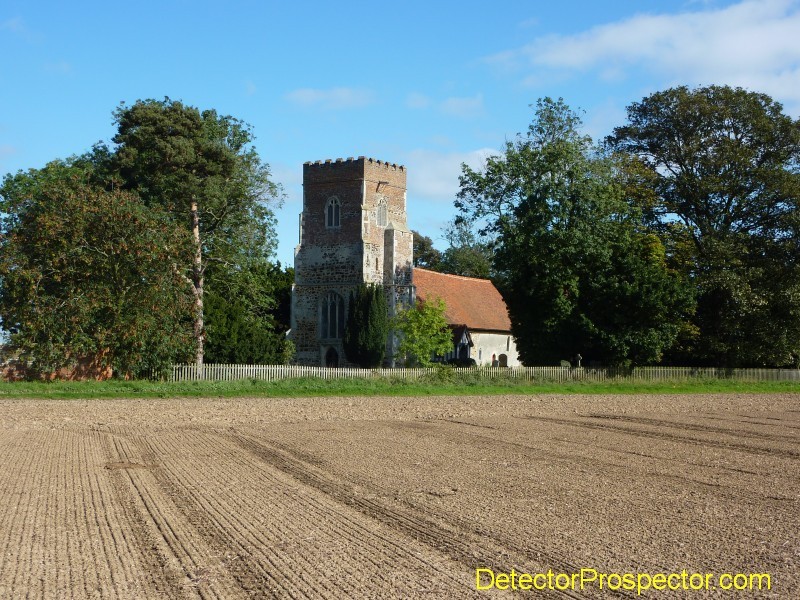 St Mary's Church Little Bromley built in 11th century
Each day we got up early, got fed, and headed out. We picked a hunt site, and were driven there. We hunted until lunch, and the driver brought us a warm meal in the field. Get a bite, and then hunt until dark. Ten hour hunting days, with Chris taking care of all the details. The main goal is to maximize detecting time, and we did just that. People ask what kind of sightseeing I did while I was there and the answer is only what I saw while detecting or driving to a detecting location. The operator has permission to hunt fields all around Colchester but most are no more than a 15 -20 minute drive. Many were near old churches, like the one in the picture above. The churches were very much the center of life in those days and so being near one is a good bet on there having been activity in the area for thousands of years.
There are very few rules. Rule number one - fill your holes! This is a must to keep in good graces with the farmers. Keep all your trash to keep it from getting plowed under to be dug again in the future. I always hunt with a trash pouch. Rule number two - stick to the chosen fields. The deal with the farmers means the one whose field you are on gets paid by the operator for you being there. The next field over, even if you hunted it the day before, if it belongs to a different farmer then do not go there. The group decides where to hunt, and once the decision is made, stick with it. You can hunt the same fields morning and afternoon, or switch after lunch. Rule number three - declare all your finds. Some people try and skirt the rules by not declaring their find, so they can keep it immediately, and so they do not have to share a cut with the farmer, if any. This is the worst offense of all, and will get you banned for life from the operation. The rules are the rules and there is no patience for offenders.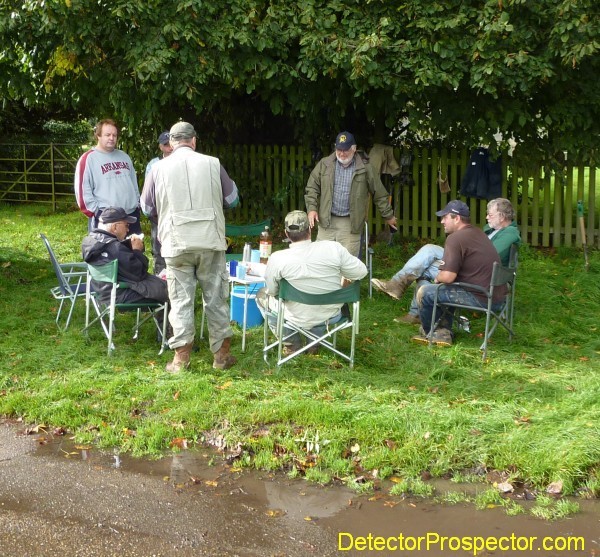 Lunch in the field - the rains just let up!
You need a good VLF that can reject iron, and dig the rest. The rest is copper, lead, bronze, silver, and for the lucky few gold. Aluminum is not something found often. Everything is old. My first coin was a 1700 copper, the oldest coin I'd ever found. No big deal I am told - new stuff! And so it went. Good finds are 12th - 16th century silver coins or around 3rd century Roman copper coins. The most desired are the BC Celtic gold coins.
I used a Fisher F75 Special Edition and a White's MXT Pro with Bigfoot coil. I saw lots of MXTs and quite a few Minelab E-TRACs in addition to many other good VLF units. I had an E-TRAC along also but never did fire it up. For what it is worth whenever I invest the time and money in something like this I never go without at least two detectors and two headphone sets. I ran the F75 most of the trip mainly because the very long hours of metal detecting favored the F75s light weight and balance.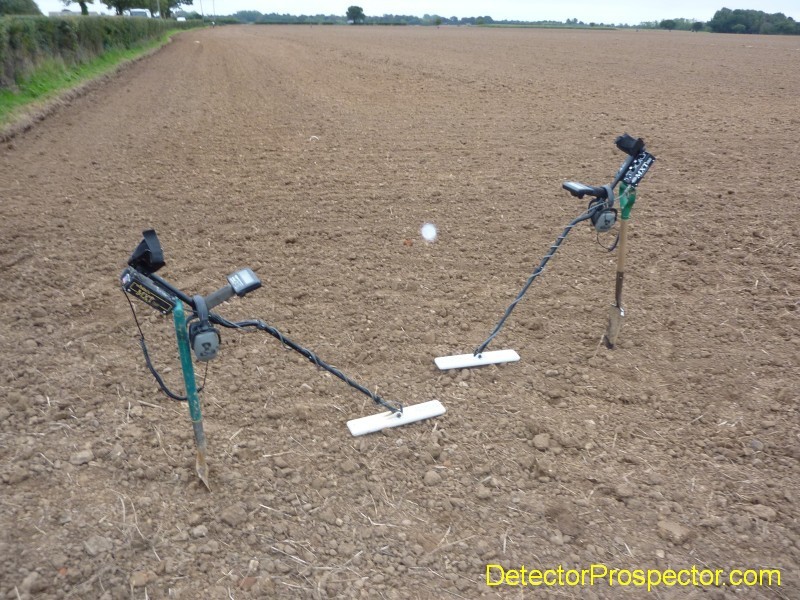 Steve and Gary's White's MXTs with Bigfoot coils
I came hoping to find a gold coin but try as I might it did not happen. The next best thing is a silver "hammered" coin, a coin made literally by taking a piece of silver and pounding it with a hammer between a set of dies. Hammered silver or "hammies". People got excited when one was found but they are not all that rare. Lots are found but the real finds are the ones in excellent condition, and they are rare. Most of the ones I found were damaged in some way. It was common practice in the old days to make change by cutting a coin into halves or quarters so finding half a coin is more the norm than not.
When the weather let up things improved considerably. The fields dried out, the farmers started plowing, and gold coins started to be found. Not so much for our group however. We heard about others finding gold, but despite being in a group of experienced, hard working detectorists, the gold eluded us. It was not until near the end of the two weeks that George managed to find the much sought after Celtic gold. I also was nearby when Chicago Ron found his own Celtic gold, although far from his first.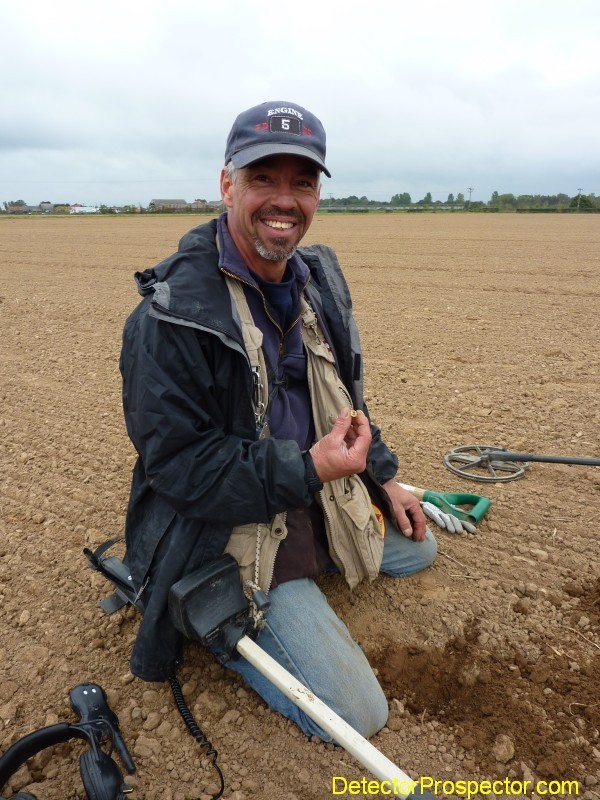 Big smile from Chicago Ron with Celtic gold just found!
The size of the fields ranges from large to truly immense. In many cases I would just wander randomly around the huge areas. Sometimes Gary would point to where previous finds were made. Sometimes the fields, if looked at carefully, revealed clues. Gray areas in the midst of all the light brown soil indicated some kind of past building site, like a home or pub. A faint raised area might indicate an old road. Broken pottery, glass shards, and pipe stems are a sure sign of past habitation. Often, however, it is just a needle in the haystack hunt. People who cover lots of ground with their coils at the proper height and who efficiently recover targets have the edge. I really found it to be little different than nugget detecting, except you do not have to dig super deep holes. Almost everything is a spade dig or two down since most of the finds are small in size.


The fields are huge!
I did find an official "treasure" which means an item that is not a coin but is made of precious metal. It is a tiny bell, most likely one tied to a hawk but it could be a bell on any harness. Treasure is any find that is not a coin made of precious metals. A silver coin is not treasure, but my silver bell is. Coins, if found in a group are considered a horde, also treasure. You get to keep what you find, after everything is examined by the authorities and cataloged. This takes months so you have to wait some time before you get to show off your finds. Treasure may be claimed by the government, and if so it is bid on by museums. The high bidder gets the treasure, and the proceeds are split between the finder and the property owner. I like the system since it allows regular people to legally detect for items and gives the museums a steady supply of finds to choose from. In the United States most of what we were doing is against federal law with potentially severe consequences. The sad reality is people break the law and do it anyway, but it all happens under the radar. The British system makes far more sense.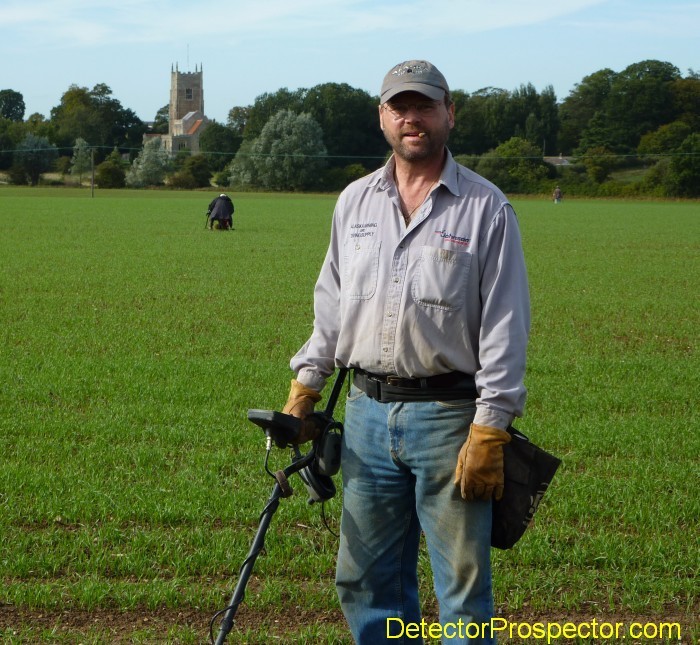 Steve and Fisher F75 hunting in jolly old England
The bottom line is I hunted for two weeks and made many great finds, the oldest finds I have ever made by over a thousand years. Amazing stuff and a great time. Here are the photos and descriptions:
1. 1891 Victoria milled silver sixpence
2. 1645 Charles 1st hammered silver half groat (2 pence) Tower mint under Charles - Eye mintmark
3. 1909 Edward VII milled silver sixpence
4. 1901 Victoria milled silver shilling (12 pence)
5. 1913 George V milled silver sixpence
6. 253-268 AD Roman silver Gallienus' antoniniani "billon"
7. 1247 AD Henry III Scottish ,hammered silver voided long cross cut half penny
8. 1341 Edward III hammered silver florin penny
9. 1215 Henry III hammered silver short cross penny - Class 7b
10. 1217/8 Henry III hammered silver penny - Class 6d
11. 1939 George VI milled silver sixpence
12. 13thC hammered silver short cross cut halfpenny
13. 1560-6 Elizabeth hammered silver 6 pence
14. 16thC Elizabeth 1st lead trade weight - Crown E cipher
16. 2ndC Roman bronze coin - illegible
17. 1634 Charles 1st hammered copper rose farthing
18. 1907 Edward VII milled silver sixpence

1. 1696 William III milled silver sixpence - love token
2. 1696 William III milled silver sixpence - love token
3. 1696 William III milled silver sixpence - love token
4. 1700 William III copper halfpenny
5. 19thC Portuguese copper coin
6. 1500-1650 buckle
7. Medieval enameled circule decorated harness pendant mount - 2 integral lugs
8. 1500-1700 mount
9. 1500-1700 mount
10. Royal Army medical corp cap badge
11. 4thC Roman bronze coin - illegible
12. 15thC lead token - type 2
15. Victorian candle holder handle
16. Medieval strap end
17. Georgian spur
18. 8 Georgian watch winders

1. 15thC lead token - type 2
2. 15thC lead token - type 2
3. 17thC lead token
4. Georgian watch winder
5. 17thC hammered copper trade farthing
6. 5 Post medieval lead bale seals
9. Post medieval lead alnage cloth seal
10. Post medieval lead bale seals
11. 27 lead musket balls
17. 17thC crotal bell
18. 8 clay pipe stems
20. Russian lead bale seal

1. Coiled lead - possible Roman curse
2. Georgian finial
3. 18thC crotal bell
4. Post Tudor glass stopped
5. Georgian thimble
6. Georgian finial
10. Georgian thimble
11. 16 nails
16. Plain copper finger ring
17. Glass shard
18. Glass shard
19. Post Tudor pottery shard
20. Georgian thimble

1. 13 18th to 20thC copper coins
10. 20thC harness buckle
11. Georgian bull nose ring half
12. 19thC buckle

24. 18th to 20thC copper coins

1. 98 Post Tudor buttons
19. Medieval clothing fastener
20. 16thC Tudor button
My official treasure find:


Silver medieval hawking bell - reported as treasure to the museum
The one day I hunted with the White's MXT Pro and Jimmy Sierra Bigfoot I got what I consider to be my best find, because it has a story. One of the best things about hunting with Chris is he has access to true experts. A day after this find this is the report we got back: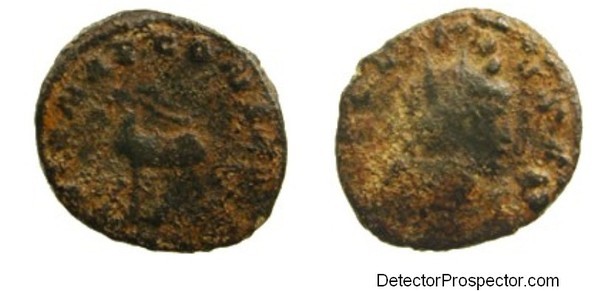 DIANAE CONS AVG antoninianus of Gallienus (253-268 AD.) found by Steve
This one is a DIANAE CONS AVG antoninianus of Gallienus (253-268 AD.) This is part of the so-called "Gallienus Zoo" series of animal reverses. This one appears to be either the gazelle http://www.stoa.org/gallery/album452/08_CR_GAZOO or possibly the left-facing stag elk variety http://www.stoa.org/gallery/album452/11_CR_GAZOO These two are just a couple of the many animals found paired with this reverse legend. The series invokes the aid of several gods - Apollo, Diana (this one) Jupiter, Liber (Bacchus) Neptune, Sol, etc, all with "CONS AVG" (protector of the emperor) and various animals on their reverses. This series dates to 267-8 AD. and was produced at the mint in Rome.
This is an interesting find as Britannia wasn't part of the Italian Roman Empire at the time this was struck. Britannia was part of the break-away Gallic Roman Empire at that time, so this piece evidently was in circulation for a few years until after the re-uniting of the Empire under Aurelian (c. 272-275) to have traveled to Britain. Among Aurelian's reforms was a revamping of the silvered Æ coinage which had become barely better than bronze with a tiny percentage of silver under Gallienus and Claudius Gothicus, his successor.
Books will call Gallienus' antoniniani "billon" - and so they were at the beginning of his relatively long reign which, in the beginning, was shared with his father, the unfortunate Valerian I. After his father's capture by the Sasanid Persians c. 260, the antoninianus went through a swift series of debasements under Gallienus to become a coin containing so little silver it needed to be silvered to keep up the pretense of being a double-denarius. Although officially silvered, Gallienus' later antoniniani are seldom encountered with any of their silvering remaining, and things may have finally become so bad that even the pretense of silvering may have been dropped at the end of his reign. An occasional subject for contemporary copies as well, this one seems to be official.
I'll refer you to this page in my website. http://www.stoa.org/gallery/album452 The organization I work for - Ancient Coins for Education, Inc, or ACE - recently received the donation of a fairly well-developed private collection of Gallienus' zoo coins. Since the donor asked that we do our best to keep the group together, it is currently an adjunct exhibit to our travelling museum. This is what the collection contained when it was donated. We have since added a couple of types the original collector was missing.
Mark
Truly a great adventure. I did not get my gold coin but I beat my oldest coin finds by OVER A THOUSAND YEARS! Pretty amazing and best of all two weeks with friends. Thanks to the operation owner and his wife for sharing their home with us for two weeks, and all the great meals. Hopefully I can do it again someday.
~ Steve Herschbach
Copyright © 2010 Herschbach Enterprises
Note October 2018 - See my return to Colchester to try once more for Celtic gold!