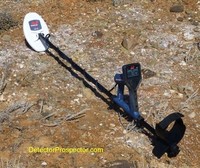 This outing was part of my testing of the Minelab Gold Monster 1000, a new high frequency (45 kHz) VLF detector for gold nugget detecting. The Gold Monster 1000 was designed for use in Africa and other third world countries and therefore has some unique design features. The key design goal is ease of operation, and the control set is kept minimal, with everything possible done automatically. The GM1000 is the first nugget detector I have ever used that even has an automatic sensitivity tracking function. All this adds up to the Gold Monster 1000 being an extremely easy detector for beginners to learn. Yet the latest twist of high gain, high frequency circuitry means the Minelab Gold Monster 1000 has enough power to satisfy long-time detectorists like myself.
Frankly, when I first saw the Gold Monster 1000 I thought it was an odd looking thing. The lack of normal threshold based operation in particular takes some getting used to for somebody who has an ear trained to listening to a threshold. The GM1000 is silent search, which is definitely disconcerting at first. However, the boosted audio and very good external speaker quickly won me over. The Gold Monster 1000 bangs out so loud on even the tiniest gold that this a machine you can use without headphones unless there is a lot of background noise.
The near automatic operation makes the machine great for quick grab and go detecting. Between the automatic ground tracking and automatic sensitivity I found I could get the GM1000 to handle almost anything I threw at it, including some wet alkali ground that would quickly shut down most detectors of this type. I found I liked covering ground more quickly with the Gold Monster than would normally be the case with manual tune detectors. It is a terrific detector for quick and dirty scout work.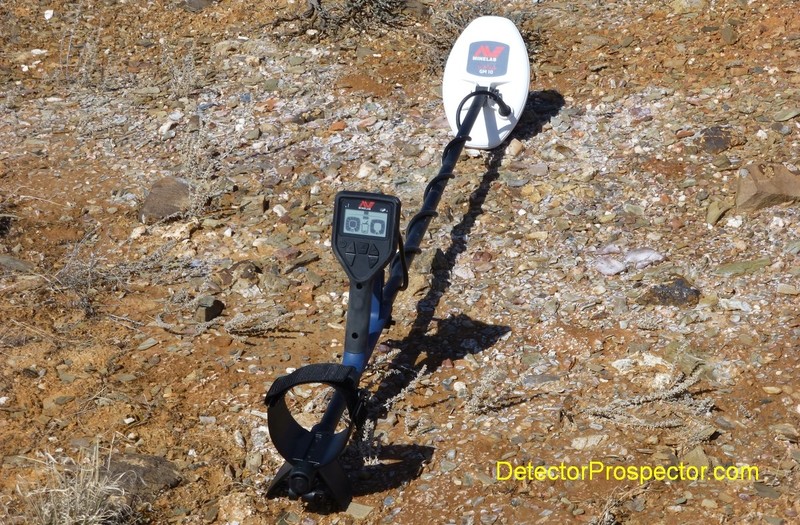 Minelab Gold Monster 1000 on red Nevada soil dusted with salt particles - hot alkali ground!
The problem with a silent search machine while in manual ground balance mode is that without a threshold you can end up leaving some performance on the table. If a setting of eight generates a little ground feedback, and you decide to go with 7 to make the machine completely silent, there is nothing wrong with that per se. However, if the ground changes and gets milder you may have the ability to run at a higher level of sensitivity, and without a change in the audio to alert you to a change in the ground, you will just leave the setting where it is.
In my case if a setting of 7 is completely silent, I will bump to a setting of 8, and this almost always gives me that little ground feedback I want. If 7 is too noisy, I will drop to a setting of 6 and this will probably do the trick for me. The range between each setting seems about perfect for a person to settle on a range of three settings, too little, too much, and just right. For my areas 6 - 7 - 8 are the magic numbers. For worse ground the range may shift lower, to 5 - 6 - 7.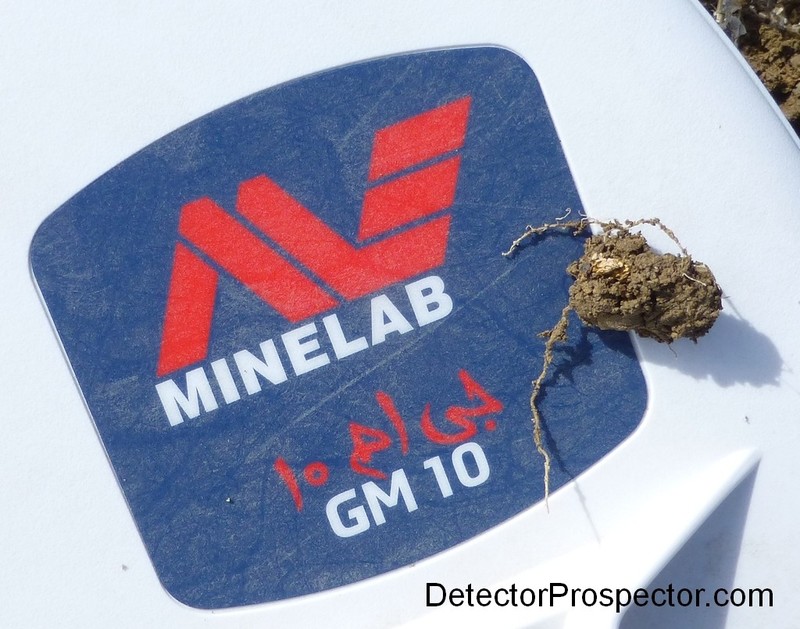 Nugget embedded in lump of dirt excavated from ground while using Minelab Gold Monster 1000
Try and picture this. At sensitivity 7 I am just scanning along, coil lightly on the ground, with soft ground feedback, waiting for that hard little signal that even the tiniest target will generate. Then all the sudden the machine goes dead quiet. I have entered less mineralized ground. One thumb tap to sensitivity 8, and I get my "false threshold" back.
Or, at a setting of 7 the machine gets noisier. Maybe a little alkali patch or more mineralized ground. A quick tap down to 6 reduces the feedback to my desired minimal level. What I am doing is letting the ground tracking do its job, and then just bumping the sensitivity up or down a notch to ride the ragged edge of best performance for the ground.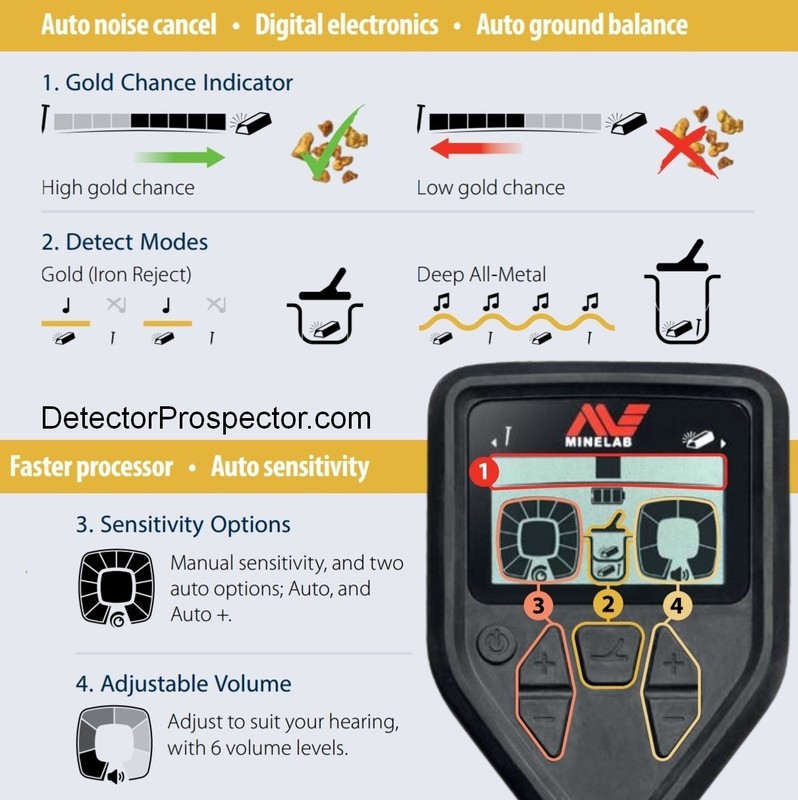 Quick guide to Minelab Gold Monster 1000 functions / controls
I for all intents and purposes always use the all metal deep seeking mode, and use the iron discrimination meter to decide whether the target is worth digging or not. The disc mode gives up significant depth, and items can be missed entirely whereas the all metal mode will always give a signal if at all possible. Personally I would only use the disc mode to shut down very troublesome hot rocks or for areas where the trash is so dense that analyzing each target would be too inefficient.
I much prefer the 10" coil over the 5" coil for doing anything but chasing the tiniest bits. The 10" elliptical coil really will hit gold nearly as tiny as can be had with the 5" coil, but with double the ground coverage and much better depth on larger nuggets. To sum up, I will normally always run the Minelab Gold Monster 1000 in all metal mode, let the ground tracking handle the ground, and bump the sensitivity up or down within whatever three number range seems to work best in any given area. For me and northern Nevada 6 -7 - 8 does the trick very well. I have an article that explains the settings in much more detail here.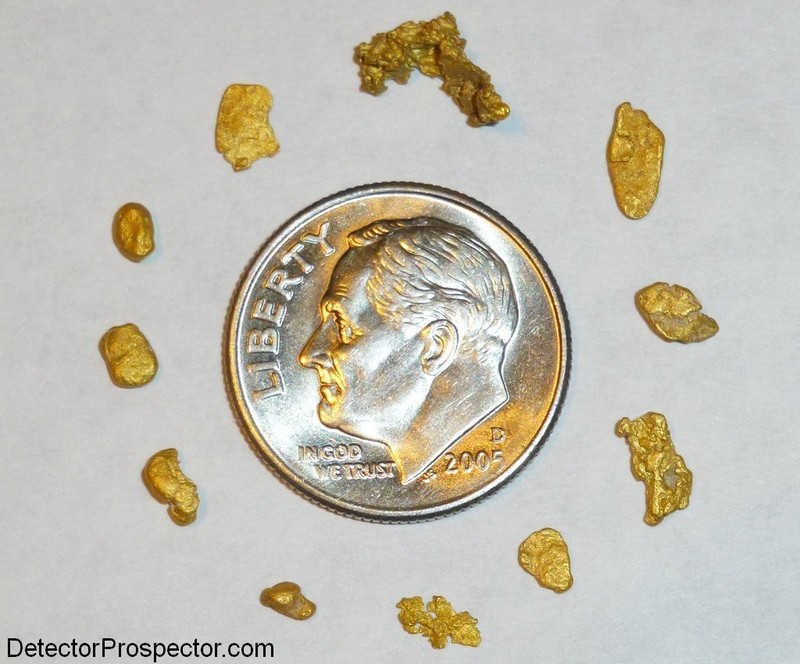 Eleven gold nuggets found by Steve with GM1000 - 14.9 grains total, largest 4.4 grains, smallest at bottom 0.6 grain and 0.3 grain
I found it deceptively easy to find some sub-grain bits of gold (480 grains per Troy ounce) in areas I have previously hunted. I went from skeptical about this funny looking little detector to being quite pleased with it, and currently it is one of my favorite detectors. A warning however. The Minelab Gold Monster 1000 handles ground as well as a hot VLF can, but it is in no way a substitute for a pulse induction detector in the worst ground and hot rocks. Anyone expecting that of an inexpensive little VLF is expecting too much.
To sum up, I am having a terrific time with the GM1000 and am glad I got involved in the project. Thanks Minelab!
This article started as a post on the DetectorProsepctor Forum. More information might be found there in follow up posts.
~ Steve Herschbach
Copyright © 2017 Herschbach Enterprises
5