This discovery was made earlier in 2016 but I did not get around to publishing details about it until now. I was detecting near some small hydraulic pits in California and wandering around in the area below one of the pits. At first I thought I was on virgin ground but the ground slowly revealed itself as a tailing outwash area from the pit above. The material is now so overgrown with trees and covered with a thick layer of duff (pine needles, bark, branches) that it gives the appearance of unmined ground.
I got a massive boomer signal on the GPZ and I honestly thought it was a can. A quick dig with my pick revealed instead a large chunk of gold and quartz. The first sight of the nearly 9 ounce piece about stunned me but I soon determined that what I had found was mostly quartz, but still, a pretty nice find. There are around a couple ounces of gold embedded throughout the white quartz. In theory this is the largest "gold nugget" I have ever found, but obviously the fact it is mostly quartz takes a little of the shine off that. Still, absolutely no complaints from this kid on making this find!
The large specimen was obviously washed through whatever sluice and riffle system the oldtimers were employing, and washed down to end up resting on top of the tailing outwash fan. At one time it was just sitting there in plain view, although it would have taken a sharp eye to have spotted the gold if a person was just walking by. Then a forest grew on the tailings and a century of pine needles and branches fell and obscured the piece.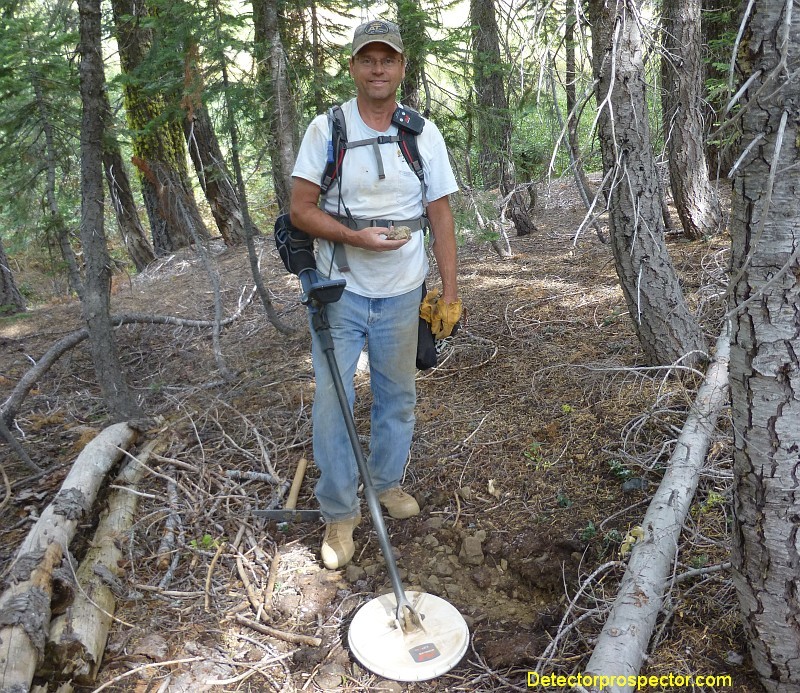 Steve at location where 8.75 ounce gold specimen was found
I of course had visions of even more finds to be made in this apparently overlooked location, but very diligent hunting for quite a few hours turned up nothing but some trash and one little bit of rock with gold in it.
In Australia specimens like this are usually just crushed (dollied) and the gold panned out. We have a better market for specimen gold and so this could be sold as is. Unfortunately the mass of quartz hides most of the contained gold so this is not a prime specimen. It would be better with less quartz showing more of the gold. If the quartz were pure white it also would be more valuable but it has darker mineral inclusions. Still, I have considered slicing it up to see if any good cabochon material can be obtained for jewelry purposes. I have also considered just soaking it in Whink as an experiment to see how many months it would take for very weak hydrofluoric acid to completely dissolve the quartz, leaving loose crystalline gold. For now doing nothing has been the easy option.

Close up of 8.75 ounce gold specimen found by Steve Herschbach
I would like to say the Minelab GPZ 7000 had something to do with my finding this specimen, but the truth is I think there is enough lumpy gold in it that nearly any decent detector would have found it. The GPZ 7000 is remarkably sensitive to specimen gold containing finely dispersed gold, but that is not a problem with this specimen. The warning for some however is that as a shallow and very loud response it is easy to assume a trash target like a can. Always be aware that there are still large gold nuggets and specimens out there at very shallow depths, and the faint "zip-zip" sound so many ears are trained to find can initially be thrown off by what seems to be a junk signal. I seriously thought I was excavating a can so that I could properly dispose of it! I get irritated by all the aluminum cans I see discarded when I am out detecting and end up packing them all out. I wish I could say the same for all the steel cans and trash I find, but that simply is not practical, though I haul out what I can.
The California Mother Lode country is criss-crossed with gold-bearing quartz veins large and small. Most were too small to be developed into mines and many were small enough to be completely overlooked. Even quartz veins that for the most part are barren may have one small section that is rich in gold. What this means is that chunks of quartz like this can be found almost anywhere in Mother Lode country.
Clark, William B., "Gold Districts of California;" Bulletin 193, California Division of Mines and Geology Sacramento, California, 1970
This article originated as a post on the DetectorProspector Forum. Additional details may might be found there in follow up posts.
~ Steve Herschbach
Copyright © 2015 Herschbach Enterprises
Edited by Steve Herschbach
4

1