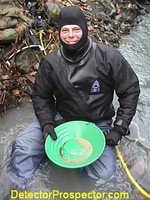 I headed out of town the morning of October 9th to meet Jeff Reed at Crow Creek Mine to do some dredging. Jeff had been working the creek hard while I was at Mills Creek, but was not having much luck. I convinced him that I knew a spot in the canyon that I was sure had some gold, so we determined to pack our 4" dredges in and give it a try.
I was just leaving the outskirts of Anchorage, when a large moose with a very nice set of antlers ambled across the highway. Ironically he was next to the local shooting range, which must have frustrated the hunters there to no end. I stopped and took my photo of him with my camera, and then headed for Crow Creek.
Those that have read my entries from the spring know that getting into the canyon area of Crow Creek is a bit of a chore. Jeff and I have both constructed very light weight subsurface 4" dredges for these kinds of areas. Our units have 4HP Honda pumps, and so are not only light but very fuel efficient. They are great little units if you want to spend your time mining instead of packing equipment.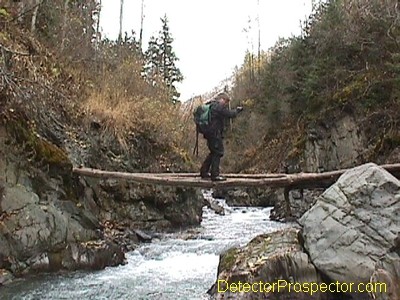 Jeff crossing Crow Creek log bridge
Our friend Andy was working his dredge in the canyon just upstream of where we were headed, so we stopped to chat a while. He was doing quite well, with lots of gold showing in the box. It certainly made us anxious to get to work.


Andy in his Harvey's drysuit
The spot I had in mind was where my brother and I had worked many years before. We had spent several weeks with a 6" dredge working a long stretch of the creek, and had done quite well. I took Jeff down to just below where my brother and I had started dredging, figuring to get into the same paystreak.
I was so confident that the area would have gold most of the way across the creek that I let Jeff have the coveted inside corner. Gold tends to take the shortest route downstream, and so inside curves are usually very good places to dredge. I also wanted to give Jeff the best shot at the gold, since he had really put in some hours in the last couple of weeks, and was disappointed by the gold he had found so far (don't feel too sorry for Jeff folks... most people don't get what he does, but his expectations are all the higher for it).

Jeff working the corner
Jeff went to work on the corner. I set up on some bedrock on the far side and followed it into the creek. After working awhile and not seeing much gold, I moved into the center of the creek. Andy was causing the water to get a bit murky, so at this point I could not tell if I was into the gold or not, but I dredged away confident that I had to be into the pay.
Then came cleanup time. The best way to put it is to say that Jeff kicked my rear end. I only had a couple of pennyweight, while he had over an ounce. The gold was hanging on the corner much more than was the norm for the stretch of creek just upstream of us, where it tends to run clear across the creek. The gold is from reconcentrated tailings out of the old mining operations, and so is rather small, but our little subsurface boxes seemed to do quite well with it.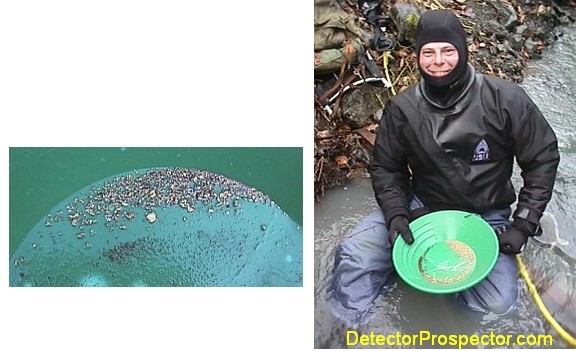 Steve's gold, and Jeff with his (no wonder he's smiling)!
We came back the next day, and I moved into the corner upstream of Jeff. Jeff did about as well as the previous day, while I got even less. Oh well, that's mining for you. The good news is that I have been doing this long enough that I am as happy seeing others find gold as finding it myself. Well, almost!
~ Steve Herschbach
Copyright © 1999 Herschbach Enterprises