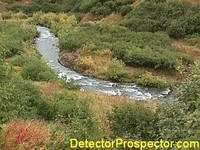 The fireweed have ceased to bloom, and snow has appeared in the high country. Snow in this part of the country normally appears on the mountain peaks in early September. Fall is a very short season in Southcentral Alaska, with only six to eight weeks between the first appearance of snow in the mountains and serious snow at sea level.
I headed up to Mills Creek Sunday morning and proceeded to setup camp. I had acquired a steel tube and tarp frame tent for the trip, and was anxious to try it out. I often camp out in the back of my truck for short trips, but as I had a couple of weeks off, I decided more room was in order. The tent is 10x13 feet and 6 to 9 feet tall. I outfitted it with an old military woodstove given to me by Al Adams (Thanks Al!). The extra room, plus propane stove, propane lamp, and small propane heater all seemed quite luxurious compared to my normal Spartan camping style.
My father and cousin were coming up later in the day to spend the night and do a little gold mining. I headed out to meet them at the creek crossing, and found they were already almost to camp, engaged in clearing excess alders from the trail in. I helped them finish up the trail work and we got back to camp. They helped me set up the rest of the campsite, and then we headed down to do a little gold mining.
We crossed the creek and proceeded to use my metal detector to search bedrock along the creek just above my dredge site. We immediately started finding some rather nice gold, ranging from match head to little fingernail sized pieces. My father was checking the side of a very steep bedrock outcropping when he got a very loud signal about six feet up above the water. I was surprised when the target turned out to be a very nice two pennyweight nugget lodged in a small pocket in the side of the outcropping.

Frame tent at Steve's camp and faithful mining dog, Kirby
It started to rain quite hard, so we decided to call it a day. My cousin, Bob Herschbach, cooked us up a great meal. I usually just heat up a can of stew, or some other simple fare, so it was a treat to have someone cook up a real meal. We turned in for the evening, and discovered one of the drawbacks of living in a tent. It rained hard all night, and gusts of wind periodically hit the tent, causing quite a bit of noise. It made it hard to sleep but I finally managed to doze off.
We arose Monday morning to find the creek had risen tremendously, and the clear water had turned a thick gray color. Bob was visiting us from Missouri, and had a plane to catch home the next morning, so we were a bit worried as to whether we would be able to get him out in time, as the creek must be crossed to get back to the highway. It had stopped raining, however, so we hoped the water level would drop later in the day.
Since the water made crossing risky, we looked for new digs on our side of the creek. Some old channels and hand stacked rock piles are in the brush across from where I was dredging, so we checked bedrock along the creek in that area. Once again, we started finding some nice gold. By the time Bob had to head out that afternoon, they had found about 1/2 ounce of nice nuggets, including the previous afternoon's finds.
The water had come down, and Bob and my father were able to head back to town. Now it was just me and my faithful Golden Retriever, Kirby. As we settled in for the evening, I planned the next days activities. I was impressed by the size of the nuggets we found on the near side of the creek, where the old channels dump in from the side. I decided that perhaps gold from these old channels had formed a paystreak where they had emptied into the main channel, and also that the old-timers tailings would have dumped in at these points as they worked the channels. Any gold they lost would end up in the creek along the near side. I decided to bring my dredge across the creek and try the area just below where we sniped gold on the bank, and work up towards that location.


Bob & Bud Herschbach sniping bedrock, and their gold
Tuesday morning was spent getting my dredge across the creek. The water had come down, but was still high, and it took careful work to get the dredge across the creek. I spent more time removing rock from the dredge site, then started dredging. I only dredged a short time, but got a couple of pennyweight of smaller gold.
Wednesday I got up, and plain felt lazy! I had a good book with me, and kicked back and read away the morning. Jeff Reed showed up around noon to report that he might come up later that afternoon to do a little bench mining. I decided to get back to work, so after waiting to see if Jeff would show back up, I suited up and got back to dredging. I uncovered quite an expanse of bedrock, but the deposit of coarse gold I was hoping for did not appear. There was gold, but only small amounts scattered about in bedrock crevices. I had about 1/4 oz of gold by the end of the day, and in general the gold was smaller than what we had sniped off the bank just above! I did find one nugget that was over half quartz, a departure from the well worn and solid character of the gold normally found here.
I headed down the creek to check up on Jeff, as I did not see him back up in my area. He had gone back up the creek with his 4" subsurface, and reported that he was not doing very well. The section of creek he was working turned out to have smooth bedrock, and no gold was being held for him to find. I invited him up to my area if things did not improve, and went back up to my camp.
Thursday I continued to work the site, but the area did not improve. Working up the creek, and out nearly to the middle of the channel exposed no real concentration of gold, just sporadic deposits in crevices. Again I got about 1/4 oz of gold. Not enough to really keep my interest in the site. I began to consider moving back across the creek, but figured I had about one more days worth of dredging to finish up material I had exposed.
Thursday night was horrible! It started to rain very hard, and increasingly hard gusts of wind developed. By around 9PM the gusts were up to the 50-60 mph range, and my tent was taking a beating. It was very well staked down, but each gust that hit puffed up the sides and roof, and then sucked them back in. It was very noisy, and somewhat nerve-wracking, wondering if the whole thing was going to fly down the valley at any minute. Poor Kirby probably thought the world was ending, and both of us could not get to sleep. I finally gave up and we both crawled into my truck at midnight. The back was full of gear, so I slept in the front seat, and Kirby curled up in the passenger seat. It may not have been as comfortable, but it was much quieter, and I finally got a little sleep.
Friday morning the rain was coming down in sheets, and the wind had not let up at all. My tired, cramped body stared at out the weather and thought "This is nuts!" Kirby agreed, so I quickly tore down camp, secured the dredge, and got the heck out of there before the creek flooded so high that I could not get out. We got back to Anchorage and I spent the weekend doing odds and ends.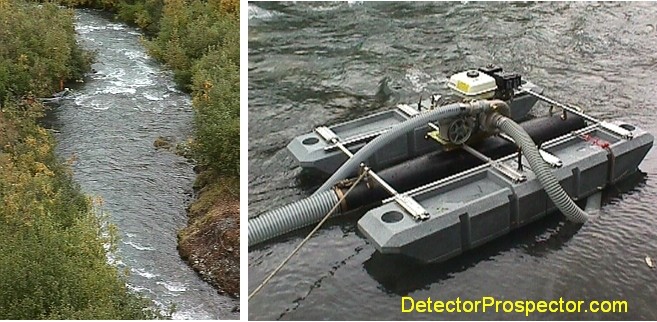 Steve's dredge site and 5" subsurface dredge
I returned Monday morning and found the water was still pretty high. I had decided to try and get my dredge back over to the far side of the creek, but was barely able to cross the creek in my drysuit without a load, let alone carrying/dragging any equipment. I could have dismantled the unit, carried it upstream to a better fording area, carried it back downstream and set it up again, but it seemed like too much work when the area I wanted to move to was only fifty feet away. I decided the time would be best spent prospecting for a better spot to dredge, so I got my sniping tools and proceeded to check bedrock along the sides of the creek.
I did finally find an area on the far side and downstream of my dredge that shows promise. I found what appears to be a layer of virgin pay material resting on very decomposed bedrock. The material is a rich yellow/brown color and fairly compacted. Working the area by hand on Monday and Tuesday produced about 1/4 oz of gold. The gold is distributed throughout the yellow layer and in the underlying bedrock. What struck me most was the gold mixed in the material, as most material on upper Mills Creek seems relatively barren, with the gold heavily concentrated on bedrock. This tends to make for spotty dredging, but if I can get into a stretch where the material has gold in it, dredging can be more productive. I traced the deposit for some distance and it looks to have good dredging promise.
Unfortunately, the weather continued to go downhill. September is our rainiest month, and this one was proving to be no exception. By Tuesday night the rain was continuous, and by Wednesday morning I decided to pull out and wait for better weather conditions. I want to move my dredge to this potential new site and try it out.
When I got back to town, my father contacted me and indicated he and my brother Tom were interested in going back up to Mills to try some more detecting on the banks. They met me Thursday morning in Anchorage, and we arrived at the Mills crossing at about noon. Mills Creek was a raging brown torrent. I paused in my truck, thinking it looked too deep to cross. Since I had my Dad behind me, and a long chain in my truck, I foolishly forged on ahead. I made it about 1/3 across, when my motor stalled. Then I noticed my feet were getting wet. Looking down, I saw water coming in under the doors! Luckily, after a little coaxing, my motor restarted, and I was able to back out.
After a brief stop to bail the water out of my truck, we retreated to Crow Creek Mine, and spent the night camped out in one of the cabins. We did find some gold metal detecting before turning in for the evening, so the day was not a total loss. My brother and I looked the creek over for potential dredging sites, as I plan to move my dredge here after giving Mills Creek one more shot. I'm probably going to try the upper areas of the creek, in hopes of finding some nicer sized nuggets. 1/4 oz and larger nuggets are relatively common in the upper areas of Crow Creek Mine.
We were back at the Mills crossing by 10:30 Friday morning, and the water, though lower, still looked quite high. I now had a better idea of what my truck would handle due to my failed crossing attempt the day before, so we decided not to push it. We headed back to Crow Creek, and detected some more gold. We ended up with a couple dozen small nuggets before deciding to head back to town.


Mills Creek gold and close-up of quartzy nugget
My total finds for several days dredging and sniping came to 17.4 dwt, not counting the nuggets found metal detecting and sent home with my father and cousin. Those finds probably added up to a little over 1/2 oz of gold.
I am currently back at work for the week, and plan to head back to Mills Creek on Saturday, October 2nd. It is Wednesday as I write and the weather does not look good. It has rained all night, and the forecast is for more clouds and rain. I face the prospect of continued high waters at Mills Creek, plus the increasing risk of an early snowfall, which could trap me and my gear high in the mountains. Two years ago heavy snows fell October 10th. I would like to evaluate the new paystreak I found at Mills with my dredge for a couple of days, but will probably pull my gear out and move to Crow Creek for the remainder of the season unless conditions improve. The water is dropping at Crow Creek and is clear enough to dredge now.
~ Steve Herschbach
Copyright © 1999 Herschbach Enterprises