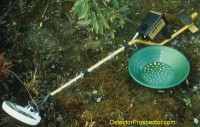 The Chisana area of Alaska was the site of the last major gold rush in Alaska in 1913. As a young man researching areas to look for gold I found a reference to this remote location in the Wrangell St. Elias Mountains. It is accessible only by air and for short periods of time each year. I started visiting this area in the early 1970's and then off and on again over the decades that followed.
The area is high above treeline and frozen for most of the year. It was mined with simple shovel into sluice box type operations along the creeks followed up by hydraulic mining on bench deposits. The remote location, lack of water, short season, and generally small area of the gold deposits meant this district never saw anything more complex than hydraulic mining operations. In later year operations have been confined to smaller scale hand operations plus gold dredging and metal detecting.
I told a couple stories about this area as part of my Steve's Mining Journal but kept fairly low key about the location. This was mostly because the claim owners were not looking for publicity. However, the mine owners decided to sell a couple of their claims. They had to advertise them to sell them. That in turn gave me the excuse to finally tell more about my visits to the place over the years, and to share the many photos I have of this rather unique part of Alaska.
I am telling the tale as part of an on-going episodic thread on the Detector Prospector Forum - The Chisana Story - check it out!

Steve Herschbach with gold creviced from bedrock at Chisana, Alaska
5