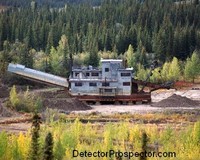 My new mining strategy is to concentrate on adventure and seeing new places, instead of just revisiting old locales to get more gold. This trip is the first test of this emphasis on chasing large gold in new locales. The first step is to research locations where large gold nuggets have been found in the past. This is fairly easy, and involves nothing more than reading lots of old mining reports. The best place to look for large gold nuggets is where they have been found in the past. The next step is getting access to those locations.
It should come as no surprise that the kinds of locations that have produced many large gold nuggets in years past are most likely claimed by somebody. Rich mining ground is hard to come by, and the proven producers of yesteryear are obvious to anyone who wants to take the time to research them. Many of these areas are not only claimed, but have been for generations, with the claims passing from father to son. There are many second and even third generation mining operations in Alaska.
In those cases where the claims have not stayed in a family's name, they have most likely been sold to someone else when the miner was ready to move on. Good ground is valuable, and a miner usually does not just walk away from it. He finds a buyer and sells it. The chances of finding good nugget locales in Alaska that are not claimed are slim. If they are not, it is most likely because the ground is now in a park, and therefore subject to restrictions on mining. Denali National Park has some good nugget creeks that are no longer claimed, but since they are in a National Park even metal detecting is restricted. Other creeks are now on Native lands, which are private property and require permission from the applicable Native corporation to visit.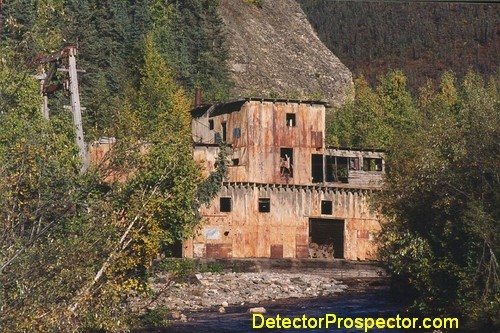 Bucket line dredge on Wade Creek, Alaska
My mining buddy Jeff made the acquaintance of a miner in the Fortymile region of Alaska, and after a couple years of quietly asking had finally received permission for us to visit the claims. The Fortymile area is named after the main river in the area, the Fortymile River. The Fortymile district is really just the U.S. side of the famous Klondike goldfields of Canada. It is one of the earliest areas to see mining activity in Alaska, with gold rushes in the 1880's. Jeff and I also know several other miners in the area, and so we made plans to visit the area and see what we could find.
Jeff drove his camper, while I followed pulling a trailer behind my truck. We brought along a new Bombardier Traxter XT ATV and a little dirt bike. We had no set plan as to where we were going, so we wanted to be prepared for any eventuality. Our first goal was a creek where a miner I knew was running a small bulldozer operation. If that did not work out, we had a couple alternative creeks lined up to visit. This was to be real exploring at it's best.
It is about an eight hour drive from Anchorage to Chicken, Alaska. The drive was uneventful, if a little long. It was exciting to be seeing country I had not seen in many years. My business partner Dudley and I had mined in the Fortymile back in the 1970's, so I have been this way before. The roads have improved a lot since then, I can assure you.
When we got to Chicken we stopped at the Chicken General Store and visited awhile. We got a few clues as to locations we might want to visit, and where to find the miners on a couple creeks. Chicken has a long mining history and is still being mined today. The major landmark in the area is a very large bucketline dredge still sitting where it stopped just a short way off the road as you leave Chicken. You can visit the dredge by stopping by the Chicken Gold Camp.
We drove north up Jack Wade Creek and headed for our first destination. The creek we were heading for was on a small side road that wound down a narrow valley. Jeff and I had never been here before, and so were only vaguely aware of where we were heading. We pulled into one mining camp and talked a bit. The folks pointed us down the valley, and we continued on. We then came to a second mining camp, and stopped to visit.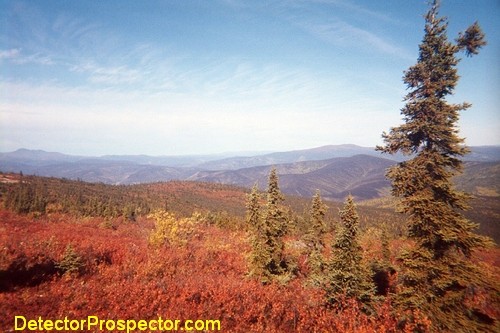 Fall Colors in the Fortymile Area
We knew the miners by chance... it seems I've met most of the guys over the years at work or prospecting. We chatted a bit, and they told us that there was some pretty high water where we were headed. I was leery of making a high water crossing in my Chevy Blazer, as I had blown up the transmission last summer crossing Mills Creek in high water. The transmission is vented directly on top, and water going over the top can get in and cause damage.
We decided to turn back and head for Jack Wade Creek. Jack Wade has a good mining history, and parallels the road for some distance. Some of the largest nuggets ever found in Alaska had been found here in the past. We did not know the miners on the creek, but had been told where to look for them. Night was starting to fall as we got back to Jack Wade, so we camped for the night.
The next morning dawned clear and beautiful. The fall colors were showing, making for a spectacular sunrise. We drove up and down the creek looking for the miners. The camp we had been told to find them at was deserted, and so we decided to poke around the old bucketline dredge. We had been told it was ok to look for gold there, but I'm not sure if this is true. Still, we wanted to find something, and finally turned up a few smoothly rounded nuggets on bedrock above the creek. The location showed signs of being thoroughly mined, however, and did not hold out much hope of finding much gold.
We stopped by the miners camp one last time, but they still were not there. The day was wearing on, an so we decided we had better head for one of our other alternative destinations. We had two creeks in mind, and both would require going overland for quite a few miles. We mulled it over for awhile, and decided to go on in and visit one of the creeks and see how it looked before the day wore completely out. Jeff put most of our gear on the Traxter, and I followed him in on my little dirt bike.

Jeff on Bombardier Traxter XT
The ride was easy for Jeff, but exciting for me. The little bike scooted along all right, but it was white knuckle riding to keep it on the ridges between the mud holes. I have not done much riding on motorcycles, and was kind of proud that I managed to not completely wipe out. We finally pulled into the mining camp that afternoon, and let the miners know we had arrived. They invited us to stay with them and put us up in their cabin. It seemed we had finally found somewhere to search for gold!
There was some time left before the sun went down, so Jeff got out his Tesoro Lobo SuperTRAQ and I fired up my Minelab SD2200D. The ground in the Fortymile area is fairly mineralized, and low frequency machines with automatic ground balance perform more smoothly than high frequency detectors like the White's Goldmasters. There are lots of false signal on mineralized "hot rocks". The Minelab SD detectors excel under these kinds of conditions.
There was some bedrock exposed along the valley wall just below the miner's cabin, so we started looking there. We started find a few nuggets almost immediately! The nuggets were thick and worn very smooth, as is much of the gold in the Fortymile area. The gold has rolled around in streams for eons, and has very little quartz left in it. The day was drawing to a close, however, so we called it a night. We were excited to see what the next day would bring.
The next day dawned under clear fall skies. We offered to show the miner what we could do with our detectors by running them in his mining cut, and offered to give him any gold we found. We just wanted to be able to dig some nice nuggets, and realized this is how the miners make their living. It would also give us a chance to learn more about the mining operation and how the gold was deposited in the creek.
This operation is using a bulldozer and a couple track hoes to strip the overburden to bedrock. The gold is concentrated entirely on the bedrock, with little in the overburden, so the overburden is stacked to one side. The bedrock is completely decomposed and much darker than the overlying material, so it is easy to tell where the gold begins. Several feet of the decomposed bedrock is scooped up and run through a recovery plant. Tailings are run into areas previously mined, and the stockpiled overburden is then pushed over areas once mining is complete.
These kind of modern mining operations are more environmentally friendly, leaving gently rolling hills and ponds in their wake, but they are not very good for metal detector operators. Old mines where the workings were left open have much more potential for finding lost nuggets, but the newer mines cover up the holes as they go, so there is little chance of finding gold at many of the newer mining operations. But since we had permission to look in the current mining cuts, we were almost sure to find gold.
And so we did, with nuggets turning up right and left as we detected the bottom and sides of the excavation. The miner watched with great interest, since any nuggets we found along the edges of the excavation indicated he might have to widen the hole to reach gold outside the current edges. The miner did have a Fisher Gold Bug that he personally uses for just that, and he has found it to be an important testing tool in his operations.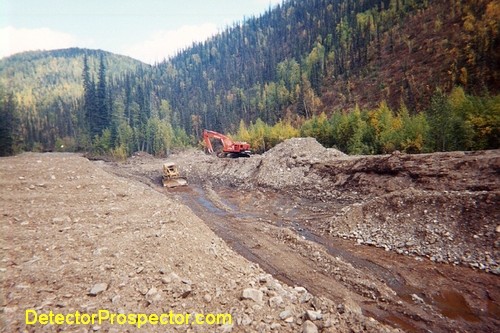 Mining operation in progress
We found a couple of ounces of gold, the largest being a 3/4 ounce piece I found that was shaped like one of those elongated fishing sinkers. It was great fun, but we had been hoping to find something larger. The miners have found quite a few nuggets weighing several ounces in the past, but the current cut was in what they called "smaller gold". Considering that all of the nuggets we found weighed several pennyweight each, I'd take that kind of small gold any day!
Still, while this was great fun, we wanted to find some gold of our own. Jeff and I headed for some of the old high bench workings, and the miners told us we could keep any of the gold we found in the old mining areas. Benches are remnants of old stream locations now perched high and dry above the current creek level. Once the water was flowing over these locations, but as the stream erodes downward it eventually leaves portions of the old streambed deposits above the creek. Sometimes these deposits can be hundreds or even thousands of feet from the modern stream.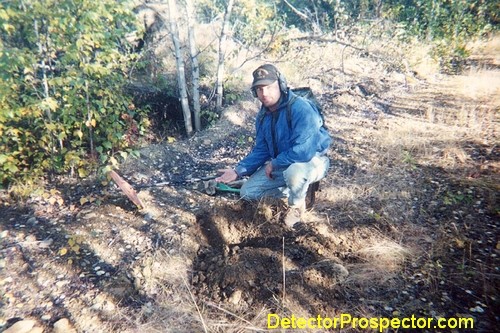 Steve with Minelab SD2200D and gold just found
We hit an old area far above the creek. I seemed to have the edge over Jeff, as my Minelab SD2200D was outfitted with the Coiltek 14" mono coil, whereas his Tesoro Lobo had the 11" DD coil. The extra coil size and the ability of the SD2200D to ignore mineralized ground seemed to give me that little bit of extra depth required to hit nuggets that the Tesoro was missing. In short order I found about an ounce of nice chunky nuggets. Jeff was only finding a couple of pieces.
The area started to play out, so we headed down the creek to some other bench deposits. Jeff's fortunes improved, and he started finding more nuggets. One stretch of bare bedrock extended up steeply from the creek up the valley wall. Since this was nearly bare bedrock, we switched to smaller search coils. It was slim pickings, but we both found a few nuggets. Jeff was working at the top of the exposure right where it was going into the trees, when he yelled down at me.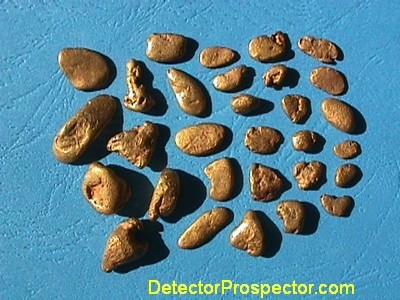 Steve's Nuggets - Just over 1.5 Ounces
I walked up, and Jeff had a big grin on his face. The day was about over, but Jeff had found a nice 1/2 ounce nugget to make up for my finding the majority of the nuggets earlier. It turned out to be the largest "keeper" of the trip. We did a little more hunting, but finally turned in for the evening. We spent the night, then rose the next morning and headed back for town. Jeff ended up with over an ounce of gold, including that nice 1/2 ounce nugget. I had 1.5 ounces of chunky gold to take home, but my largest keeper weighed 3.5 pennyweight, so Jeff had me beat for big nugget bragging rights. The miners invited us back next summer, so we will have another chance to look for large gold nuggets here someday.
For more information on the Fortymile Mining District, get Gold Placers of the Historical Fortymile River Region by Warren Yeend
~ Steve Herschbach
Copyright © 2000 Herschbach Enterprises