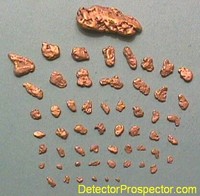 I particularly enjoyed this little expedition. It is always nice to get out and spend time with my father, Bud Herschbach. He has taken a liking to Mills Creek and was anxious to return and look for more nuggets. This was also helpful since my truck was out of commission and he was able to give me a ride to the claims. He picked me up Tuesday morning and we headed for the claims. The drive down the Seward Highway was brightened by exceptional fall colors, with the leaves hanging on the trees a little longer than normal this year.
A little note here on trucks and water. The shop informed me that my transmission was full of water and that the bearings were shot! I was not aware that transmissions were vented on top of the body of the unit. On many 4WD vehicles it is routed via a hose to a higher location in the body to prevent the entry of water. The Chevy S10 Blazer has no such extension on the vent, and so any water rising to the top of the transmission can enter and destroy the bearings. I have no doubt that when I stalled my truck out crossing Mills and had water flowing under the doors that it was also flowing into my transmission. An expensive lesson for me, and a warning to others who drive in deep water. Find out where the vents are on your transmission and differentials! If I had been aware of this problem and changed the transmission fluid immediately I could have prevented the damage.
When we arrived at camp we moved our gear into the tent and then went down to the creek to metal detect for gold. The water had dropped some more, so bedrock exposures were easy to come by along the edges of the creek. We spent the remainder of the day removing loose rock and debris from the bedrock and carefully detecting the crevices. The work produced numerous small nuggets up until the light began to fail, and we headed back into camp.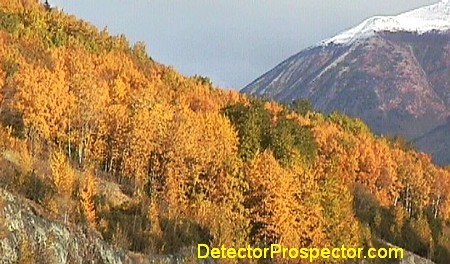 Fall colors along Turnagain Arm
I decided to spend Wednesday dredging, as I needed to decide whether to try and continue at Mills or to pull out and head for Crow Creek. I worked the shallow bedrock area I had exposed earlier while my father continued to metal detect for nuggets. I attacked the material aggressively, determined to give it a good shot a producing. However, after uncovering a wide expanse of bedrock I found nothing more than the same scattering of gold trapped in small crevices. There were no large nuggets and not even any nice little pockets of gold to perk me up, just tedious crevice work for a bit of gold here and there. Finally, even that seemed to peter out, and towards the end of the day I was not finding much gold at all.
I have no doubt the gold continues in this area but after pausing and considering the situation I decided to come back for the gold next season. I had about 7.5 dwt for the work so far that day, and could probably have ended up with about 1/2 oz for the day if I continued to dredge. BUT...  my father had to return to town the next day, my truck was in the shop, and I was not sure when I would get it back, and serious snow could fall at any time. Everyone else had already pulled out of our claims for the season. I decided the amount of gold I was seeing was not worth pushing the season any further under the circumstances.

1/3 oz gold dredged Thursday
We got up Thursday morning and proceeded to load up the dredge and tear down the camp. We spotted a good-sized black bear cavorting around at the very edge of the brushline up the mountain. It is the first bear I have actually seen at Mills Creek, and he had managed to evade the bear hunters that were in the area the last few weeks. I am often asked what I do about bears. It seems to be a serious concern for a lot of people. In general, I do nothing other than keep a very clean campsite. The statistics do not support everyone carrying weapons because of bears. More people are shot accidentally in the woods than are eaten by bears. It makes more sense to be afraid of people, and the bears know this. They will give you a wide berth if given the chance.
That being said, I sometimes carry a 12 gauge pump shotgun. This is usually when I am alone in the woods, and it is basically a security blanket issue. Here I am over forty years old, but when I am alone in the middle of nowhere in the dark, and I start hearing funny noises in the woods, well, let's just say I rest easier having my shotgun nearby. But realistically, in this part of Alaska bears are not usually a real threat. There are other parts of the State where they are thick, and encounters can be a daily event, and it may warrant having a weapon in those areas.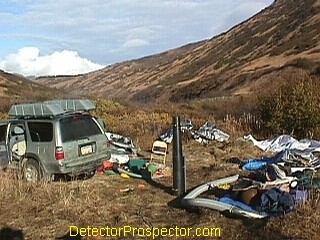 Packing up the campsite
We finally got everything loaded up, and decided we had enough time to do a little more metal detecting. Dad had found a few more nuggets on Wednesday and we decided to try the last area he had been working in. We immediately began to get some nuggets. I tackled an area where the material was a little deeper and the bedrock dipped below the surface of the water. I started getting some nuggets, and so Dad started helping me work the hole. It kept filling with water, so we would scoop out the water with a pan, then detect a nugget or two before it filled with water again. After getting a very strong signal, we were both on our knees peering into the hole as I scooped water out. Suddenly, as the water washed back after a scoop, a large nugget appeared on the side of the hole! It looked like a monster, and I swore it was a 1/2 oz nugget at the time, solid and thick. It turned out later to be 5.4 dwt, just over 1/4 oz, and still a very nice nugget. I have to tell you, I sure get a thrill when a nugget like this shows up! It makes it even better that I shared finding it with my father.
We ended up with about 1/2 oz of gold from that one small hole in bedrock in about an hour. The pocket worked out, however, and we had to leave, as I wanted to drop my dredge off at Crow Creek as we headed back towards town. We gathered up our tools, and did just that. There was no sign of Jeff at Crow Creek, so we dropped the dredge off in the upper area of the creek and headed for town.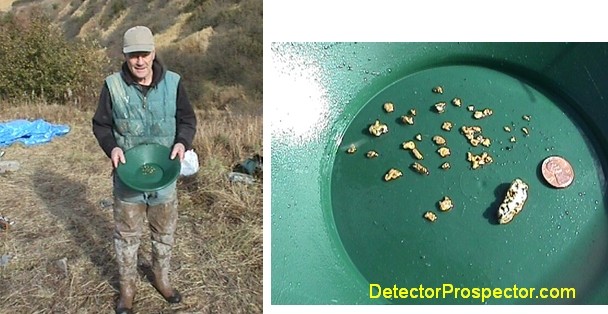 Bud Herschbach with his detected nuggets (including the big one!)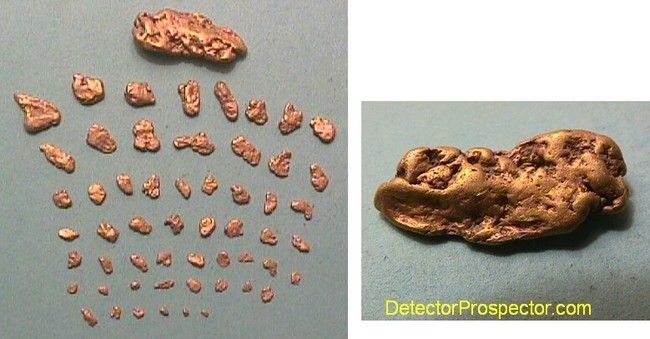 Steve's detected nuggets, plus the 1/4 oz nugget
All in all, a very nice trip. The weather was fine, it's always fun to get out with family, and we found some very nice gold. The plan now is to try my luck at Crow Creek, which is closer to home, and has less problem with being snowed out without warning. I'll hook up with Jeff Reed, and we'll finally get to do some dredging together.
~ Steve Herschbach
Copyright © 1999 Herschbach Enterprises