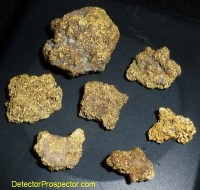 Many people have seen the ad copy in the Minelab GPZ 7000 brochure where I am quoted about how amazing the new GPZ 7000 is. Now you get to hear the rest of the story. This is a more detailed version of an email I sent to Minelab last fall regarding the new GPZ 7000. The background is I had been using the GPZ prototype for some time, but was underwhelmed. I was initially put off by the weight, and frankly it was just not my trusty old GPX 5000, and I was slow to shift gears. Yes, the machine performed, but I had not seen anything that particularly knocked my socks off, and had not been shy in saying so to Minelab.
I had an opportunity to return to a location in northern Nevada I had hunted gold previously in 2013. On that visit a portion of hillside was pointed out as the location of several nice nugget finds, including some delicate specimen gold. I did what any prospector would do and concentrated on hunting this area hard with my GPX 5000. I knew I was dealing with an area hunted hard with previous Minelab PI detectors and hot VLF detectors like the Fisher Gold Bug 2. I was the first there with a GPX 5000 however so figured I was going to find something others had missed. I was running a 14" x 9" Nugget Finder mono and set it up in Sharp at Gain of 16 which is a reasonably hot setting.
I was disappointed to find nothing but bullets, and so I switched to a used White's GMT I had just acquired. This high frequency VLF detector was able to find two small and very porous gold specimens. Having found these, I again scoured the area but there appeared to be nothing else to find. I was not the only person to detect this location of course and so I just figured it was pretty well detected out.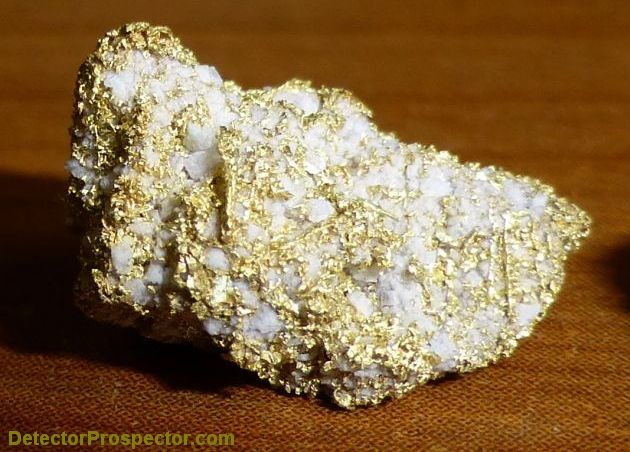 Delicate Nevada gold specimen found by Steve with White's GMT
The Minelab SDC 2300 came out in 2014, and Chris Ralph and I both had units which we were using with great success on gold the GPX was weak on. Small, porous, prickly gold. An invite came to visit the property again in the fall of 2014, and Chris and I figured the SDC would be just the thing to succeed where the GPX 5000 had failed.
We were field testing the GPZ 7000 prototype also by this time. Chris was tied up but I had a chance to leave earlier, and camped out a couple days in Humboldt County hunting with the GPZ. I was really pleased finding just shy of a half ounce (15.5 grams) of nice gold, including a solid 6 pennyweight (9.4 gram) nugget which was my largest with the GPZ to date. I was now starting to warm to the machine which seemed particularly well suited to the wide open spaces of northern Nevada.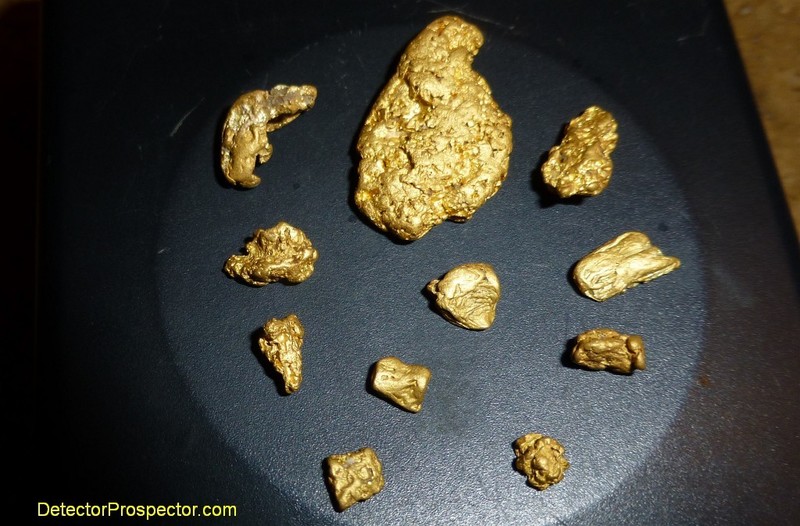 15.5 grams of Nevada gold found by Steve with GPZ 7000 prototype - largest 9 grams
The GPZ was of course a super secret project at that point, and so when I met Chris at the miner's claims I had it carefully stowed away, and pretty much forgot about it. The plan was to hunt with the SDC detectors.
I pointed out the location where I had hunted with the GPX and GMT to Chris Ralph so he could give it a go with the SDC. Frankly, I did not think he would find a lot at this point, but the new SDC 2300 certainly had a chance of making some finds there. I hunted another hot spot nearby, and my own SDC 2300 found four or five nice little specimen pieces. I was really pleased when Chris showed up and showed me two fat specimen pieces, weighing about one quarter ounce in total. Everyone was very impressed with the SDC 2300, and the gold it was finding in areas hunted over and over with PI detectors, and hot VLF detectors like the Fisher Gold Bug 2.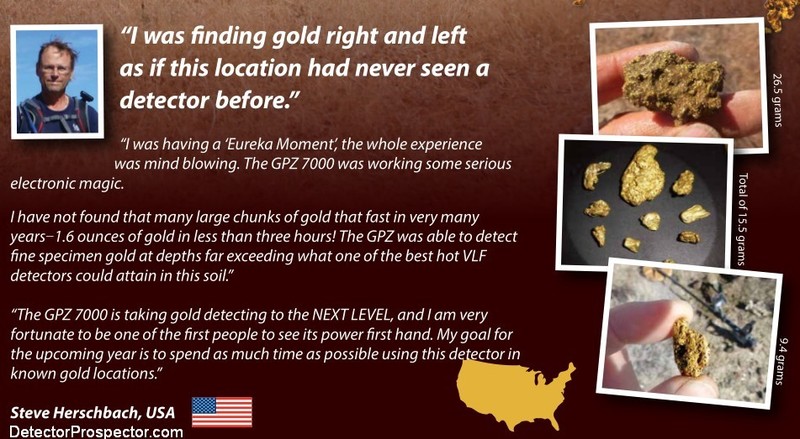 The Minelab GPZ 7000 brochure quote by Steve
We stayed the night but Chris had to leave the next day and it was good he went home with gold in his pocket. One of the claim owners also left, and it was down to just me and one claim partner. I stayed and hunted, finding another small specimen with the SDC 2300. I went a couple hours with no finds, and decided to wander over to the area where Chris had scored to see if I could do anything there. The claim owner and I puttered around awhile there then he decided it was time to go back to camp and grab some lunch.
I was about to get going again with the SDC 2300 when I realized I had the new GPZ prototype still in my truck. The claim owner was over the hill out of sight, and since he had just left me I figured it was pretty safe to get GPZ out and give it a quick go. So I went back to my truck, switched out detectors, and headed to where Chris had marked his gold finds.
Chris had hunted right where I had found the two specimens the year before with the GMT. I was a bit surprised I had missed two nearly 1/8th oz pieces, but they were deeper than the GMT was going. His two specimens were found only ten feet apart, and I could tell he had hammered the location. Every square inch of the dusty ground was covered with footprints. I fired up the GPZ and gave it a few swings, and was surprised to almost immediately get a nice signal exactly between the two little rock piles marking his find locations. I gave a few digs and revealed a nice specimen weighing about 3 grams!
I know I had been over this location with a GPX 5000 and a GMT. Chris is very methodical when on a patch, and I know the SDC 2300 is more capable than the GPX 5000 when it comes to small specimen gold. How could this be? I suddenly realized I had something very special indeed in my hands.
I wandered down slope, and right at the bottom of the hill where it started to flatten out I got another signal, and another couple gram specimen. Then only about 20 feet away I got another one. Now I was really getting excited. Less than ten feet away I got a real boomer signal, but it proved to be a bullet. Then a few feet, and another large signal. I dug deep into the hardpan, and knew at that point it has to be gold. I dug carefully so as not to damage it, and finally recovered a solid lump quite a few inches down. It was an 11.2 gram or just over one third ounce gold specimen!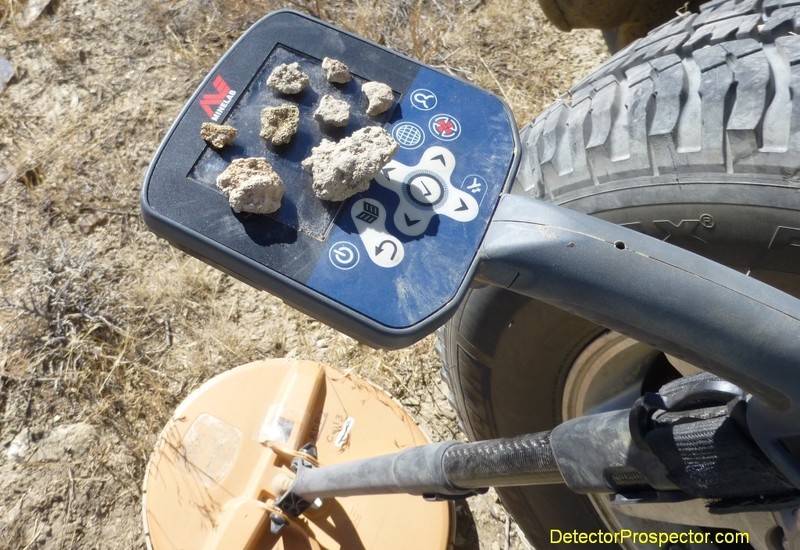 Gold specimens fresh out of the ground perched on GPZ 7000
The property owners were very gracious, and had told Chris and I we could keep all the gold we found. I appreciated that, but I also know that is easy to say when you do not think people will find very much, and the owners thought the ground pretty well detected. I was thinking at that point I needed to give them a share of the gold, but truthfully I did not want to part with this big lump, so I told myself I needed to find more gold. The problem was time was running out and I was worried the claim owner might come looking for me soon, and see me with the GPZ. So I started scanning with 7000 as fast as if I was in a VLF competition hunt. My goal now was to just cover as much of this area as I could in a short amount of time.
Apparently speed does not hurt the GPZ all that much, because in short order I found another couple gram specimen. More frantic scanning, and another nice piece popped out of the ground. This was crazy – I know I had hunted this area! I expanded the area of the hunt, but the gold seemed to be on a very tight line heading down the slope. Some time passed, and another two or three gram specimen saw the light of day.
Now I was getting really worried the claim owner would show up and see me with the GPZ. I had a pouch full of gold specimens, and was really amped up at that point. I had not found that many large chunks of gold that fast in very many years. To say I was stunned would be an understatement. I had to quit though, and so I hunted up the slope so I could go back and show the claim owner my finds, and bring him back to hunt some more. I just figured I would put the GPZ away, and go back to using the SDC 2300.
I made a bee line up the hill to where my truck was parked, swinging all the way, when I got another good signal. I dug and it got louder. And louder. I was into the hard material now and knew it had to be gold, so I slowed up and worked the edges of the hole carefully. The last thing I wanted to do was ruin a nice specimen. Finally, about a foot down I grabbed a handful of loosened soil that screamed when I waved it over the coil, and I felt a lump drop into my other hand when I went to separate it. This one was at least twice as large as the big one I found earlier!!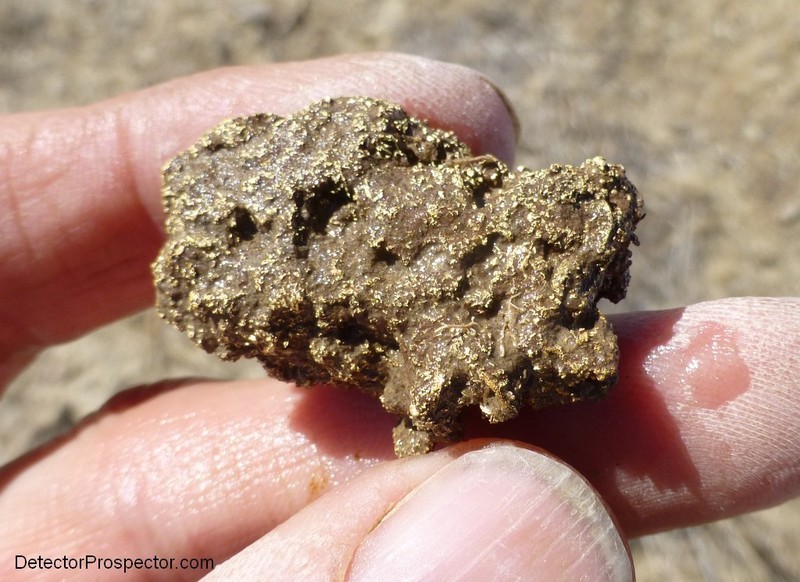 0.79 ounce gold specimen just rinsed, found by Steve with Minelab GPZ 7000
I was having a Eureka Moment. This whole experience was mind blowing. I was finding gold right and left as if this location had never seen a detector before. The GPZ 7000 was working some serious electronic magic, and it seemed it was particularly effective on porous specimen gold at depth that other detectors have a hard time seeing. The GPZ 7000 was hitting this stuff not with weak, but with strong signals, like the SDC but with a coil size much larger than that on the SDC 2300. It was able to not only detect the kind of gold once only found with hot VLF detectors, but hit it at depths far exceeding what one of the best hot VLF detectors, the White's GMT, could attain in this soil.
I was literally shaking I was so excited. The large specimen looked to be all gold, with no rock showing, but was very porous in appearance. Not like steel wool but more like a lot of tiny pieces of gold all lightly stuck together. I could tell it was going to be spectacular when cleaned up, and it later weighed in at just over 24 grams or nearly eight tenths of an ounce. I decided then and there I had found the chunk I would give to the property owners. They certainly deserved it and I still had about an ounce of specimen gold I could take home with me.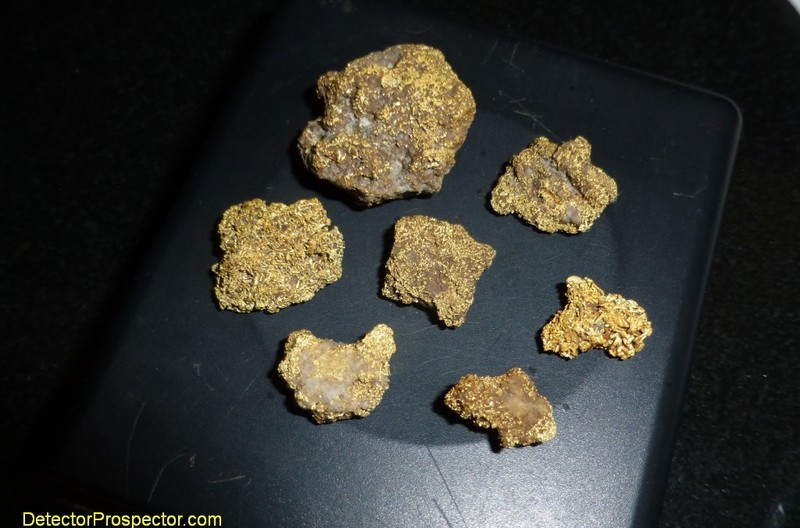 Steve's share of GPZ gold after initial cleaning - 0.85 ounce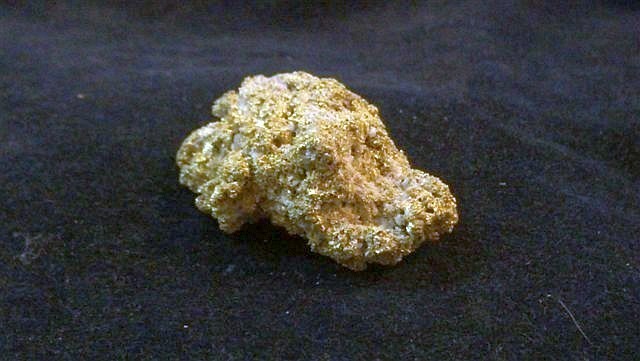 Photo emailed to Steve of 0.79 ounce specimen after cleaning
People may wonder at this a bit that I would volunteer this piece up when I did not have to, but I believe in taking care of people that take care of me. The day I was having was as good as it gets for metal detecting. I just found 1.6 ounces of gold in less than three hours, was on cloud nine, and wanted everyone to share as much as possible in that experience. To say the property owners were surprised and appreciative would be the understatement of the century. It really just does not get better than that. All this happiness and great times were facilitated through the magic of metal detecting and the extreme capability of one detector in particular. Not to be overlooked however is the SDC 2300, which also shined very much along with the GPZ. My only regret is that I could not tell the claim owners the complete story at that time. Sorry friends, I hope you understand, but now you know the rest of the story!
This article started as a thread on the DetectorProspector Forum. Extra information and details may be found there.
~ Steve Herschbach
Copyright © 2015 Herschbach Enterprises
Edited by Steve Herschbach
7