The Fisher F75+ metal detector is the latest model in the F75 series originally introduced in 2007. The F75+ was released in late 2017 and is still in production. The F75+ is the same detector as the Fisher F75 Ltd electronically, with the only change being in the accessory package offered. The F75 Ltd comes with two coils, whereas the F75+ comes with one coil and a pinpointer. The F75+ is a 13 kHz VLF metal detector aimed primarily at coin, relic, jewelry, and gold nugget detecting.
"The F75+ is an American Made, high-performance multi-purpose professional metal detector. The F75+ was built off the proven F75 platform, all the legendary features you've come to know and trust from the F75, plus an added Boost Mode for even more depth!" Source: F75+ color flyer.

Fisher F75+ metal detector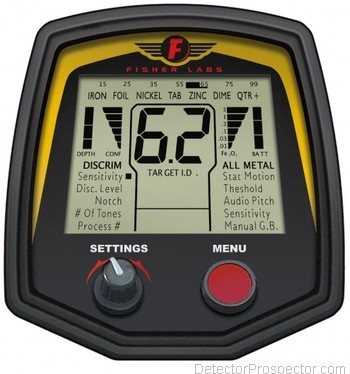 Fisher F75+ control panel
Ability to activate and deactivate DST Mode (Digital Shielding Technology) for the ultimate in EMI Suppression
FA (Fast Process) — Improved Target Separation
Three new levels of FeTone, Iron Audio Off, Low or Medium (complements existing "High. setting)
Adjustable Audio Pitch now in the Discrimination Mode
Embedded Serial Number—Serialization now stored electronically
The most versatile high performance detector ever made! It is the industry's premier relic hunting and ultimate multi•purpose metal detector.
Boost Process substantially increases depth under most conditions.
Cache Locating Process is designed to find large deep objects.
Powerful Performance Trigger-Actuated Target Pinpointing with Variable Audio Pitch
Large LCD Screen with 0.99 Numeric Target Identification Display
Double•Filter Discrimination Modes for Searching in Trashy Areas
Magnetic Mineralization Bar Graph and Readout 
Trigger-Actuated FASTGRAB Ground Balance
Manual Ground Cancellation Option
Non•Volatile Memory Saves Settings
Backlight
40+ Hours with 4-AA Batteries 
Official Fisher F75+ Product Page
Fisher F75 Ltd / Special Edition - Steve's Review
Forum Threads Tagged "fisher f75"
First Texas (Fisher) Metal Detector Forum