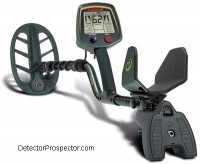 The Fisher F75 LTD2 is the latest in the F75 series that was originally released in 2007 and is still in production. The lead engineer was the person responsible for many of the great VLF prospecting detectors of all time, Dave Johnson. During Dave's first stint at Fisher Research of Los Banos, California Dave had a major role in the development of the Fisher Gold Bug and Gold Bug 2 detectors. He then developed the Lobo SuperTRAQ while at Tesoro. Dave's last project before the F75 was the GMT and MXT for White's, and so after he was hired by First Texas I was very excited to see what his next offering would be from the new Fisher based in El Paso, Texas.
The F75 originated as the Teknetics T2. Both Fisher and Teknetics brands are owned by the First Texas company and share engineering and manufacturing resources. The T2 was produced first with the F75 developed later as an offshoot model. Details can be found at the Teknetics T2 page.
I have to admit to being initially disappointed. The first Fisher F75 that I ran in Anchorage, Alaska was troubled very much by the electrical interference common in that town. It was an immediate turn off, and I sold the detector to a friend.
Then the friend started telling me how great the F75 was that I sold him. Then another friend got one, and yet another, and they all raved about the machine. Finally I was forced to admit I had rushed to judgment with my first unit, and acquired another F75 version called the Special Edition. Once I got it away from electrical interference things clicked, and it became one of my favorite detectors. I have had numerous adventures with the machine - Fisher F75 SE & Gold Nugget Detecting, Metal Detecting Ancient Coins at Colchester, UK and Fisher F75 Strikes Gold in Alaska!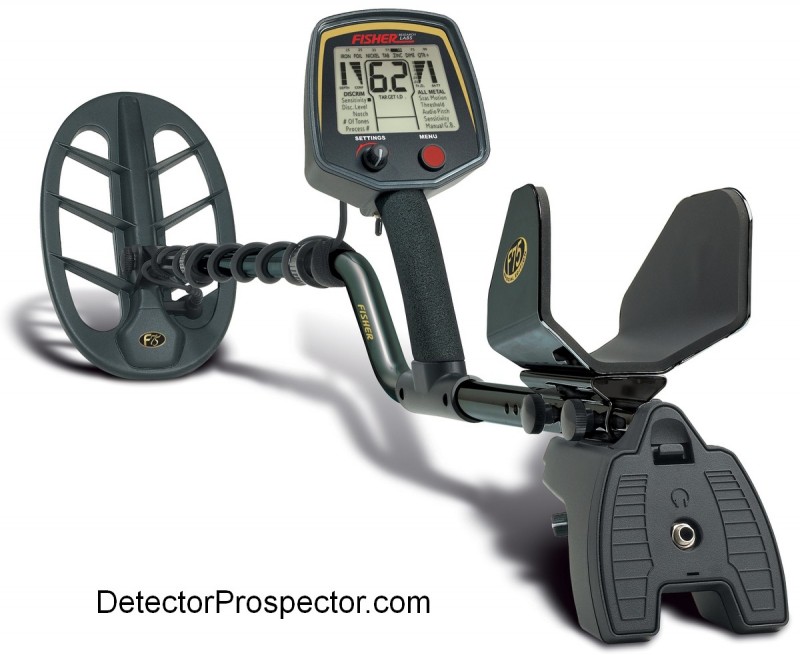 Fisher F75 metal detector available also as F75 SE, F75 Ltd, F75 Ltd2, and F75+
The original F75 was followed quickly by the F75 LTD (Limited Edition) and F75 SE (Special Edition). The first Limited Edition was just that, a model with extra modes and special camouflage paint scheme available for a limited time only. It is also referred to as the F75 Camo. The Special Edition is the same model in an all black paint scheme but also gets referred to also as the Limited Edition, so much so that it is now the official designation. Standard base unit F75 models can be distinguished by the rod assembly having a black and gold color scheme.
The 2014 versions of the basic F75 and the Limited Edition have a new feature called Digital Shielding Technology (DST) which basically is just filtering applied to reduce the perception of electrical interference. Because of concerns that it might come at a performance cost, the feature can be disengaged if desired. The new models also feature a new FA search mode that enables faster target recovery times, allowing two adjacent items to be better discerned as separate targets. Finally, numerous audio options were added, most important being the ability to adjust the volume of the ferrous tone response. This is desirable in areas thick with ferrous trash where the constant barrage of sound can be tiring. The ferrous tone volume can be reduced to minimum independent of the non-ferrous response, which stays loud and clear. The version of the F75 Ltd with DST is referred to as the F75 Ltd2.
Fisher introduced yet another new configuration in 2018 - the F75+. This is a Fisher F75 Ltd2 sold with a pinpointer instead of the 5" accessory coil and at a lower price.
The F75 remains one of my favorite detectors for several reasons. First, I very much like to hunt in the powerful Boost Process All Metal mode while having the meter run independently in target id mode, a form of mixed mode operation. The audio is 98% of what is going on with maximum depth and ground coverage in all metal. Once alerted to a target, I then analyze it with the meter to make a decision whether to dig or not. All metal reaches deeper than discrimination modes and so some surface material may have to be removed to get a reliable target id on screen. Every one of these deep targets that requires material to be removed to get an identification number on screen would be missed entirely if running in a discrimination mode.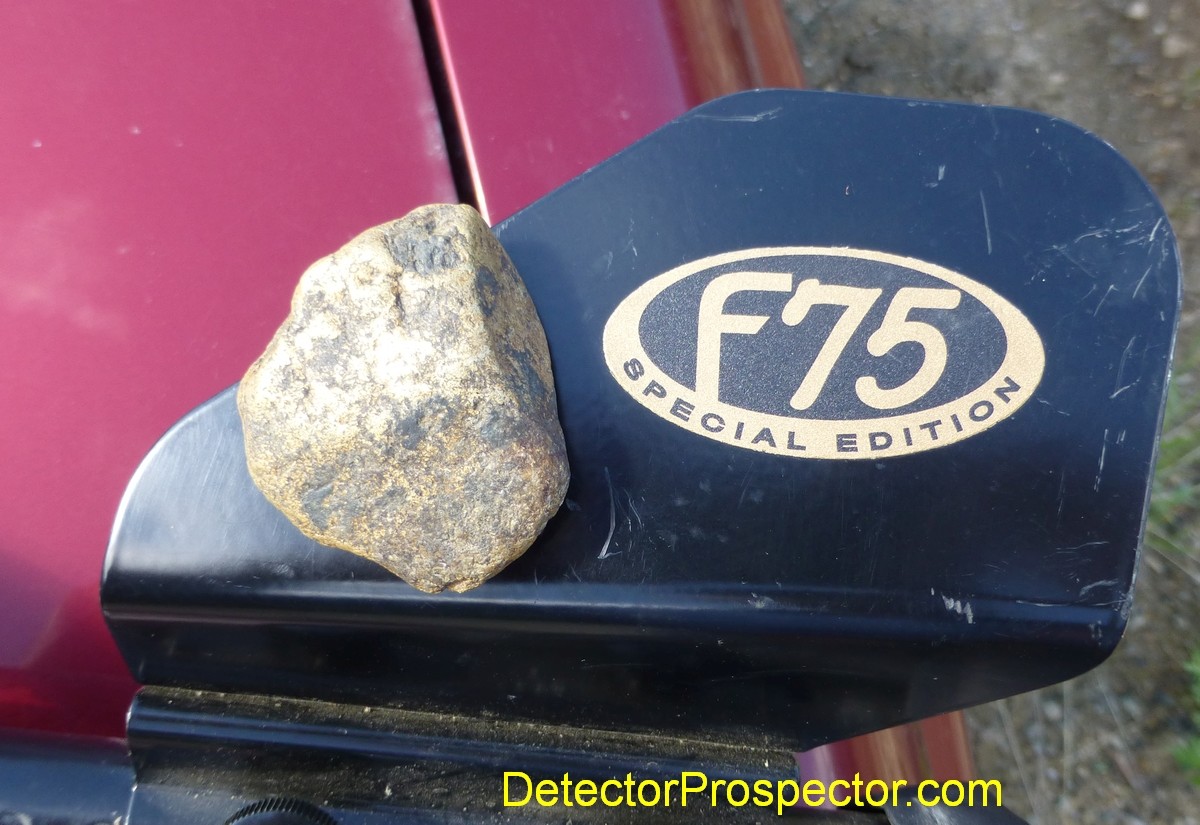 2.37 ounce gold specimen from Jack Wade Creek, Alaska found by Steve with Fisher F75
I think the ergonomics of the F75 are superb. It is a perfectly balanced 3.5 lbs. People do not understand how important balance is but a balanced 3.5 lb. detector creates less arm strain than a nose heavy 2.5 lb. detector. The machine retains settings when turned off, which means in most cases I just turn mine on, do a ground balance, and go detecting. Finally, the F75 only sips at the four AA batteries, getting a week of long days on a set of good alkalines and nearly two solid weeks of detecting in a set of premium lithium batteries.
This is the most important tip I can offer on the F75 series. The F75 has a two tone ferrous / non-ferrous mode, the 2F mode. Ferrous goes low tone, non-ferrous high tone. Check your F75 manual and you will see it considers target id numbers 1 - 15 as ferrous. 2F mode gives a low tone on target id number 15 and lower, and higher tone on 16 and higher. Use 2F and you will dig very little ferrous stuff.
The problem is that 2F is set at the high end of the ferrous/non-ferrous range overlap area. It has been found that the F75 will actually read borderline non-ferrous targets all the way down to about target id number 6, and so the target id 6 - 15 area is the overlap range. You have to avoid 2F and use single tone mode and manually set your disc to about 5 or 6 if you do not want to reject low reading non-ferrous targets. The alternative is to run in boost all metal mode and just investigate any target that pops 6 or higher on the screen on any pass of the coil. In other words, even a single pass of the coil can't be trusted, since the numbers jump around. I work the target and if it even jumps up once above my desired cutoff point it is worth checking out. Look for a reason to dig, instead of a reason to not dig. Running in 2F will cause many borderline non-ferrous targets  in the 6 - 15 target range to be missed.
ads by Amazon...
In summary I consider the Fisher F75 series to be on of the handful of true classic metal detector designs. It sets the benchmark for ergonomics and pushes single frequency VLF about as far as it can go. The F75 is a solid performer and even with newer models coming out is still competitive due to new aggressively lower pricing.
Note added 1/8/2019 by Steve Herschbach: The F75 has had a long history of model changes and revisions. The are several major releases, and minor software version differences within some of the major release models. The major models are:
Basic Fisher F75 - initial release, black & gold colors.
Fisher F75 Limited Edition (Ltd) Camo - added camo paint scheme and extra features.
Fisher F75 Special Edition (SE or Ltd) Black - same as camo version but in solid black. There is confusion as this model is called the Special Edition or F75SE in documentation but nearly all vendors just sell it as a black F75 Ltd. They are indeed the same model except for the color scheme.
Fisher F75 DST - basic black & gold model with Digital Shielding Technology (DST) for reduction of electrical interference.
Fisher F75 Ltd DST - F75 Limited / Special Edition with Digital Shielding Technology (DST) for reduction of electrical interference. Solid black color scheme.
Fisher F75+ - The F75 Ltd comes with two coils. The F75+ is a rebranding that includes a pinpointer instead of a second coil. Other than that it is the same as the F75 Ltd DST. Black & gold color scheme.
See the user guide downloads below for details on the differences between models. Finally, if shopping used be aware that Fisher had an upgrade program for upgrading most any F75 model to a newer software version. This means older units may exist used that have more up-to-date-software than they were initially sold with.
~ Steve Herschbach
Copyright © 2013 Herschbach Enterprises
Fisher F75 Ltd Camo User Guide
Fisher F75 Ltd Black User Guide
Fisher F75 Ltd DST / F75+ User Guide
Fisher F75+ For 2018 Color Flyer
Forum Threads Tagged "fisher f75"
First Texas (Fisher) Metal Detector Forum
Fisher F75 Ltd2 Technical Specifications*

| | |
| --- | --- |
| Internet Price | F75+ $649.00  & F75 LTD2 (Two Coils) $699.00 |
| Technology | Induction Balance (IB) |
| Frequency | 13 kHz |
| Autotune Mode(s) | Pre-Set Via Different Modes or "Processes" |
| Ground Rejection | Ground Grab and Manual |
| Soil Adjust | No |
| Discrimination | Variable with Visual ID, Tone ID, Notch ID |
| Volume Control | Yes |
| Threshold Control | Yes |
| Tone Adjust | Yes |
| Audio Boost | No |
| Frequency Offset | Yes |
| Pinpoint Mode | Yes |
| Audio Output | 1/4" Headphone Socket & Speaker |
| Hip Mount | Shaft Mount Only |
| Standard Coil(s) | 11" Elliptical DD |
| Optional Search Coils | Many accessory coils available |
| Battery | Four AA |
| Operating Time | 40 - 50 hours |
| Weight | 3.5 pounds |
| Additional Technology |   |
| Notes | New "Enhanced" models from 2014 on feature improved resistance to electrical interference (DST), fast target separation mode, and new audio features |
*Notes on Technical Specifications - Detailed notes about the specifications listed in this chart.