The Fisher Impulse AU is a guess at a possible name for a new ground balancing pulse induction (PI) metal detector with a probable availability in early 2020. In the rare mentions online it has so far been referred to as the Fisher Impulse Terra but that is not likely to be the final name. The Fisher Impulse AU is a gold prospecting model being developed alongside the Fisher Impulse AQ model that is intended for beach and water hunting. The Fisher Impulse AU is expected to offer excellent depth and superb sensitivity to small gold nuggets due to an very low 7 uS pulse delay option. The compact  design and relatively light weight is also attracting attention. This model may or may not be waterproof.
A major design difference will probably be the inclusion of a ground balance control to deal with mineralized ground conditions. There may or may not be any ferrous discrimination features as are offered in the Fisher Impulse AQ due to the almost infinite range of target id numbers spanned by naturally occurring gold nuggets. It is likely that this model will also find applications with relic hunters, as has been the case with previous gold prospecting pulse induction metal detectors.
The photo below shows the Fisher Impulse AQ prototype - the Fisher Impulse AU is probably of similar design.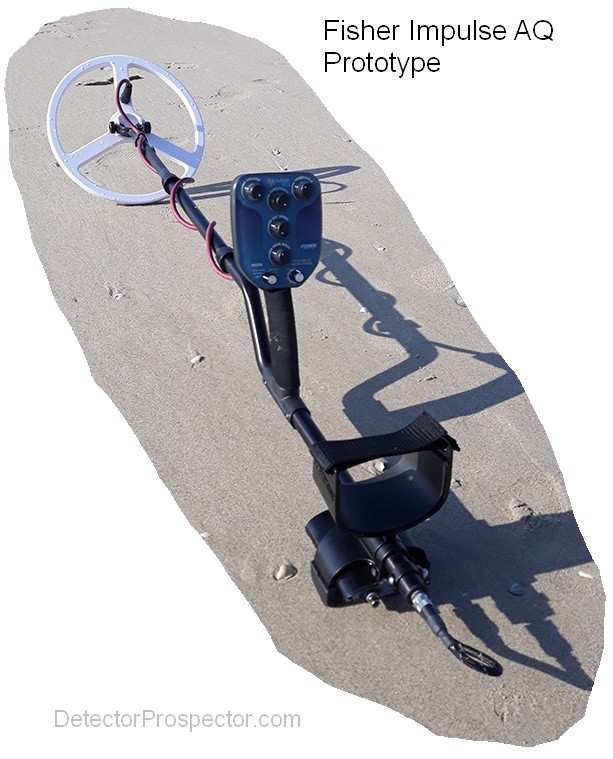 Fisher Impulse AQ Prototype
Information will be added here periodically. All information here is very preliminary and subject to change, especially pricing and final specifications. Everything is really just guess based on the Fisher Impulse AQ plus a couple things mentioned on the forums, such as the coil size.
Latest pulse induction technology
Lithium Ion battery
Battery under armrest may be swapped out with a fully charged battery (optional)
Standard battery run time 5.5 - 6 hours
Larger external battery option - 11 - 12 hour run time
8" Mono Coil or 12" Mono
Detector complete with battery under four pounds
Price US$2350 - US$2750?
First Texas - Bounty Hunter, Fisher & Teknetics Metal Detector Forum
Edited by Steve Herschbach
1