The Nokta/Makro Gold Kruzer metal detector was introduced in 2018 and is still in production. It is a fully submersible 61 kHz induction balance metal detector aimed primarily at gold prospecting with accessory uses of coin, jewelry, and relic detecting. Note that the regular price for the Gold Kruzer includes two search coils; a 5.5" x 10" concentric coil plus a 4" x 7.5" DD coil.
"Operating at 61 kHz high frequency, the Gold Kruzer will bring hunted out goldfields back to life by offering the best sensitivity to tiniest nuggets. Apart from its exceptional performance in harsh ground conditions and hot rocks, its robust and waterproof design makes the Gold Kruzer the most advanced gold and micro jewelry metal detector on the market." Source: Nokta/Makro Kruzer series brochure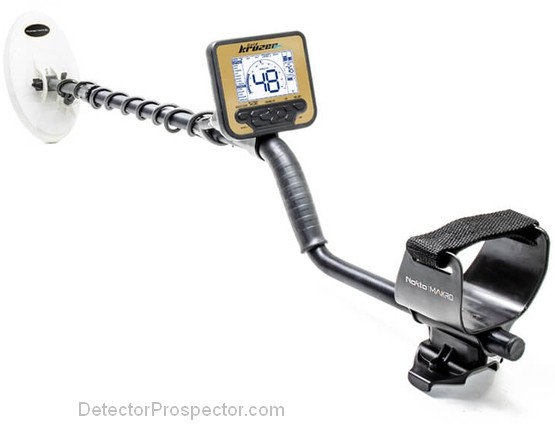 Nokta/Makro Gold Kruzer metal detector

Nokta / Makro Gold Kruzer control panel
Fully submersible up to 5 meters (16.4ft.) - Protected from total dust ingress. Note that working at depth requires optional waterproof headphones.
Excellent Discrimination and Unmasking Ability - Just detect those wanted gold targets and ignore iron.
High Performance & Unmatched Depth - Uncover deep gold nuggets or micro jewelry other detectors simply cannot detect.
4 Search Modes - Gen (All Metal) / Fast / Boost / Micro
NEW E.U.D. Function - Extra Underground Depth - Detect small gold nuggets masked by hot rocks and/or at fringe depths.
2.4 GHz Wireless Headphones - Enjoy wireless freedom with no latency. Wireless headphones are not waterproof and cannot be used underwater.
Online Firmware Updates - Stay up-to-date with firmware updates and get the most out of your detector.Gold Kruzer Suda
Lightweight (1.4kg / 3.0Ibs) - Enjoy detecting for extended hours without fatigue.
Built-in Lipo Battery - Easily charge it with the supplied charger or a USB powerbank Provides up to 19 hours of use.
Official Nokta/Makro Gold Kruzer Product Page
Nokta/Makro Kruzer Series Color Brochure
Nokta/Makro Gold Kruzer Owner's Manual
Nokta/Makro Gold Kruzer - Steve's Review
Nokta/Makro Metal Detector Forum